You see the news tickers everyday. They count up and down, green and red, good and bad—but chances are you're never really sure what they mean.
Well, it's time to get educated and have some fun while doing it. Get involved in some of these free fantasy stock trading games that offer to teach you some critical financial stuff along the way.
Wall Street Survivor
Wall Street Survivor is more than just a game to these guys. They are determined to teach you a thing or two about actual investing and have a financially secure future.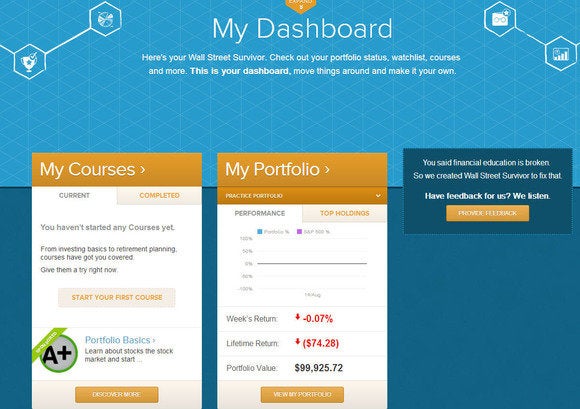 Before you get down to slinging stocks, Wall Street Survivor offers a whole course list on investing and personal finance that range from just starting out to advanced knowledge. They come complete with achievements to unlock and goals to meet—sort of like Code Academy for the aspiring programmer.
It requires you to sign up with either your email or Facebook account in order to track your progress. You can start your course portfolio, which focuses on everything you learn throughout the education process, or start your own practice portfolio to just try your smarts out on your own. Both have their own leagues and leader boards to contend on to keep you coming back every day.
So far I've made a total of 82 cents but that's nothing compared to the education that's sure to follow. By the end of the week my new-found knowledge may be worth a pack of gum!
Virtual Stock Exchange
Straight from The Wall Street Journal's MarketWatch, get ready to go big or go broke with the Virtual Stock Exchange.
Sign up and join a public game or create a private one to compete against friends. The listings show a plethora of information on the stock as well as which companies are in the news today. Stocks are easy to find and buy in bulk so you may find that you blew through your $20,000 starting budget (on beginner) in no time.
Games have a set day limit, usually somewhere over 100 days, and whoever makes the most at the end ranks top among all. It's literally the fantasy sports of stocks—bragging rights included.
If you're tired of buying and selling aimlessly, you're already on the most comprehensive financial site around!
Stock Market Trader
Ugh, the real thing is too much. You don't need more stress in your life, even if it's all fake. How about a nice arcade-style trading simulator with Stock Market Trader?
There's only one (imaginary) stock that you're constantly watching rise and fall in real time. You have $2000 to invest, so buy low and sell high. Little sliders allow you to adjust just how much of your money you're willing to spend or how much of the stock you're willing to sell.
It's more of a quick-reaction game that teaches you some very basic fundamentals of the market. The ticker moves fast and it's completely unpredictable. If it starts to take a nosedive you have to decide when to buy it on the spot. If it starts to climb slowly do you sell safely or wait for it to hit the high mark and sell it all?
Good luck!