At a Glance
Expert's Rating
Pros
Easy to use
Delivers thought-provoking data
Cons
Current version doesn't work with IE 10
Our Verdict
TimeRabbit ticks off the seconds that turn into the hours you spend on Facebook.
It's sobering just how much time you can waste, um, I mean, spend on Facebook. TimeRabbit tells you just how bad it is. Install this free utility, and it will track every second (and minute, and hour) you spend on the world's most popular social network.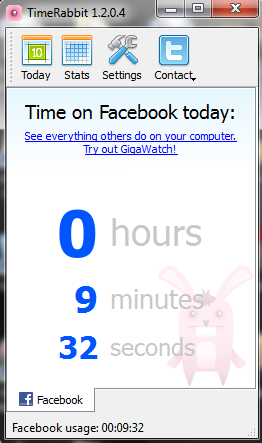 TimeRabbit requires little interaction on your part: It really is set-it-and-forget-it software. Once you install it, TimeRabbit automatically tracks how much time you spend using Facebook.
And "using" is the key word here: TimeRabbit figures out when you're active on Facebook, as opposed to when you have it open in a browser tab that you're not actually looking at. That's thanks to its code, which monitors your browser's activity to see whether the current URL address includes "facebook.com". If it does, TimeRabbit starts the clock, and the tally grows..
TimeRabbit works with all versions of Google Chrome and Mozilla Firefox, and with versions 7,8, and 9 of Internet Explorer. In my tests, TimeRabbit worked seamlessly with all supported browsers, accurately (and sometimes scarily!) tracking the time I spent perusing Facebook.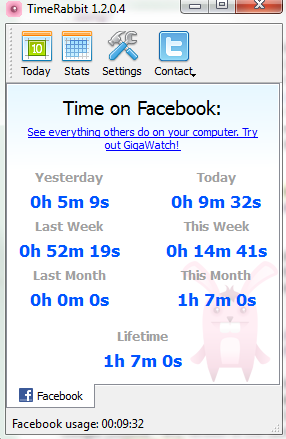 Unfortunately, TimeRabbit doesn't work with IE 10, which is the latest version of Microsoft's browser. Developer Breakpoint Software Development says lack of support for IE 10 was an oversight, which the company plans to remedy in a future release.
For a more detailed look at your Facebook usage, TimeRabbit offers historical stats, which let you see how much time you spent on Facebook in the past day, week, and month, and lets you compare that to your current usage. The stats are basic, not highly detailed, but they will prove useful in seeing trends over a short period of time.
Breakpoint developed TimeRabbit mainly as an experiment, and it's really a just-for-fun application. But it's eye-opening too, especially for those of us who may spend a lot more time on Facebook than we think. Install it, and you may find out that means you.