Microsoft will start selling its struggling Surface devices to business customers abroad via channel partners on Thursday.
The move builds on a similar effort Microsoft launched in July to tap distributors and resellers to push Surface tablets to businesses in the U.S.
The channel program goes into effect in Canada and 16 European countries, including France, Germany, Italy, Sweden, and the U.K.
Until now, Microsoft only sold Surfaces in a limited way directly to business customers in these countries, as it had done in the U.S. prior to July.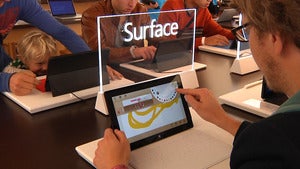 The initial set of international distributors and resellers have been hand-picked by Microsoft using criteria like their geographic reach, experience selling tablets to businesses and the complementary services they're able to offer customers.
"Like we did in the U.S. last month, we're taking a measured approach at first, and plan to expand later," said Cyril Belikoff, Microsoft's Surface marketing director.
These channel partners will target private-sector companies, government customers and schools and universities. They will honor Microsoft warranties and provide services like asset tagging, custom imaging, on-site service, device recycling and data protection.
The other countries included in the channel program are Spain, Austria, Belgium, Denmark, Finland, Ireland, Luxembourg, Netherlands, Norway, Portugal and Switzerland.
Microsoft's next goal is to extend the channel program to the other 10 countries where the Surface is available via its retail channel program.
Sucking wind, saleswise
The Surface, a Microsoft-branded tablet, hasn't sold well since its launch 10 months ago. It was also controversial from the start because it competes against other Windows RT and Windows 8 tablets made by Microsoft's hardware partners.
It comes in two main editions: the Surface Pro, which runs Windows 8 for x86 chips, and the Surface RT, which runs Windows RT, the Windows 8 version for devices that use ARM chips. Microsoft executives have said the company plans to make more products like the Surface, in which it's in charge of both the OS and the hardware, in a nod to the success Apple has had with that model.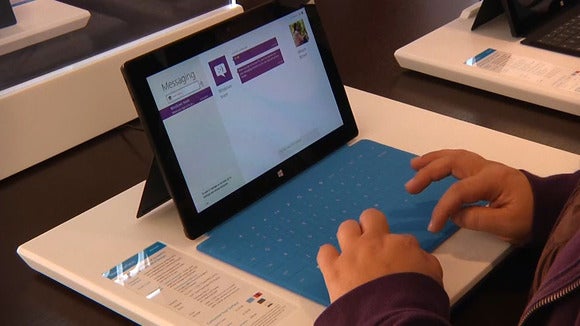 In the first quarter, Microsoft shipped 900,000 Surface tablets, a 1.8 percent market share, according to IDC. Leading the pack was Apple with 19.5 million iPad shipments and a market share of almost 40 percent, followed by Samsung with 18 percent share, Asus (5.5 percent) and Amazon.com (3.7 percent).
IDC noted in that report that Windows 8 and Windows RT tablets from other hardware manufacturers had struggled to gain traction as well—1.8 million Windows RT and Windows 8 tablets shipped in the first quarter.
In the second calendar quarter, 1.8 million tablets shipped worldwide ran Windows 8, good for 4 percent share, while 200,000 Windows RT tablets shipped, a 0.5 percent share, according to IDC. That compares with market share of 63 percent and 33 percent respectively for Android and iOS. Surface shipments, however, plummeted to around 300,000, IDC told CiteWorld.
In its fourth fiscal quarter, ended June 30, Microsoft took a $900 million charge for Surface RT inventory adjustments, and later said in a regulatory filing that Surface sales in the quarter had generated $853 million in revenue.
Since the Surface launch, Microsoft has cut the price of the Surface Pro and the Surface RT and run promotions to try and spur sales.
Surface RT in particular has been a tough sell to businesses because Windows RT devices can't run existing Windows 7 applications, only new applications built for the new OS and available in the Windows Store. Moreover, Windows RT ships with a version of Office, but it's not licensed for commercial use.
In addition, Windows RT lacks many IT management features and doesn't support the Outlook email client, but Microsoft is addressing those two issues in the 8.1 update of the OS, which is now in previews and slated for general availability in mid-October.
The Surface RT now starts at $349.
The Surface Pro is more powerful and can run legacy Windows applications, but it starts at $799 and reviewers have faulted its limited battery life. It started shipping in February.