At a Glance
Expert's Rating
Pros
Attractive interface
Interesting insights into relationships
Cons
Doesn't always get who's important
Our Verdict
Cloze offers interesting insights into some of your most important online relationships, but its value as an inbox tamer is limited.
Cloze is supposed to help you deal with inbox overload, but I have to admit that this free service initially made me a bit anxious. After using it for a while, though, I came to appreciate its relationship-centered approach to email and social networking.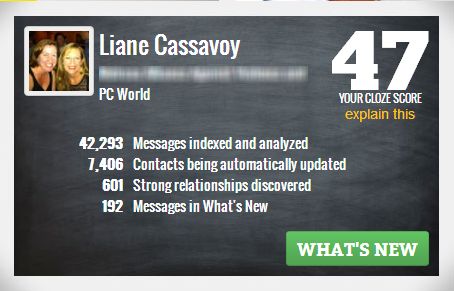 This Web service reduces the noise and clutter of messaging overload by focusing on your relationships with correspondents. It doesn't stop at email, either: Cloze works with the Facebook, LinkedIn, and Twitter social networks as well. When you connect an account to Cloze, it pulls in all of the communications you've had with your contacts, and then presents your email messages to you arranged by contact—and their presumed importance to you—not by the medium from which the communication hails.
Cloze delivers your messages in a daily digest, but you can also access them anytime from the Web app or the iOS app…and it was the Web app that that caused my first pangs of anxiety. They were caused by my overall Cloze score, which was 47 out of 100. Cloze tells you that your Cloze scores is a measure of your relationship quality, with a score of 70 indicating a very strong relationship over time.
Thanks to this dispiriting number, I began using Cloze already feeling as though I had a lot of catching up to do. I felt better when I saw that Cloze rated my individual relationships much higher, and I like how it breaks down these relationships by the day, so you can see how they change over time. By default, Cloze identifies 25 key people as "the people you need to keep an eye on," which is based on the strength of your relationship with them across your various platforms. And this was where I felt Cloze stumbled a bit.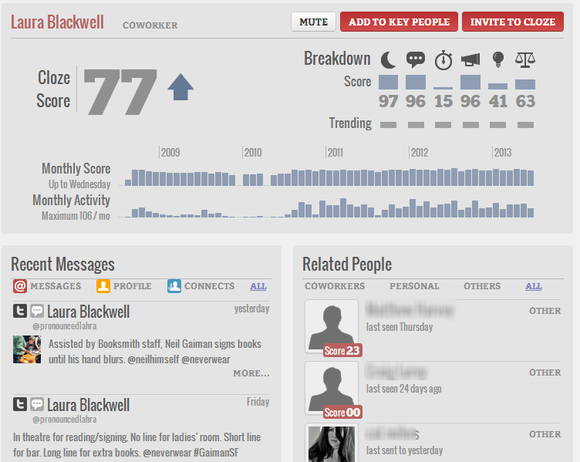 It rated some folks as very high, simply because I was in contact with them frequently, but not because the quality of the correspondence was high. For example, the secretary at my children's school was listed as a key person for me. She emails often, as she is responsible for sending home all updates to the families at the school. But I rarely respond, and am not in contact with her on any social network, and while the messages she sends are valuable, I would not consider her a key contact.
Luckily, Cloze lets you add and remove contacts from this list of key people, and I like all of the details it offers on the folks you're in touch with. It rates not only the overall relationship with a contact, but also the frequency, dormancy, responsiveness, privacy, freshness, and balance that the relationship has—based on your online interactions, of course.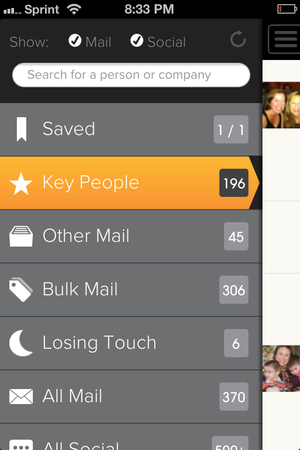 It also shows you recent messages and related people, all of which would be very helpful to a businessperson looking to cultivate a relationship. But it can't measure the quality of your offline relationship, so if you're frequently texting, talking on the phone, or seeing each other in person, your relationship is likely much stronger than Cloze realizes.
Its mobile companion was far more useful for keeping up with my messages, though. Browsing your email on the small screen of an iPhone or with the less-than-perfect email client installed on the iPad can be frustrating, so I liked using Cloze's mobile app instead of default clients on my iOS devices.
Overall, I didn't find Cloze a true tool for eliminating email overload, especially when using the Web app. On iOS, Cloze made it easier to find messages and other correspondence from the folks I wanted to hear from, and offered plenty of options for browsing my messages. But on my desktop, I'll stick to my regular old email client for navigating my inbox, and will turn to Cloze only when I'm ready to take a look at where some of my key relationships stand.