At a Glance
Expert's Rating
Pros
Noticeably better performance
Excellent array of standard editing tools
Surprisingly well-equipped basic editing mode
Cons
Cluttered, noisy interface
No panoramic stitching
No context aware fill
Our Verdict
PaintShop Pro X6 is the same affordable and powerful Photoshop alternative—now faster and more robust thanks to 64-bit processing.
For most professionals, Adobe Photoshop CS is the only photo editing tool worthy of consideration. Casual snapshooters can choose from a wealth of free and Web-based editors. For everyone in the middle—photo enthusiasts, serious shooters, and even pros dissatisfied with Adobe's new Creative Cloud—there's Corel's PaintShop Pro.
A viable Photoshop alternative for 20 years, PaintShop Pro offers 90 percent of Adobe's features for a tenth the price. In PaintShop Pro X6, Corel offers almost nothing new…which isn't such a bad thing. With a few exceptions, this upgrade is all about improved performance.
Performance is key
At long last, PaintShop Pro is a 64-bit application. That should mean faster processing and the ability to work with larger and more numerous images. Corel offers a slew of benchmarks to show that X6 runs faster than its predecessors, and in practice I found it to run notably quicker.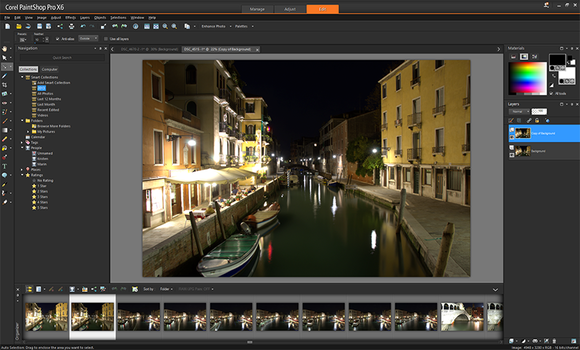 Using my own stopwatch, I found that on the same PC, X6 shaves a few seconds off the startup time. Images—both JPG and RAW—load about 10 percent faster, and X6 catalogs folders and displays images more than twice as fast. Everything is snappier, giving the impression that you're at the helm of a tightly run ship.
A ship in need of reorganization
The ship needs a new quartermaster, though. PaintShop Pro's relatively unchanged interface puts efficient design second to displaying lots and lots of tools. You access the three workspaces—Manage, Adjust, and Editing—via tabs at the top of the screen.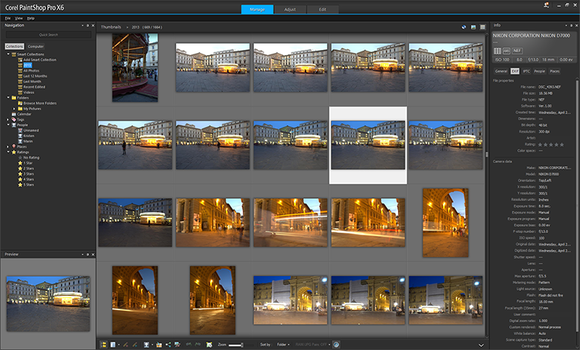 The Manage workspace is sort of like a light box mode. You inspect photos, review metadata, and enter ratings and keywords there. Although this view is perhaps the most crowded and confusing, it's all highly configurable. You can turn various panes, palettes, and toolbars off and rearrange things to your liking.
You can avoid the Manage view entirely, if you like: The program doesn't force you to import photos into a proprietary library, so you can always navigate through existing folders. If you don't use Corel's "collections," though, you're missing out. They let you tag photos for easier retrieval, and they load more quickly as well.
They also give you access to a face recognition mode, but it's perhaps more trouble than it's worth. Among other difficulties, browsing photos by people is difficult because you see tightly cropped faces only, not the entire image.
Two approaches to editing
For a fast, lightweight editor, head over to the Adjust workspace, which houses about a dozen common tools Corel deems useful for lightweight editing and as go-to tools for novices. Here again, though, Corel's interface instincts strike a sour note. Some tools, such as cropping, red eye, and straightening appear in toolbar form under the histogram, but you have to access Smart Photo Fix, white balance, fill light, and others from a textual list below. There's no apparent rhyme or reason for why it's organized this way.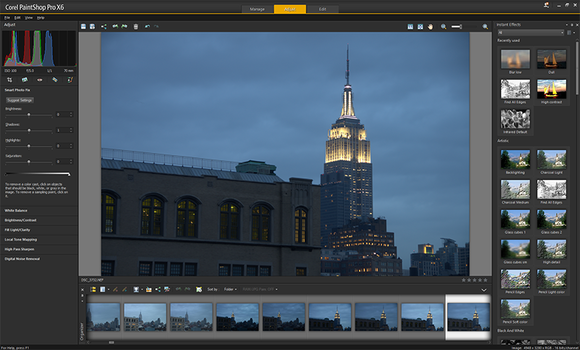 That said, the tools are great. You could spend most of your time in this simplified interface, especially if all you need is to touch up digital photos with some exposure adjustments, noise reduction, and the occasional tourist removal via a clone brush. This is also the easiest place to reach the hundred-odd Instagram-like Instant Effects.
The Editing workspace is where PaintShop Pro most closely resembles Photoshop. It's chock-full of layer support, selection tools, levels and curves controls, and even the ability to use industry standard Adobe Photoshop plug-ins.
There are relatively few "big ideas" that PaintShop Pro doesn't deliver on. Not only does the program include a very serviceable High Dynamic Range feature for combining a series of photos shot with a range of exposures, it can split one RAW image into three, and then reassemble them into an HDR shot. The effect isn't nearly as good as a true HDR, of course—PSP can't magically extend the dynamic range beyond what the camera sensor captured—but the effect can be convincing with the right source material.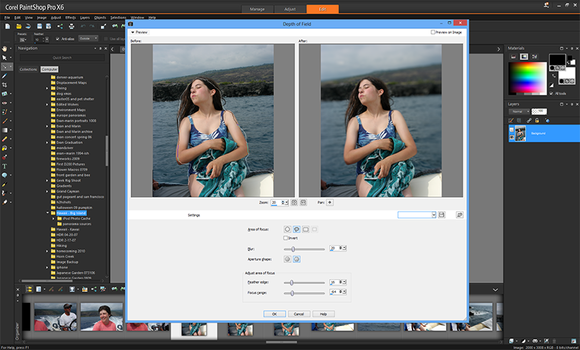 Jealous of Photoshop's context-aware fill? You won't find that here, but you can use the Smart Cleaver to cut out objects and shrink the image as if they were never there. Depth of Field lets you blur the background with a few clicks. And Photo Merge combines multiple photos of the same scene so you can keep the best shot of each person in a group. Just one surprising omission: There's still no panoramic stitching tool.
Good luck memorizing where to find these tools, though. They're scattered across multiple menus as if the wind blew them there.
What's new
Aside from the snappier performance, you'll have to look closely to notice the handful of differences from X5. I particularly like the new Auto Selection tool: Just draw a box around something in your photo, and PSP automatically selects it. You can then fine-tune the selection as usual.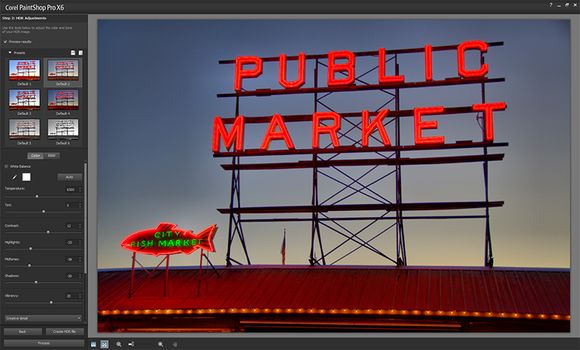 PaintShop Pro is currently available only as an upgrade to existing customers. It comes in two flavors: PaintShop Pro X6 ($60 upgrade) and X6 Ultimate ($80 upgrade). Ultimate includes a few extras, including the standalone FaceFilter program for editing portraits. On September 4, anyone can buy X6 for $80 and X6 Ultimate for $100.
A useful upgrade at a palatable price
If you're seeking an alternative to Photoshop, Corel PaintShop Pro is an unquestionable bargain. Unless you program Photoshop Actions in your sleep, you won't be missing much, if anything.
Whether you should upgrade from X5 is a trickier question. Casual photo tweakers probably won't notice much of a difference. But if you are currently frustrated by X5's 32-bit limitations for managing a large number of photos in your workspace, stepping up to X6 will save you considerable time.
Note: The Download button takes you to the vendor's site, where you can download the latest version of the software.