At a Glance
Expert's Rating
Pros
Triple Titan video cards
Extreme performance
Excellent case design
Cons
Side panel can be difficult to remove
Extreme price tag
Our Verdict
This incredibly expensive performance desktop packs premium components and water-cools them to deliver benchmark-destroying performance while remaining whisper quiet.
Booting up Maingear's Shift Super Stock Z87 was a bit of a letdown. Given its $8000 price tag, I expected this high-performance hot rod to greet me with the throaty rumble of a precision-tuned sports car. But it didn't make a sound because each of its ultra-premium components is water-cooled and whisper quiet.
At the top of the component list is Intel's Core i7-4770K CPU—the pinnacle of the chip company's brand-new Haswell family—and it's overclocked to an insane 4.7GHz. You'll also find three (yes, three) video cards based on Nvidia's best GPU, the GeForce GTX Titan, each with 6GB of GDDR5 memory. There's also 16GB of DDR3/2400 system memory, and not one, not two, but four of the best 256GB SSD we've tested—Samsung's 840 Pro—configured as RAID 0 for blistering speed.
It's a stupefying level of computing power, one that sets the bar for what an elite gaming PC should be. And this machine's very existence demonstrates the enduring strength and appeal of the PC gaming market. Indeed, high-end gaming PCs like the Shift Z87 continue to sell well despite a precipitous drop in overall PC sales, and it's not crazy to suggest that as more people abandon budget PCs and laptops in favor of tablets, premium hardware like the Shift will keep the PC gaming market afloat.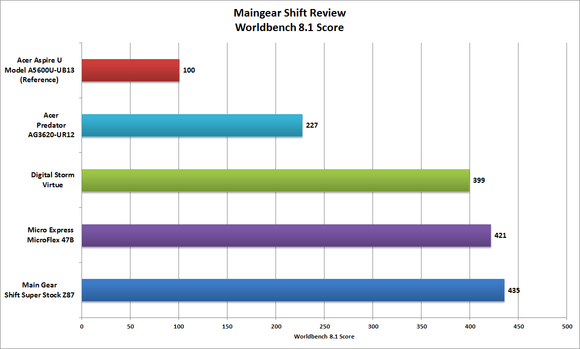 The Shift Z87's Desktop WorldBench 8.1 score of 435 means it's more than four times faster than our reference system, the modest Acer Aspire A5600U-UB13 . In fact, it's the fastest desktop PC we've ever encountered. While that overall score is only modestly higher than the 421 that MicroFlex's significantly cheaper MicroExpress 47B earned, the Shift Z87 blew the competition out of the water when we benchmarked it playing the latest games at very high resolution.
The MicroExpress 47B, for example, couldn't deliver a playable frame rate with BioShock when we set the game's resolution to 2560 by 1600 pixels and its visual quality to Ultra. That's because the 47B is equipped with just one GeForce GTX 680 video card. The Shift Z87's three Titan cards enabled it to play the game at that resolution at a mind-blowing 135 frames per second.
As impressive as that is, the madness doesn't stop there: The PCWorld lab team hooked the Shift Z87 up to three HD monitors and played Crysis 3 at a resolution of 5760 by 1440 pixels, all while achieving a consistent frame rate of 28 fps. That's impressive performance, but more importantly it proves that all this power can afford you a real competitive advantage when playing games that challenge your situational awareness. Excelling during a Crysis 3 or Call of Duty deathmatch is easier when you can see everything in a 270-degree radius without moving your head.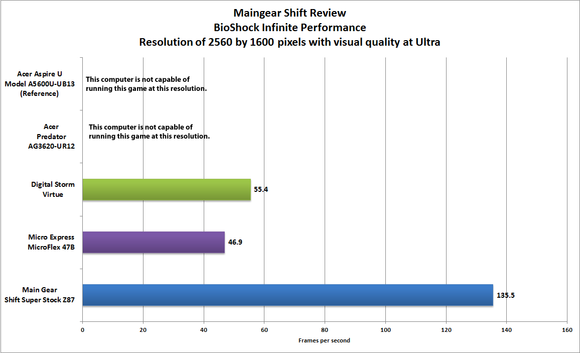 But you don't need to be a gamer to appreciate the Shift Z87's exceptional performance. This machine also placed first in nearly every one of the productivity-oriented benchmarks that make up the WorldBench 8.1 suite, including PCMark 7 Productivity and each of the media editing and encoding tests we run.
The Shift Z87's signature chassis orients the motherboard 90 degrees to the right so that the ports and fans that are normally on the back of the PC are located on top. This leaves heat-generating components, such as the video cards, hanging from their brackets. This vertical orientation reduces the stress that the very heavy Titan cards place on the PCIe slots, but Maingear also wisely mounted a bracket on each card for even more support. And because hot air rises, vertical channels between the cards keep the video cards cooler than they would be if they were mounted in a more conventional stacked configuration.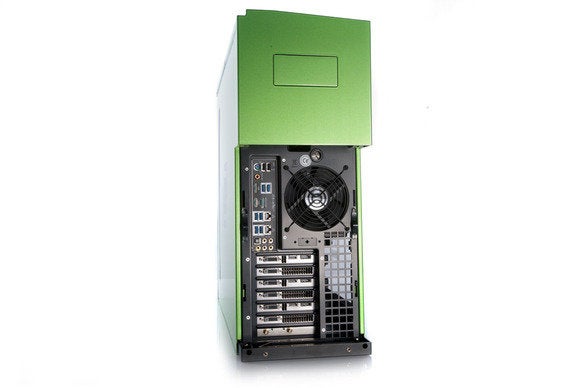 This design is complemented by a proprietary, open-loop, liquid-cooling system that chills not just the CPU but also the motherboard's voltage regulators to allow for higher overclocking. This also enables the system to run extremely quietly—I rarely heard the fans spin up to to full speed, even while gaming. You can gaze at all this hardware—helpfully illuminated by an internal white-LED light bar—through a clear side panel on the chassis. And that leads to one of my few complaints: The latch on that panel doesn't easily disengage. I had to gently wrestle with it whenever I wanted to poke around inside.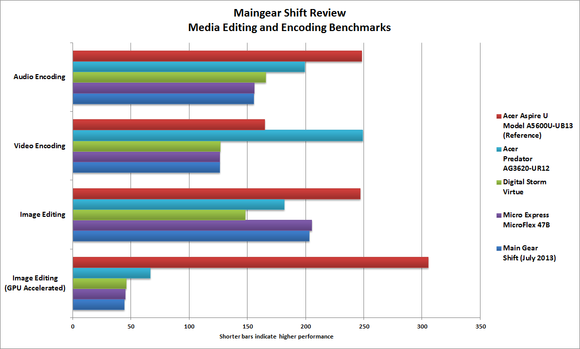 The Gigabyte G1.Sniper 5 motherboard at the heart of this beast delivers pretty much every connection option your heart could desire: a PS/2 jack, two USB 2.0 ports, six USB 3.0 ports, and a pair of gigabit ethernet jacks. And each video card has HDMI, DisplayPort, and DVI outputs. And there's a full complement of audio input and output connectors for microphones, headsets, and speakers. A slick recessed panel near the front of the Shift's topside pops up to reveal a a memory card reader, another pair of audio in/out jacks, two more USB 3.0 ports, and a mini-DVI port.
Most of us aren't in a position to drop eight grand on a computer, no matter how powerful it might be. But the Maingear Shift Z87 sits at the apex of personal computing, and it's always fun to lay hands on a super-powerful, lovingly crafted PC such as this—even if you'd have to be a high-rolling, Lamborghini-driving, trust-fund baby to afford one.