Back in April, I fanned some flames by suggesting that Microsoft needed an iMessage of its own—a free, baked-in messaging app that can serve as a communication hub across the far-flung Windows platforms, drawing in users from the mish-mash of communications services that exist today. Apple has iMessage. Google has Hangouts. Microsoft, I argued, should lean on Skype, which it bought in 2011.
Now it is.
Over the past weeks and months, Microsoft announced that native Skype integration is coming to Windows 8.1, the Outlook.com website, and, yes, even the Xbox One console. Microsoft websites will have Skype! Microsoft consoles will have Skype! Microsoft PCs and tablets will have Skype!
But there's a fly in this cross-device ointment. The one Microsoft platform that both needs native Skype integration the most and provides the best fit for native Skype integration doesn't bake in the service by default: namely, Windows Phone.
Yes, a Skype app is available for Microsoft's phone platform, but it's not installed on phones by default, as it is with PCs, tablets, and the Xbox. And it's all because of greed, grudges, and fear.
Why Windows Phone needs Skype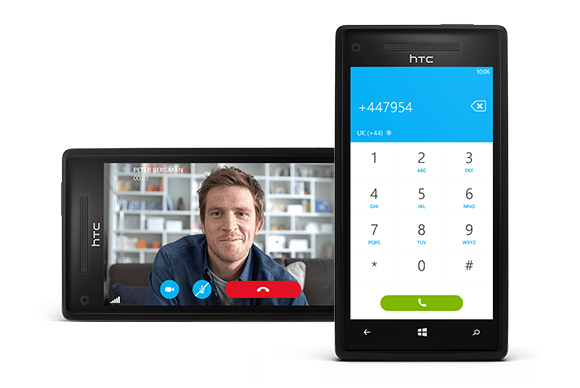 Even before the en masse rollout begins, Skype can already scratch almost any communications itch, and the service is an utter star on mobile devices. Its users can sling free instant messages and phone calls around to other Skypers, or even engage in totally gratis video chats.
Soon, all Windows 8, Outlook.com, and Xbox Live users will be able to tap into those killer features, and a native, front-and-center Skype app for Windows Phone could offer even more. The Windows Phone Skype app already sinks deep hooks into the system's People app; a native app could go even further. Like iMessage, a native Skype app could hook into your phone's text messaging and be configured to automatically use the service rather than SMS whenever possible. But why stop there? If Skype were baked into Windows Phone, it could do the same for voice calls.
That not only appeals to users—who doesn't like to save some scratch?—but a baked-in Skype app could be a boost to the struggling Windows Phone platform, too, as "free calls, video chats, and text messaging with all Windows and Xbox users" is a pretty impressive selling point.
Indeed, sowing Skype's seeds into Windows Phone would benefit Windows Phone users, Windows Phone itself, Skype, and pretty much everyone who uses any Microsoft service anywhere. And Microsoft knows it: The company's announcement of Skype integration for Windows 8.1 came as part of a heavy "One Microsoft, all the time" PR push, touting the ability of Microsoft's cloud to deliver must-have services across its entire range of devices.
Sure, Windows Phones users can easily download Skype from the Windows Phone Store, but apps you have to download don't get nearly as much usage as native programs. So why isn't Skype baked into Windows Phone yet?
Why Windows Phone isn't getting Skype
Simple: Because it's Skype.
Note that I didn't say, "Because Skype's owned by Microsoft." Though past bundling efforts by Microsoft resulted in a strong antitrust response by governments around the globe, those days are long gone. Witness the Skype rollout on all of Microsoft's other platforms, or the default nature of iMessage and Google Hangouts.
Carriers like AT&T and Verizon, however, have a borderline hatred of Skype, as well as any other service that threatens to bite into the juicy profits that voice calls and text messages bring to the bottom line. Consider this statement from AT&T CEO Randall Stephenson:
Way back when, AT&T allowed VoIP providers like Skype and Google Voice to set up shop on the iPhone only after succumbing to blistering pressure from the FCC. In 2010, Verizon billed Skype-call minutes as voice-call minutes. Even as late as last year, the wireless network that Ma Bell built required users of iPhone's FaceTime over Cellular to employ an AT&T Mobile Share plan.
Nokia's Lumia phones account for nearly 87 percent of all Windows Phone usage, according to AdDuplex, and in 2012 Nokia CEO Stephen Elop said that the mere fact that Microsoft owns Skype hurts the Windows Phone business:
The feedback from operators is they don't like Skype, of course, because for those operators who have a traditional wire-line business, traditional telephone business, it could take away from revenues.

And, so what Microsoft has done—and we've been part of these conversations as well with operators—is as you correctly say, if [an] operator doesn't want Skype installed on a Windows Phone from Nokia or any other company, then the operator can make that decision.
AdDuplex's stats show that AT&T and Verizon account for 73 percent of all Windows Phone 8 device usage as of August 2013, and surprise! The Lumias sold on those networks don't carry Skype by default.
Why patience may help
Microsoft should jump at anything that could make Windows Phone more appealing to everyday users, and integrating Skype definitely falls into that category—but doing so would royally piss off the carriers. Apple and Google have the market share to force their cross-platform messaging services on the likes of AT&T, but with just 3.7 percent of the smartphone market, Microsoft simply can't afford to battle the The Man.
But don't despair. The status quo is already shifting.
The use of messaging apps is skyrocketing, and voice calling has declined every year since the iPhone's introduction. To compensate, big carriers are already shifting to expensive shared-data plans that include unlimited text and talk messages, but charge more for tiered data use. It's hellaciously clever—and once shared-data plans reach critical mass, Verizon and other companies will have an active incentive to encourage the use of messaging services like Skype. More Web-sent data requires a beefier data allotment, after all.
That day's not here yet, though, and because of that, Skype is still no iMessage. "One Microsoft, all the time" comes with an asterisk, no matter how much native Skype integration could help users, or Microsoft itself.