Intel and its PC partners are taking another page out of the mobile device playbook to beef up Ultrabooks and All-in-One PCs, bringing built-in voice command software to the desktop. On Thursday, Nuance Communications announced that a select line of ultra-mobile laptops and all-in-ones from Asus, Acer, Lenovo, and Toshiba would come pre-loaded with Nuance Dragon Assistant.
Nuance's voice command PC app is similar to Dragon Mobile Assistant. You can use Dragon Assistant for PCs to open programs, take dictation, search the Web, play music, check email, and update Facebook and Twitter.
Intel and Nuance first announced a partnership to bring Dragon Assistant to Ultrabooks during CES 2012. Then in September, Nuance announced a beta roll-out of Dragon Assistant, starting with the Dell XPS 13 Ultrabook. Now it appears Dragon Assistant is ready for prime time with its debut on a wider variety of devices.
You can find the complete list of voice-enabled Ultrabooks and AIOs in Best Buy's Premium Collection of PCs for the fall back-to-school season.
Adding value to add sales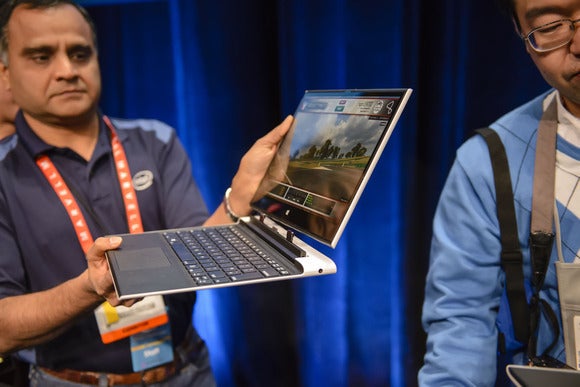 As a devoted fan of Google Now, the idea of having a voice-command app built into my next Windows machine is a great feature that I'd love to have—and that's the real play here.
The PC market is currently in its longest slump in history, market research firm Gartner said in July. The period of flat growth has lasted a full five quarters in a row (so far), and the blame is laid at the feet of the rapid ascension of the tablet.
"We are seeing the PC market reduction directly tied to the shrinking installed base of PCs, as inexpensive tablets displace the low-end machines," Mikako Kitagawa, principal analyst at Gartner, said in a statement in July.
With tablets eating away at the popularity of cheap computers, PC makers and partners like Intel are looking for ways to improve the prospects of higher-end machines.
"Intel continues to look at ways to make higher end and mid-priced notebooks more valuable," said Stephen Baker, NPD's vice president of industry analysis. Baker, who covers the U.S. market, doesn't agree with the idea that tablets are taking away sales from entry-level priced notebooks. But, he says, Intel is trying to help PCs "hold their value and maintain their feature set versus both high end tablets and entry level ones."
Part of this effort is Intel's perceptual computing platform, which hopes to make voice commands, gestures, and facial tracking part of mainstream computing. Dragon Assistant is a natural fit with Intel's push to add new modes of interaction to PCs. The fact that Nuance's program only works with high-powered Core processors also enhances the value of Intel's Core platform—and higher-priced AIOs and Ultrabooks.
In the era of smartphones and tablets, PCs are changing from the ultimate must-have technology gadgets in your home to standard appliances akin to microwaves. With this switch happening at what seems to be an ever accelerating pace, look for more attempts to add value to the PC through interesting new features in the coming months.
And as for Nuance, well, they're trying to build an intelligent digital assistant that actually loves you.