While Microsoft may have thought that it had overcome the negative reactions that accompanied Windows 8, the world's top PC manufacturer isn't necessarily convinced.
Lenovo said Thursday that it will ship Sweetlabs' Pokki, a utility that adds a replacement Start button plus a number of apps and discovery tools, on a number of Lenovo machines. Those will include IdeaPad laptops, ThinkPad laptops, and IdeaCentre desktops, within multiple regions across the world, the company said.
Acer made Pokki available on its own PCs in June, meaning that two of the top five OEMs will ship with the Pokki software preinstalled.
Lenovo's choice to include Pokki on its machines doesn't necessarily mean that users will be forced into using Sweetlabs' Start Page alternative. But the Pokki Start button has a look and feel reminiscent of Microsoft's earlier Windows OSes, which still appeal to a vast number of users. Microsoft reworked Windows 8.1—which is available in preview, and in final form in October—to allow more customization in the Start Screen, and to allow users to boot into the desktop if they so choose.
Microsoft did not imediately respond to requests for comment. Lenovo could not be reached for comment.
While Lenovo's decision represents a vote of no confidence in Microsoft's Windows 8 UI, the more interesting consequence is that Lenovo is now adding an alternative to the Windows Store. Although Microsoft recently topped 100,000 Windows 8 apps, it retooled its app store in the Windows 8.1 preview to make them more discoverable. Pokki's store provides traditional Windows apps like Dropbox, and Windows Store apps like Skype. But it also has customized apps like a version of Instagram, dubbed Instagrille, which can provide its own revenue stream with in-app ads. (We've picked five Pokki apps that bring the best of the mobile environment to your desktop.)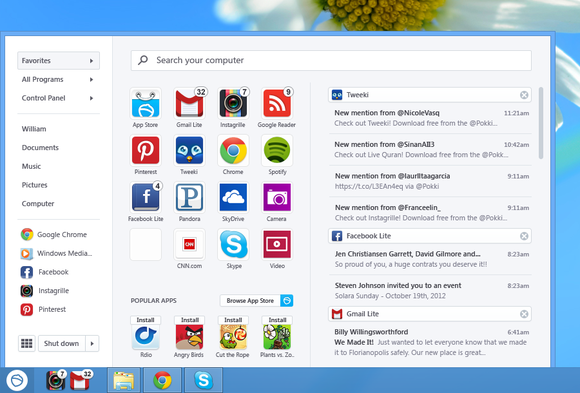 "We started SweetLabs to create the world's largest app distribution platform for developers, and today's announcement with the #1 PC maker on the planet, Lenovo, is a massive step in the right direction," said Darrius Thompson, co-founder and chief executive at SweetLabs, in a statement. "We're proud that Lenovo has chosen to enhance the out-of-box Windows 8 experience with Pokki, complementing Lenovo's innovative devices with a better way for users to access and discover apps."
One could argue, actually, that the addition of Pokki is a plus overall; though it cuts into an incremental source of revenue for Microosft, it boosts the Windows platform as a whole. Simply increasing the number of apps available to the platform, and making them more easily discoverable, should be a goal Microsoft can get behind. At this point, Microsoft should shrug off third-party Start alternatives—which will continue to thrive, even in the wake of Windows 8.1—and simply focus on selling more Windows licenses.