An upcoming NASA mission will test a new laser communications system that could one day deliver high-definition 3D video signals from Mars and beyond.
The lunar laser communications demonstration will be part of the agency's Lunar Atmosphere and Dust Environment Explorer (LADEE) mission, which is scheduled to launch on Sept. 6. The LADEE spacecraft will orbit the moon and collect information on the lunar atmosphere—technically an exosphere—for around 100 days. A laser communications module is built into the satellite.
"NASA has a need for faster download speeds for data from space and that grows everyday, just like it does for the rest of us at home and also from work," said Don Cornwell, mission manager for the lunar laser communications demonstration. He was speaking at a televised NASA news conference on Thursday.
"We'd like to be able to send high-resolution images and movies and 3D even from satellites that not only orbit the Earth but also from probes that will go to the moon and beyond. Communicating with radio waves has served us well for the last 50 years but we now have the technology to use light waves to communicate more data," he said.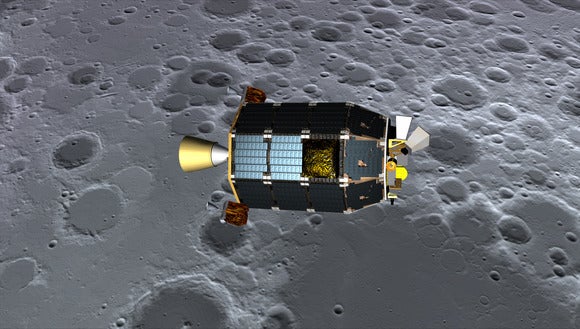 Here's how the system will work: When the satellite is in orbit around the moon and visible from Earth, one of three ground stations will shoot a laser towards its approximate location. The laser beam from Earth will scan a patch of sky and should illuminate the spacecraft at some point. When that happens, the spacecraft will begin transmitting its own laser towards the ground station and the two will lock on to each other. Once that happens, communications can begin.
The ground stations are at White Sands in New Mexico, at a NASA Jet Propulsion Laboratory site in Wrightwood, California, and a European Space Agency site in Tenerife, Spain.
The technology should allow an upstream data rate, from the Earth to the spacecraft, of around 20Mbps and a much faster downstream rate of 622Mbps. Home Internet speeds typically run from several megabits per second to several tens of megabits per second.
That's roughly six times the speed that's currently possible with radio-based transmission, said Cornwell. As a bonus, the laser communications equipment also weighs half that of a radio transmitter and costs about a quarter less, he said.
(See a video version of this story on YouTube.)
Cornwell said he hopes the test is the first step in demonstrating the usefulness of laser communications and building confidence in its use in future missions, including those that go deeper into space. He said laser communications systems get more attractive compared to radio the further the spacecraft travels from Earth because the communications beam can be better focused.
"As you go further out into the solar system, it's a much more efficient way to get high bandwidth at low power," said John Grunsfeld, NASA's associate administrator for science and a former astronaut.
"We've already been having discussions about how you could do laser communications on a rover on the surface of Mars," he said, referencing a NASA mission to Mars planned for 2020.
"This is just the beginning of what will be replacing some of the radio frequency communication in the future," said Grunsfeld. "I think there is no question that as we send humans further out into the solar system, certainly to Mars, that if we want to have high-def 3D video, we're going to have laser communications sending that information back."