It looks like you can stimulate demand for the Surface RT—if you give them away for practically nothing.
Mere weeks after Microsoft took a whopping $900 million accounting write down on its Windows RT-rocking tablet, new usage numbers from AdDuplex suggest that the Surface RT has picked up significant steam since April, which was the last time the advertising firm pulled back the veil on Windows 8/RT usage stats from its network.
The Surface RT has always been the pace-setter in AdDuplex's Windows 8 usage, but the device's slice of the overall usage pie had been steadily shrinking over the firm's last few reports. That's changed: The Surface RT's usage share jumped grew from 6.2 percent in April to 9.5 percent in August, meaning nearly one out of every ten devices touching AdDuplex's advertising network is now a Surface RT.
The Surface Pro also got in on the growth spurt, jumping from the 23rd most-used Windows 8 device in April to the seventh most-used in August.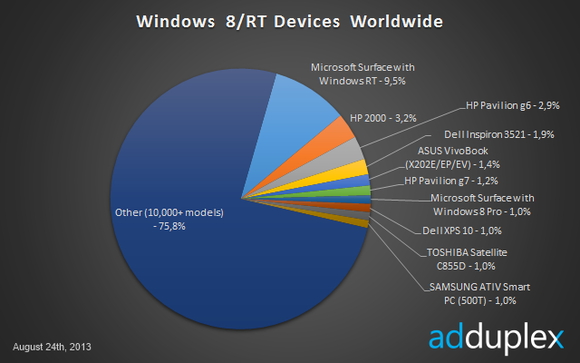 To be fair, AdDuplex's stats skew towards Windows RT devices, since the firm's ads appear in modern-style apps, which users of the full-blown Windows 8 operating system rarely use. Windows RT devices, on the other hand, can only run modern-style apps. But even still, the data shows Surface RT demand surging. Why?
Price cuts working
Simple: Because Surface RT sales have been abysmal. Odd, I know, but the tablet moved so slowly at its original $500-plus price point that that Microsoft has resorted to numerous promotions to try and clear the Surface RT from stuffed stock room shelves.
The company recently dropped the retail price of the tablet by 30 percent, to $350, and before that, Microsoft offered even steeper discounts to schools and TechEd conference attendees. TechEd attendees could snag a Surface RT—complete with Touch Cover—for a ridiculously low $100, which resulted in insanely long lines as developers queued up to take advantage of the "crazy" deal.
The Surface Pro also saw a $100 price cut in August.
AdDuplex's numbers corraborates other reports that claim Surface RT sales have been "night and day" since the discounts took hold. And hey! While many users may be picking up the discounted tablet simply because of its near rock-bottom price tag, a lot of them have wound up actually enjoying Microsoft's slate, despite the tablet's inherent software flaws.