As buzzwords go, big data is currently one of the most powerful—and one of the most perplexing. It sounds like something only multinational conglomerates can afford. But the concept of analyzing very large amounts of data and looking within it for patterns, trends, and insights is one that nearly any business, large or small, can use to help make better decisions.
The big data you might not know you have
Chances are, you're already processing big data, even if you aren't aware of it. If you have a website, you probably use a tracking system like Google Analytics to help you determine who's coming to your site, what pages they're looking at, and what its overall traffic patterns are like. This is, in simple terms, big data in action. You'd never manually download your Web server's log files and pore through them, entry by entry. You need to step back and let a big-data tool—in this case, Google Analytics—help you make sense of it and present the insights in a more visual, easily understood way.
The key word in "big data" is big: The more data you have, the better it works. Want to gain insights into your finances? A few hundred sales records might tell you something, but a few million will turn up more trends and help you gain a deeper understanding of where your money is coming from. Want to get a bird's-eye view of your customer base? Thousands of customers and prospects fed into a big-data tool will be more valuable than an analysis of, say, your top ten buyers.
How small companies are profiting from big data
The goal of any big-data effort is to improve your business. If you've traveled through a major airport lately, for instance, you've probably seen Vino Volo, a small chain of wine bars that can now be found in 28 airports. Vino Volo is using big data in the form of a mobile app developed by Punchh, which works as a loyalty program and referrals system. Punchh co-founder Sastry Penumarthy says Punchh "crunches lots of real-time data from mobile, social, and POS to automatically provide brands (in real-time) 360-degree insights about their customers and stores, including visits by location and time of day, orders including specific menu items, reviews and sentiments of reviews, and campaign response rates," among other insights.
Riviera Partners uses big data for recruiting. The job placement company keeps a huge database of potential candidates that is constantly being updated. Searching this database for the right candidate involves not merely searching for keywords on resumes but by aggregating its own data on a candidate and cross-referencing it with public information (like LinkedIn profiles). Candidates are then scored based on all of these factors on a job-by-job basis before being further vetted and presented to the client.
How can your small business use big data?
If you're a typical small business, just crunching along from day to day without any real strategic direction, the ability to finally get your arms around your business by digging into the data you already have probably sounds enticing. But big-data service providers don't make it easy. There are literally hundreds of companies out there, all of which promise to open your eyes to your company's future by "harnessing big data."
These companies can be wildly dissimilar. For example, Tranzlogic provides a Web portal for merchants where they can track sales, how various locations are performing, and whether promotions are paying off. It uses "big data" analysis of your credit card transaction data to do this. Or consider MaxxCAT, which makes a network appliance and accompanying software to pluck data from your internal servers and hook those results into processing systems. It's also a big-data service, but the two companies couldn't be more different.
Knowing what kind of big data service to work with depends on the type of data you're looking to analyze.
A look at the big data landscape
Big-data companies vary widely in scope and scale. This overview will help you understand the types of companies out there. Some of them are large-scale providers that can analyze data from a wide variety of sources. Others work in extremely narrow niches. Again, choosing a big-data partner depends entirely on the data. There's no sense in signing with a provider that specializes in slicing and dicing Salesforce databases if you don't use that system.
InsightSquared: This service is designed to analyze sales and the selling process, with a distinct focus on hooking into Salesforce and similar apps to examine your CRM database. You can further refine this by adding in data from QuickBooks, Zendesk, Google Analytics, and other sources. InsightSquared provides sales forecasts, a pipeline visualization, a marketing cycle report, and more. Pricing starts at $99 per month.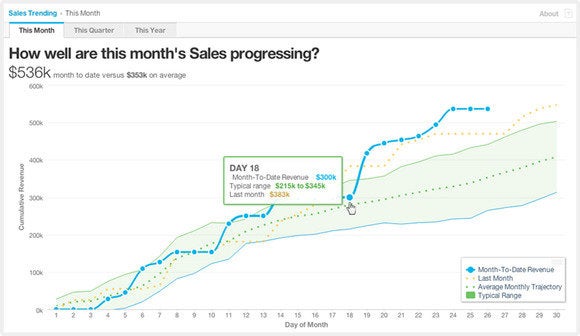 Canopy Labs: Canopy is designed to predict customer behavior and sales trends, offering a variety of scenarios for the future that you can use to help guide marketing and promotional efforts. (For example: Should you target loyal customers or try to bring back those who haven't shopped with you for a while?) Supports Constant Contact, Salesforce, MailChimp, and more. Pricing ranges from free (up to 5,000 customers) to $250 per month (up to 100,000 customers).
Radius: A big-data tool primarily used to help identify sales targets and aid with lead generation, especially for businesses working with a large number of prospects. A big focus is correcting outdated customer information, so sales reps don't go calling on shuttered businesses. The company says it aggregates data from more than 30,000 sources. Pricing is $99 per user per month.
Qualtrics: Big data comes to customer surveys, such as those "Tell us how we can do better" pop-ups you get at the end of a Web browsing session. Insights driven by Qualtrics can help with product and market research, ad testing, and even performance evaluations at the office. Pricing varies.
Sylectus: Even the trucking business is finding uses for big data. Sylectus helps companies with small fleets manage loads, sell or find empty space on trucks, locate nearby load space for urgent delivery needs, and more. The company has 11,000 trucks in its system, requiring tons of number crunching to manage. Pricing varies.
However, if your business decides to embrace big data, it doesn't have to mean making a huge commitment to a service provider—contractually or financially. Identify one problem area—sales, finances, Web performance, etc.—and start mining your data for insights. In no time, you'll be turning big data into big opportunity.