At a Glance
Expert's Rating
Pros
Powerful 4th-generation Intel Core processor
2TB drive with 32GB SSD cache for fast storage
Midrange video card for modern gaming
Cons
Only one PCIe x16 slot (occupied)
Just a single chassis fan
All four memory slots are occupied
Our Verdict
The Dell XPS 8700 Special Edition is a solid entry-level gaming PC.
Dell's take on the performance PC doesn't hold a candle to some of the over-the-top machines boutique vendors build, such as the $8000 Maingear Shift or even the $2571 Digital Storm Virtue, but Dell picked all the right components to build a reasonably priced ($1650) performance rig for mainstream gamers.
The Dell XPS 8700 Special Edition features one of Intel's most powerful fourth-generation Core processors, the Core i7-4770 (from the Haswell family). Unlike its pricier sibling, the Core i7-4770K, this CPU cannot be aggressively overclocked, but that's probably for the best considering that it's housed in a chassis that sports just a single cooling fan.
The upscale CPU is augmented by 16GB of 1600MHz DDR3 memory and a midrange video card based on Nvidia's GeForce GTX 660 graphics processor. Dell stuck to the middle of the road for storage, too, providing a 32GB solid-state drive as cache for a 2TB mechanical hard drive (tapping Intel's Smart Response Technology).
Like HP's mainstream gaming rig, the Envy 700-030qe, the motherboard in Dell's XPS 8700 has limited expansion opportunities. There's only one PCIe x16 slot, which means you won't be able to add a second video card to take advantage of Nvidia's SLI technology. Of course, Dell's meager 460-watt power supply couldn't support a second card anyway.
The XPS 8700 held its own in our benchmarks, delivering a respectable Desktop WorldBench 8.1 score of 337. That makes it more than three times faster than our baseline system, Acer's all-in-one Aspire A5600U-UB13, and slightly slower than HP's Envy 700-030qe. The Envy has the same processor as the XPS 8700, but its dedicated SSD boosted its Desktop WorldBench 8.1 score to 352, even though it has less main memory (12GB of DDR3/1600) and a lesser video card (an Nvidia GeForce GTX 645). But that SSD is the only storage the Envy has, which isn't optimal for real-world use.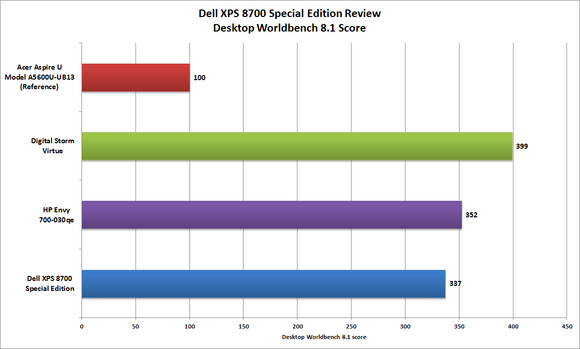 The superior video card in the XPS 8700 enabled it to deliver much better gaming performance than the HP Envy. When we ran Dirt Showdown and BioShock Infinite at 1920-by-1080-pixel resolution, with visual quality set to Ultra, the Dell churned out 44.6 and 40.6 frames per second, respectively, while the Envy 700 struggled to produce half that frame rate: 20.5 and 18.9 frames per second, respectively. While those frame rates fall short of the coveted 60 frames-per-second mark, both games are enjoyably playable at those rates, and the system remained pleasantly quiet while rendering both games.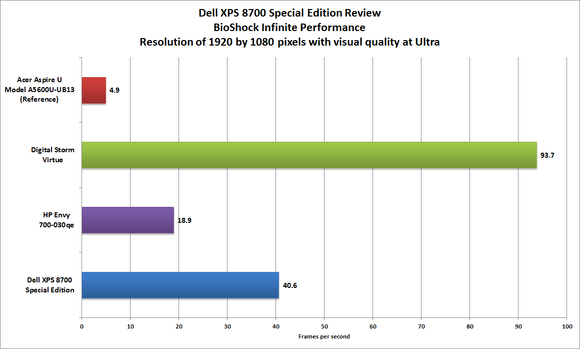 The XPS 8700 is equipped with a Blu-ray reader/DVD burner, Bluetooth capabilities, and an Intel Centrino Advanced-N 6235 dual-band 802.11n, 2×2 Wi-Fi adapter that supports a maximum physical link rate of 300 megabits per second. The system sports two USB 2.0 ports, two USB 3.0 ports, and a 19-in-1 media-card reader built into the front, plus four USB 3.0 and two USB 2.0 ports in back.
The included wired mouse and keyboard are the definition of standard. The keyboard offers some dedicated media controls but is not backlit. The long, curved mouse is comfortable enough for everyday use, but is otherwise unremarkable. Dell offers its wireless KM714 keyboard and mouse combo as a $75 upgrade.
If I had to choose between Dell's mainstream gaming rig and HP's (each configured as the manufacturers sent them for review), I'd pick Dell's because it has the better video card, more memory, and more storage. HP's Envy, on the other hand, costs $200 less and comes with a 256GB SSD (HP also offers more configuration options, although you can't upgrade to a better video card). Neither machine is a gaming powerhouse, but both provide good price/performance ratios and reasonable headroom for down-the-road upgrades.