Facebook has abandoned its nascent strategy to sell physical goods via its Facebook Gifts service. The company will be focusing on gift cards as the service moves forward. Facebook did not make an official announcement of the change, but reports have noted that 80 percent of the sales on Facebook Gifts were already in the form of gift cards as buyers have all but ignored the tangible stuff.
The switch makes sense. Anyone who's seen pictures of the insides of Amazon's warehouses know the kind of massive investment in infrastructure that's required to get a major fulfillment center up and running. Facebook's gift cards are still physical products, but one has to imagine dealing with shipping little slivers of plastic to Facebook users is far simpler than keeping Gund teddy bears and cases of wine on hand (and more cost-effective than dealing with a fulfillment house).
Facebook's gift cards—aka the Facebook Card—still leave a lot to be desired. While the card can be used with a variety of merchants, the card must be loaded with funds specific to that merchant. A single card can carry funds for multiple merchants, but it's up to the cardholder to remember what's on it (and God help you if you have multiple cards in your wallet). The good news: You can still check your various card balances online—through Facebook, of course.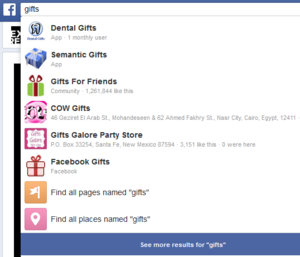 All of this sounds like a hassle, and to be sure, Facebook Gifts have historically composed just a few million dollars of the company's $1.81 billion in annual revenues. That sounds like a huge opportunity for an enterprising business (or businesses) that wants to turn the rampant social network into a giant gift shop. Holiday gifts alone are an estimated $580 billion business each year, and Facebook has never managed to tap into any of it (although Techcrunch breathlessly projected just nine months ago that it could earn up to $1 billion a year on the program).
It's unclear why the Facebook Gifts program (tangible or card-based) hasn't taken off. Perhaps it was the selection, perhaps the complexity, or perhaps the fact that it was buried deep in the bowels of Facebook's famously convoluted (and ever-changing) UI. So now's the time for someone to fix all of the above. Facebook is increasingly becoming a platform where ecommerce can be readily transacted (though this is often an exercise in waiting and buggy frustration), so why not turn Facebook's abandonment of gifts into cash?
Search Facebook for "gifts" and you'll find a pathetic collection of barely-trafficked apps and stores. Someone serious about becoming Facebook's #1 purveyor of gifts could easily dominate this space—and probably build a nice app to complement the storefront, too.
Even if your business has more modest goals, it might make sense to look at your advertising keywords and see if adding a few terms that include the words "gifts" or "presents" makes sense. Or rather, money.