I'll never forget the moment I first laid eyes on my freshman year dorm room. I swung open the heavy door to find a tiny room sporting old furniture, awful linoleum floors and cinder block walls—all the ambiance you'd expect university housing officers to foist on unsuspecting 18-year-olds.
I also found that a mouse had left a present in the top drawer of my desk. Glaring florescent lighting illuminated it perfectly.
Home sweet home? Actually, my roommates and I saw nothing but potential. Disgusting or not, we were determined to make the room as comfy as possible—and you can too with whatever dorm environment you're dealing with this fall. Your room will never be a luxury apartment, but a few crucial appliances can make it a multi-functional space for studying, sleeping, and socializing.
Magic Chef MCBR360B mini fridge ($180)
Unless you lucked out with a nice apartment-style dorm, your room probably doesn't have much more than a bed, desk, and spot for your clothes. But what about food? For keeping snacks to hold you over when the dining hall is closed, you'll want a mini fridge—and Magic Chef's MCBR360B is a great one. It has a separate freezer compartment, keeps a consistent temperature, and has both shelf and door storage to hold plenty of food and drinks. (I'm sure you'll put that 12 ounce can dispenser to good use, too.) As an added bonus, it's really quiet, so it shouldn't keep you up at night.
Panasonic NN-SD372S compact microwave ($130)
You'll also want a microwave, but due to your limited space, be sure to keep it small. Panasonic's NN-SD372S compact microwave saves space without skipping out on features. It covers all your critical microwaving needs: reheat, defrost, options for cooking based on time or weight, and an extra feature for keeping food warm if you're not ready to eat something right away.
The interior is only 0.8 cubic feet, and the high power setting is rated at 950 watts, so both specs should jibe with your dorm's size and power limits. (If not, you can adjust the power level to avoid blowing a fuse.) And, of course, it has a popcorn button.
Nespresso Pixie ($179)
There will be nights where you're up late working hard, and other nights where you'll be up late hardly working. Whatever the case, you'll be frequently burning the midnight oil, so an in-room coffee source is a must. The Nespresso Pixie is a capsule-based machine that makes single cups of coffee or espresso. Fill it with water, pick your capsule, and soon you'll have a fresh cup. It heats up to brewing temperature quickly—in about 25 seconds—and it automatically shuts off after nine minutes of idle time. The Pixie certainly lives up to its name: Its small size and attached handle make it easy to move and store.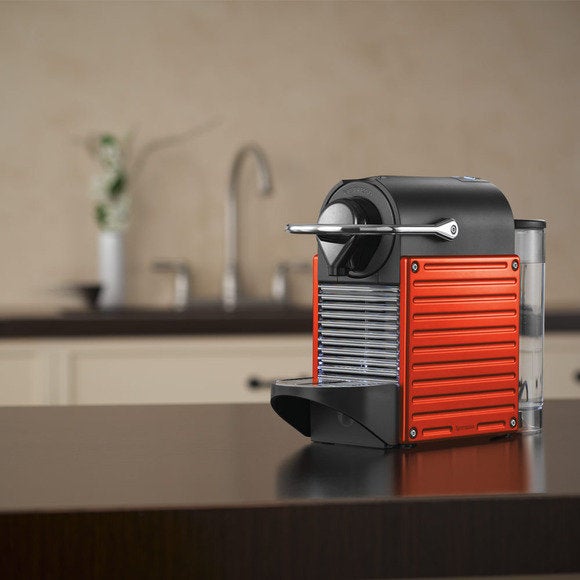 Digital pets and plants
I really wanted a pet my freshman year, so my roommates and I set up a small fish tank with a few goldfish. We totally thought we could handle an aquarium and some fish friends! Turns out, we were wrong. (RIP Mary-Kate, Ashley, Danny Tanner, and Uncle Jesse.) For the illusion of a fish tank without the hassle of, well, taking care of real-wold fish, there's Hearth Song's Jellyfish Aquarium ($99), which sports faux cnidaria and plastic flora.
Seriously, you'll be so busy with other aspects of college life, you'll be lucky if you can even keep a plant alive.
Speaking of plants, opt for a digital potted plant instead of a real one. Think Geek's Flip Flop Plant ($5) is solar-powered, so place it near your window and watch it spring to life. Rather, bounce to life. These replicas of living creatures will brighten up your room without any of the responsibility.
Since you'll be living in a small, shared space, it's best to pick your gear wisely to avoid overcrowding. But with a few practical items, and a few just for fun gadgets, your dorm will be a relaxing place to call home. Even your roommate will agree.