Foursquare delivered a version of its social networking app for Microsoft's Windows 8 on Wednesday, focusing more on local discovery than actually checking in and meeting friends.
For Foursquare, the app allows the company to continue pushing away from its roots as a way to alert friends of your location, and as an avenue to discover what's going on around you. For Microsoft, however, the app is a validation of a promise it made at its Build conference this summer, when it said that a number of big-name apps would land on Windows 8. Foursquare is the first, although apps like Facebook are probably more eagerly anticipated.
In keeping with the Windows 8 design style, however, the Foursquare app appears to offer a bright, interactive way to find local events and places to eat nearby. (The Foursquare app for Windows 8 is currently rolling out, Microsoft said—I wasn't able to download it from my work account at press time.)
"Discovery is a huge part of why I am really excited about Foursquare for Windows 8," Microsoft chief blogger Brandon LeBlanc wrote in a blog post announcing the app's arrival. "With Foursquare, I regularly find all kinds of new places to visit—whether it's a new restaurant try or some new local attraction (such as a state park or museum)."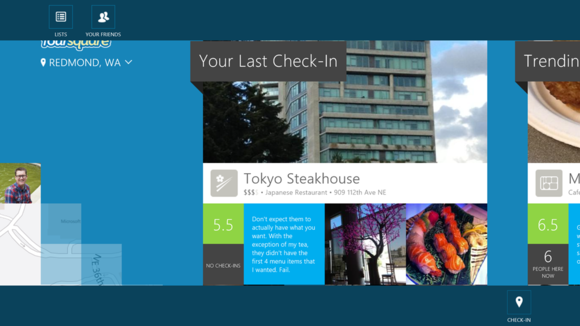 You can check in using the Foursquare app, but that doesn't necessarily seem to be the point. When users log in, they'll see the last place they checked in. Swiping up from the bottom of the screen is Windows 8's options gesture; from there, users will be able to access their lists, check in, or see their list of friends, LeBlanc wrote. Swipe right, and you'll see a list of trending places, organized around large images of the places themselves; swipe left, and you'll see those places on an interactive map.
The individual place page—there are 55 million points of interest, Foursquare said— appears to be where Foursquare shines, with a numerical rating, address, map, hours, and a list of users who have checked in there. Swiping right brings up more information on a place, and right again leads to related places. If anything, the only knock on the app appears to be that there are no visual clues that actually indicate that this additional content exists.
The app was built using HTML5 and Javascript, Microsoft developer evangelist Steve Guggenheimer added.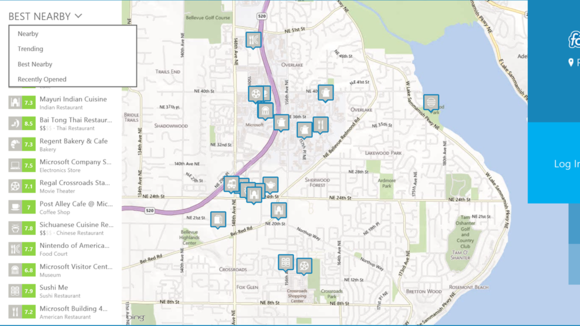 Foursquare has been on Windows Phone for a while now, where the concept of pulling out your phone, checking in, and seeing where friends are seems pretty natural. It's doubtful you'll be hauling a Surface tablet or notebook out of a backpack to let your buddies know you're at the local watering hole.
So far, the Foursquare app is a step forward to validate Windows 8. But there are still a bunch of apps that Microsoft promised would be available on Win8, and have yet to be delivered: Facebook, Flipboard, and Rhapsody, among others. Until those promises are delivered, Microsoft will still carry the reputation of lagging behind other mobile platforms.