Think you know who will replace Steve Ballmer as Microsoft's new CEO? Put your money where your mouth is.
Sports book Ladbrokes continued the European tradition of betting on well, just about anything, by offering odds on who will serve as the next chief executive of Microsoft. The current favorite? Steven Elop of Nokia, who is topping the charts at 5-to-1 odds.
The bookmaker appears to have sampled liberally from the various analyses of who could replace Ballmer, due to leave the building in at most 12 months' time. We're flattered to see that Samsung's Dale Lee, one of our outsider picks to lead the company, comes in at the middle of the pack at 20-to-1.
Who's the smart money betting on? A raft of Microsoft insiders, according to Ladbrokes. Topping the charts is Elop, who left Microsoft to run Nokia and has since forged strong ties with Microsoft and Windows Phone. But right behind Elop is current Microsoft chief operating officer Kevin Turner and the man credited (or not) with Windows 8, current venture capitalist Steven Sinofsky. Turner and Sinofsky are listed as 6-to-1 and 8-to-1, respectively.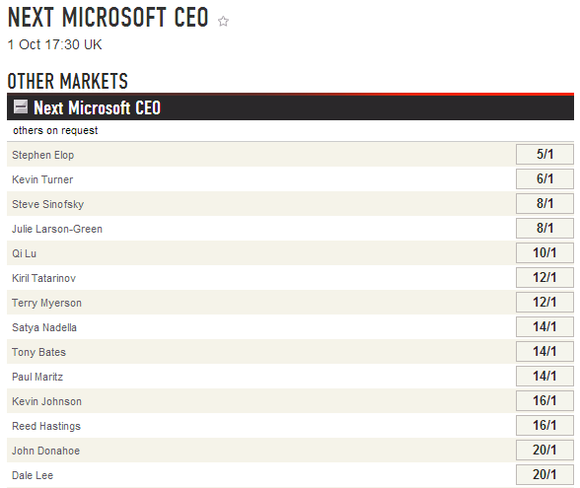 If I were a betting man (and I'm not, so please don't use this as gambling advice), I'd bump Turner and Sinofsky down the list a bit. While Turner clearly has the chops to run Microsoft, I'm not sure he has the vision the company needs. My gut tells me that Sinofsky isn't quite the guy, either, although his Learning by Shipping blog reads like a high-level course on enterprise management, strategy, and business theory.
Julie Larson-Green, who oversees the devices and studios business, was still one of our favorites, although she lacks seasoning. Ladbrokes pegs her at 8-to-1 odds, while Qi Lu, next on our list, at 10-to-1.
One of the names that sites such as The Verge and ZDNet like, former Skype head Tony Bates, also comes in at 14-to-1. Bates, admittedly, is a name we left off our shortlist, although both publications make compelling arguments: Bates came up through the ranks developing enterprise hardware at Cisco, moved over to the consumer business, and shepherded Skype through the acquisition process. Whether the Microsoft board views Bates as someone who successfully monetized what most consider to be a free service may be one metric that he's judged by; the other may be how Skype is slowly insinuating itself into most of Microsoft's platforms. In all, Bates may be undervalued at the moment.
Who's your pick for the next CEO of Microsoft? And how much would you be willing to put down on it? Unfortunately, if you live in the United States, it's all academic; the US is one of the restricted territories that Ladbrokes prevents from opening accounts.