In the beginning, there was the L3p D3sk. A monstrous marvel of the arcane art of extreme case modification, the L3p D3sk project transformed a humble computer desk into a hulking, glowing, water-cooled PC, built to scoff at benchmark tests and to play even the most demanding games without blinking an eye, while also serving as a handy-dandy place to hold your sticky notes and Coke.
The L3p D3sk was awe-inspiring. The L3p D3sk gobbled up awards. The L3p D3sk was glorious.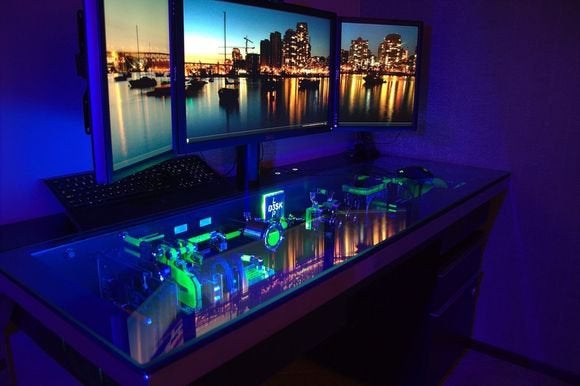 This article is not about the L3p D3sk. This article is about the commercial product inspired by the L3p D3sk's overclocked majesty: Red Harbinger's Cross Desk, the most outrageous, audacious, downright enthusiast blend of PC case and office furniture ever created.
From concept to commercial
Here's the thing about the L3p D3sk: For all its creativity and usefulness, there was only one. The same can be said for any case-modification project. But computer lover Thomas Nunn wants to bring killer, modding-inspired computer cases to the masses.
"The start of Red Harbinger was the mindset that there is this vibrant [modding] community that creates these awesome-looking computer cases and designs, but that's it," says Nunn, the CEO of Red Harbinger. "There are no computers on the market like that… It's kind of like when the conceptual designers at Toyota or Ford put out a car at an auto show and everybody drools over it, and then they release a Camry."
He continues: "What if there was a dealership that just sold the concept cars that everybody drooled over? That's what I wanted Red Harbinger to be, but for computers."
And what better place to start than with a commercial version of the utilitarian yet utterly awesome L3p D3sk?
Nunn reached out to Peter Brands, the modding maestro behind the L3p D3sk, who was understandably skeptical at first. "I had to send him a little cash and say, 'Look, I'm not a scam artist,'" says Nunn. And just like that, Red Harbinger was born.
Other passionate PC lovers joined the company, coming from all corners of the globe to transform their dream into reality.
"We wanted to make sure Red Harbinger's products are built by PC builders," says Nunn. "Someone that actually does this as an extreme hobby or for a living, and that's why it was important to bring people on who weren't just engineers but also had a deep-seated interest and love for doing awesome specialty computers."
Developing a dream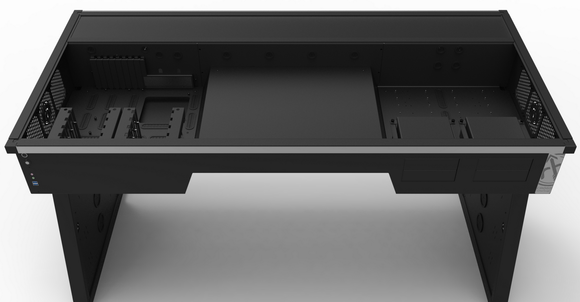 Shortly after its founding, Red Harbinger announced its first product: the Cross Desk, a desk-case hybrid inspired by Brands's L3p D3sk and designed with PC enthusiasts in mind. As the Red Harbinger website declares:
Our goal with Cross was to bring to market the most ultimate and all-encompassing PC case ever created. The desk itself doubles as the case and completely integrates all hardware, liquid and air cooling systems, lighting systems, and pretty much anything else that you may want to throw at it.
The road from concept to commercial product wasn't easy, though.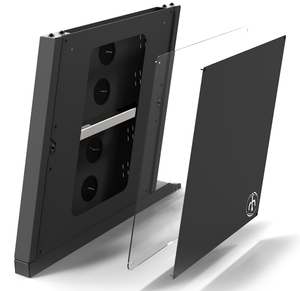 After releasing the initial images, Red Harbinger found that numerous aspects of the Cross Desk needed tweaking. That tweaking took the better part of two years before the company could put the Cross Desk up for preorder.
"It's things like the legs," says Shawn Rabensburg, Red Harbinger's VP. "You wouldn't think legs would be a thing you'd have to think about on a desk. Most people would say, 'Let's throw four posts on there and make it work,' you know? But the legs took two months of design."
The team members' widespread geographical locations contributed to the delay, as did problems they encountered in finding manufacturing partners willing to create the small-batch quantities needed for such a niche product. Red Harbinger eventually sorted out the manufacturing woes, though as Rabensburg says, "Cross Desk prototypes are very expensive."
The Cross Desk
With the production bumps behind it, Red Harbinger is finally ready to release its turbocharged Ferrari of furniture.
The final Cross Desk configuration includes numerous thoughtful touches, such as a leg rest that doubles as a racing-pedal mount and a headset-stand accessory to minimize cord clutter. Drive bays, expansion fan holes, and native water-cooling compatibility abound.
False bottoms and a covered rear section hide any unsightly components. Even those troublesome legs sport empty interiors and rubberized grommets for easy cable concealment. "That's a real big thing," says Nunn. "We hide the wires, we hide the gear—or you can display your stuff under the glass. It's up to you."
Even with the extra room afforded to cabling and whatnot, the Cross Desk can hold a ton of gear. The full spec list reveals the Cross Desk's immense capacity: 20 3.5-inch drive bays, 18 2.5-inch drive bays, a plethora of expansion slots, motherboard compatibility galore, and much, much more, all contained in 130 pounds of steel and aluminum.
With the help of a "Dual PC upgrade kit," the Cross Desk can even hold two separate, fully functional computers within its hulking confines.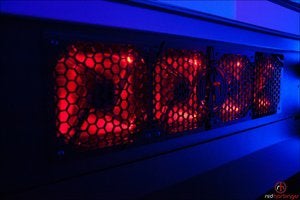 "One thing that really makes [the Cross Desk] stand out is the ability to have a server on one side and a gaming system on the other," says Nunn. "Or to have a giant motherboard, or a mini-ITX, or a Raspberry Pi, depending on your needs. Having the ability to customize it and design and expand from there really separates it from other PC cases out there."
In a nod to the case's L3p D3sk roots, the Cross Desk is capable of holding even more "with a little bit of modding," Rabensburg notes.
"The legs are hollow," he says. "If you wanted to mod an Xbox 360 or a PlayStation 3 and stick it in the legs so that you have an all-in-one gaming system that plugs directly into your monitors on alternate inputs, you theoretically could."
Payoff, and beyond
The computer-friendly equivalent of a concept car doesn't come cheap, though. While the Cross Desk won't launch via distributors until November 15 for roughly $2000, it is available to preorder through Red Harbinger directly for $1700 through September 13. That's a lot of cash—and no, the asking price doesn't include any PC hardware aside from the Cross Desk itself. You'll need to BYOCPU.
"It's hard to ask people to part with that much money," Rabensburg admits. "We try to understand the hesitation for someone to go and drop that much money on something like this, but… it's the last desk or case they'll ever need to buy."
To make the Cross Desk more enticing, Red Harbinger is tossing in all available accessories for free with preorders, including the aforementioned headset mount, additional shelving, and the dual PC and XL motherboard upgrade kits. Free artwork, custom-length fan cables (hey, it's a giant case!), and access to the company's engineers are also bundled in the asking price. "Everything that we have that's ready to go is going with these initial preorder desks," says Rabensburg.
Red Harbinger also offers flat-rate shipping for Cross Desk preorders, even though shipping a mammoth, metal desk to far-flung locales costs more than $350. On top of that, the company provides a financing plan for preorders, at $775 per month for three months, including shipping. That adds up to slightly more than the one-shot price, but Rabensburg says the company is hoping that the plan is "a little more convenient for some people."
Red Harbinger intends to sell a smaller, midrange version of the Cross Desk in the future, along with more accessories. And the company isn't stopping with computer-ready furniture. Other enthusiast-grade PC cases are coming through the pipeline, Rabensburg says, though he won't go into detail. (Releasing the early images of the Cross Desk taught the team a lesson in silence.) Future announcements will come on the Red Harbinger Facebook page, the company's preferred means of communication.
For now, Red Harbinger is focused on the release of its first product. When these case-desk combos land in enthusiast homes, the Cross Desk and its blank slate of PC possibilities will have come full circle from its L3p D3sk origins. Anyone can own this modding-inspired case—and it's just begging to be tweaked and configured in a hundred different ways.
"I'm glad we were able to pull it off," says Rabensburg. "I can't wait to see what people decide to throw in there. That's what we've been working for and waiting for all these years."