Dorm rooms are tiny, but that won't stop you from having friends over after a long day of classes. But while you might be fine with watching a movie on your laptop, its screen is too small for a group of people—and with your limited space (and college student budget), you can't really splurge on a tricked-out entertainment system either.
You can, however, create your own basic setup with two key devices: a high-quality display and an awesome set of speakers.
The display
Instead of a TV, consider picking something a little more versatile, like an all-in-one PC or an HDTV monitor. The 27-inch Samsung LT27B750NDX/ZA ($550) is an HDTV monitor with a built-in TV tuner, so you can use it as a spare monitor for your laptop and for watching TV. The tuner supports your dorm's cable network, and you can access myriad web apps from the display's home screen—it includes streaming staples like YouTube, Netflix, Hulu, and Pandora. Videos look sharp on its 1080p resolution display.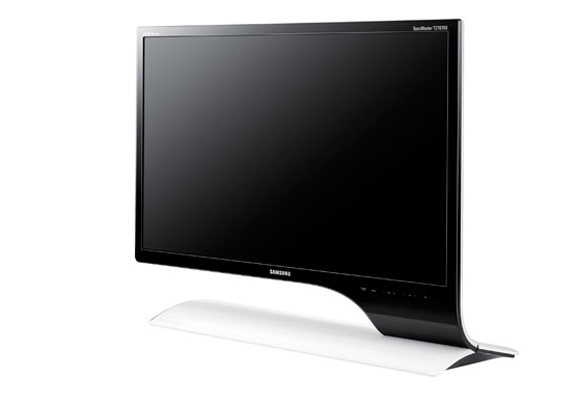 Because it's Wi-Fi enabled, you can stream content from the monitor's apps without needing your laptop hooked up. And thanks to the USB jacks on its side, you can connect your mouse and keyboard and browse the Internet through its built-in browser.
The speakers
When choosing your speakers, take your budget and your needs into consideration. If you have a couple of different devices that play music, a Bluetooth speaker set is the way to go. Consider Brookstone's Big Blue Studio ($150), which easily pairs with any Bluetooth-ready device, like your laptop, smartphone, or tablet—just hold down its big blue button to activate syncing mode. The Studio lasts about four straight hours on its battery, but you can also use it plugged in. With two front-facing full-range speaker drivers, a down-firing woofer, and a passive radiator, the Big Blue Studio sounds phenomenal, and doesn't take up too much shelf space.
For a speaker dock made for the Apple family, Bowers & Wilikin's Z2 ($400) is hard to beat. This speaker features a Lightening-connector dock (for the iPhone 5 and latest generation of iPods) and AirPlay wireless streaming, so you can hook your iPhone up or stream music wirelessly. The dock holds the iPhone 5 securely in place, so you don't have to worry about it coming lose if someone bumps the Z2 during a party. Under the hood, the Z2 packs dual full-range drivers and a pair of 20-watt amplifiers, which ensure exceptional clarity no matter what type of music you're listening to. It even has a remote, which is especially handy for killing the noise in a pinch if your floor's Resident Assistant comes knocking.
If you want something showy, portable, and long-lasting, TDK's Life on Record Wireless Boombox ($350) is a great option. It has the look and feel of an old-school boom box, but is far from that. To play a song, you can plug in your smartphone or iPod directly through its USB port, or beam it wirelessly via Bluetooth. The Boombox has an auxiliary input for other devices, too, and can even support some instruments. It boasts six hours of continuous play on its battery, which is solid considering its size. Inside, it houses two full-range drivers, two passive radiators, and one subwoofer, and you can adjust its bass and treble equalization for the best sound possible. Its final feature is an FM radio tuner, because no true boom box should be without it.
With just two devices, you can create a killer mini-entertainment mecca for you and your friends. Now, throw a welcoming bash for your floormates to show off your new gear. Who can respect your dorm's quiet hours with a setup like this?