At a Glance
Expert's Rating
Pros
Intel Core i7-4770K overclocked to 4.7GHZ
Beautifully painted chassis
Good price/performance ratio
Cons
Horizontally stacked video cards
Somewhat noisy under load
Our Verdict
While it is expensive, Origin's Genesis Z87 delivers performance close to some of the most over-the-top boutique gaming rigs we've seen lately.
Today's best gaming desktop computers are universally fast, powerful, and sexy. They're a lot like high-end sports cars, complete with flashy lights and sleek metal chassis. Origin takes the sports car analogy one step further with its Haswell-powered Genesis Z87 system: It offers the option of a semi-custom paint job or a totally custom laser etching on its case—provided you're willing to open your wallet wide.
Otherwise, a basic Genesis system with an AMD processor can be had for as little as $1791. Our review model, however, sports a fourth-generation Intel Core CPU and costs a cool $6555 as of this writing. It's not the most expensive gaming machine on the block (hello, $9500 Primordial Medusa), but it'll put a sizable dent in most bank accounts.
The Genesis Z87 has all the components you'd look for, plus a few extras. Housed in a large Corsair 800D chassis painted "Shredder Red" (a black paint job that looks like the case has been skinned to reveal a red undercoat), the Genesis sports an unlocked Intel Core i7-4770K processor (overclocked to 4.7GHz), 16GB of DDR3/1866 memory, and three Nvidia GeForce GTX 780 graphics cards. It also has two 256GB Samsung 840 Pro SSDs running in RAID 0; a 1TB, 7200rpm hard drive; and Wi-Fi 802.11a/c (along with Bluetooth and a gigabit ethernet port for connectivity).
The system also features all the other goodies you expect to see on high-powered gaming systems, including a 1200-watt power supply, six USB 3.0 ports, a 40-in-1 card reader, a Blu-ray burner, interior LED lighting, and 7.1-channel surround sound. Each video card has two DVI ports, one HDMI-out, and one DisplayPort to support multimonitor setups.
As you might expect, these specs yield excellent benchmark performances. The Genesis scored an impressive Desktop WorldBench 8.1 score of 414, which means it's more than four times as fast as our reference model (the Acer Aspire A5600U-UB13 all-in-one, a middle-of-the-road performer). That score puts it right up there with the marks of boutique competitors that are also equipped with the Core i7-4770K, including Digital Storm's Virtue (399), Micro Express's MicroFlex 47B (421), and Maingear's Shift Super Stock Z87 (435)—see the chart below (and click on it to enlarge it).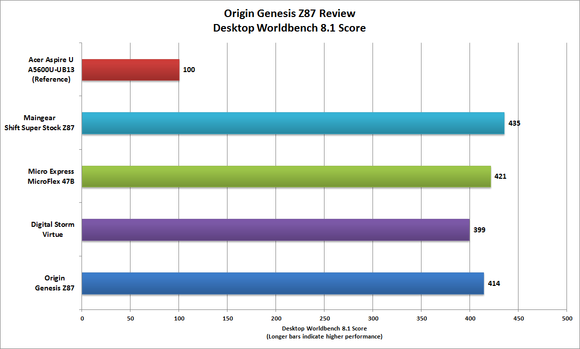 But WorldBench 8.1 isn't really designed to push the limits of high-end gaming systems. It includes basic gaming tests, but it's weighted more to evaluating a computer's performance on everyday productivity tasks. How much of a gaming system's power it can really capture is limited. So the PCWorld Lab subjects these extreme rigs to extreme gaming tests. And on that score, the Genesis Z87 didn't disappoint (click on the charts to enlarge).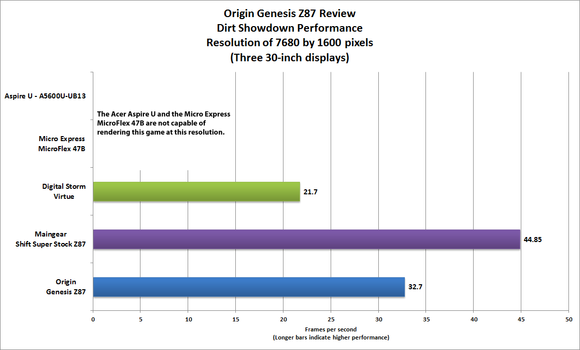 Playing BioShock Infinite at a resolution of 2560 by 1600 pixels on a 30-inch display, with visual quality set to Ultra, the Genesis Z87 managed to generate 132 frames per second. That's just shy of the 135.5 frames per second that the much more expensive Maingear Shift Super Stock Z87 produced with its three Nvidia GeForce Titan cards. That configuration is available as an option on the Genesis, and you just might want it if you wish to drive a triple-head gaming set: Where Maingear's rig rocked Dirt Showdown at a resolution of 7680 by 1600 pixels (splashed across 30-inch displays) at nearly 45 frames per second, the Genesis Z87 was limited to 33 frames per second.
Design-wise, the Genesis falls a little short of Maingear's Shift. The painted chassis is easy on the eyes, and its matte-black interior really makes its red accents (fans and coolant tubes) pop. But the orientation of its motherboard leaves its video cards stacked like cordwood. Where the Shift's vertical orientation provides natural channels for air to flow through the cards, the air must find its way around the cards inside the Genesis. I was also surprised that Origin didn't provide any means of supporting these heavy cards, relying solely on the chassis' mounting bracket to support their weight.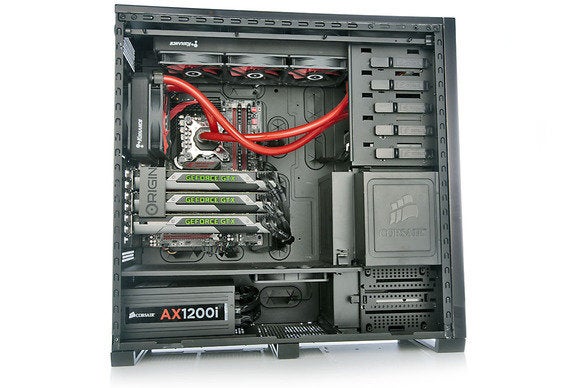 The Genesis Z87's CPU is liquid-cooled, with two radiators: A very large triple-fan one mounted to the top of the case, and a smaller one with a single fan mounted to the rear of the chassis. A fan controller mounted inside one of the front drive bays lets you dial in your preferred balance of cooling and noise. But with half a dozen chassis fans, plus the three on the video cards, the Genesis can get loud under maximum load.
Origin's Genesis Z87 is a great choice for hard-core gamers with the cash to indulge their favorite pastime, delivering performance that can be close to that of Maingear's Shift Super Stock Z87 at a price tag that's nearly $1500 lower. Both machines are lovingly, professionally handcrafted and overclocked to the max, but the Shift earns its price premium with a trio of more powerful video cards, faster memory, two additional SSDs, and a delightfully unconventional case design.