At a Glance
Expert's Rating
Pros
Haswell-class CPU
Bright 15.6-inch display
Relatively lightweight
Dual-band 802.11n Wi-Fi adapter
Cons
No touchscreen
Lots of flex in the chassis and lid
Just one USB 3.0 port
Our Verdict
You're not going to get everything in a 15.6-inch notebook priced less than $600. Acer made nearly all the right compromises to get to that price point.
For general use, Acer's Aspire E1 is the clear winner in this roundup. Acer crams a lot of value into this laptop's $580 price tag, including a Haswell-class CPU (Intel's 1.6GHz Core i5-4200U) and a 15.6-inch LED-backlit display with native resolution of 1366 by 768 pixels.
Though Acer uses quite a bit of plastic in the Aspire E1's design, you won't be ashamed to pull the notebook out of your bag. A smooth finish and rich color—Acer calls it Clarinet Black—make the 1-inch-thick machine very attractive.
The chassis and lid, on the other hand, exhibit quite a bit of flex, so you won't want to subject this machine to rough handling. The upside to all the plastic is low weight: At 4.6 pounds, this laptop has an advantage of more than 1 pound over the other 15.6-inch models I looked at, and it weighs just over a pound more than the ones with smaller displays.
Capitalizing on the display's generous size, Acer includes a full-size keyboard and a numeric keypad on the Aspire E1's deck. I expected the island-style keyboard to be somewhat flimsy, but I was pleasantly surprised by its solid tactile feedback. It's not backlit and it's a trifle noisy, but I have no complaints about how it felt under my fingertips.
The Aspire E1's display is plenty bright, producing vivid photos and videos, but off-axis viewing is merely adequate. Acer also shaved a few bucks off the Aspire E1's asking price by not including a touchscreen, but its highly responsive trackpad supports several Windows 8 gestures, including two-finger scrolling, zoom, rotate, and flip. You can also slide in from the right to open the charm bar, and slide in from the left to switch between applications.
The trackpad, which has a wide bar at its base that provides both right and left mouse-button functions, is off center in relation to the display, but dead center to the keyboard. It looks a little odd until you lay your hands on the keyboard's home row.
The Aspire E1 has only 4GB of DDR3/1600 memory, but you can open it up and pop in a second module to double that amount to 8GB. Storage takes the form of a 500GB, 5400-rpm hard drive. There's no SSD, to handle cache or anything else, and I noticed what appears to be an empty bay where an optical drive might go.
Benchmark performance
Acer's machine delivered a Notebook WorldBench 8.1 score of 177, the best of the group by a wide margin. It also outperformed our reference platform, an Asus VivoBook S550CA, which has both an SSD and a touchscreen (but costs more than any of the systems reviewed here). Diving into the individual components in our test suite, the Acer performed better than the rest of the field in the PCMark Productivity suite, but Lenovo's IdeaPad Z400, which has a larger and faster hard drive, handled our collection of media editing and encoding tasks better.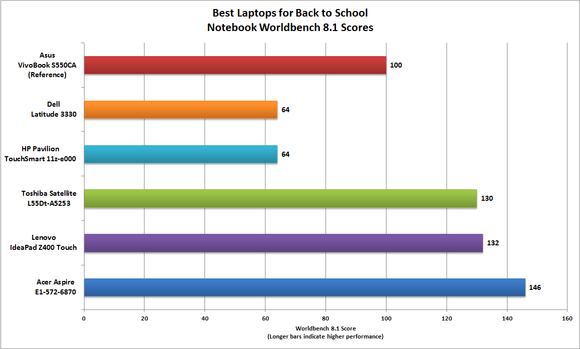 All work and no play makes for a boring lifestyle, but you'll want to stick with casual games on this computer. We dialed BioShock Infinite's resolution down to 1024 by 768 and its image quality to Low, and Acer's laptop still managed to render the game at no better than a sluggish 25 frames per second. Intel has made strides with its integrated graphics, but its Intel HD Graphics 4400 still isn't up to snuff for hardcore gaming. Even so, its gaming score beat everything else in the field (aside from our reference notebook).
Connectivity and conclusion
The Aspire E1-572-6870 offers a gigabit ethernet connection for occasions when you can plug into a network, and a Qualcomm Atheros AR956x dual-band 802.11n Wi-Fi adapter for times when you can't. The laptop also has a Bluetooth 4.0 + HS adapter to support theoretical data-transfer speeds of up to 24 mbps, though the only good application I've ever found for Bluetooth is streaming audio).
Acer provides an HDMI-out for connecting the computer to digital displays and TVs, and a VGA output for older monitors and video projectors (the latter could come in very handy in classrooms and conference rooms, which tend to have vintage equipment). The system also has three USB ports, but only one of them is USB 3.0. The included memory card reader supports only SD Card.
i enjoyed using Acer's Aspire E1-572-6870. The machine is blessedly quiet, and it delivered a respectable 4 hours of battery life (middle-of-the-pack performance in this roundup).
Editor's note: This notebook was reviewed as part of a roundup for back-to-school season. You can read that story, along with reviews of the five notebooks we compared it to, here.