At a Glance
Expert's Rating
Pros
Responsive touchscreen
Great battery life
Very inexpensive
Cons
Very, very slow
Chintzy network connectivity options
Sub-optimal keyboard
Our Verdict
If you must have a notebook with a touchscreen, HP delivers a lot of computer for very little money. But you'll need to be patient with this one's performance.
HP's Pavilion TouchSmart 11z-e000 is one the smallest, lightest, and least expensive notebooks we've ever reviewed. It's also one of the slowest, finishing dead last on nearly every criterion in our five-system roundup except two important ones: weight and battery life.
Despite carrying a price tag of just $410, this Pavilion has a touchscreen. It measures just 11.6 inches, but delivers ten-point touch and the same 1366-by-768-pixel resolution as the other budget notebooks we looked at. Once you get over its diminutive size, you realize that the display is actually pretty good. Though it has a minor issue with vertical off-axis viewing, it's much better than the screen on the Toshiba T Satellite L55Dt-A5253. Augmenting the Pavilion's touchscreen is a trackpad that supports Windows 8 gestures such as two-finger scrolling, zoom, and rotate. Mechanical right and left mouse buttons are situated beneath the pad.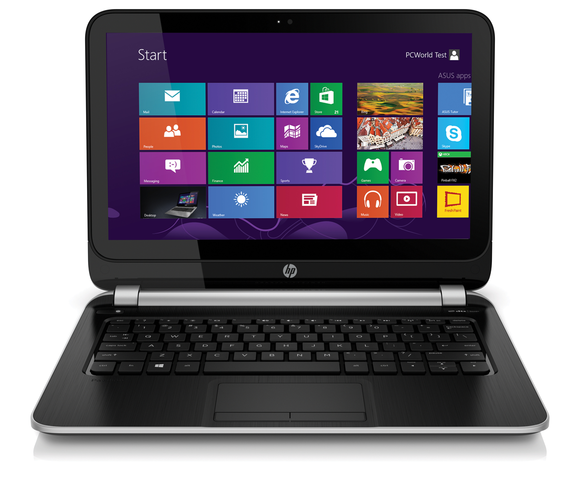 Apart from its small size, the Pavilion doesn't look like a cheap PC. Though its case is composed almost entirely of plastic, the finishes on the lid and chassis are dead ringers for brushed aluminum, and the computer feels very sturdy despite being just 0.86 inch thick. Although this laptop was one of the lightest we considered for our roundup, its 3.4-pound heft is not especially impressive for its overall size.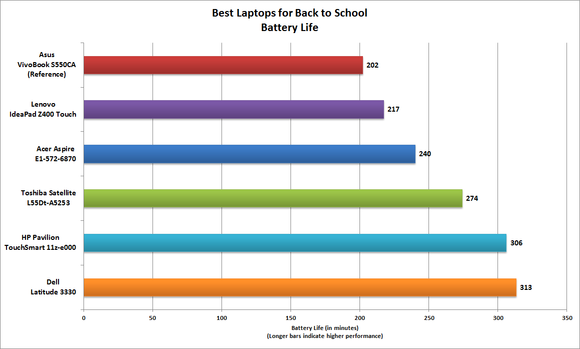 If you have large fingers, you won't like the reduced size of the Pavilion's non-backlit keyboard. The keys are only slightly smaller than average, but the difference drove me crazy during touch-typing sessions. The laptop is too small to accommodate a numeric keypad, too—and I loathe its arrow keys' design. Rather than laying them out in the familiar inverted T formation, HP made the right and left keys oversize, and the up and down keys half-size—and bookended by the other two.
The Fn keys have common tasks (such as volume and media player control) assigned to them by default, so you don't have to hold down a second key to use them for those purposes. Speaking of media, the Pavilion has surprisingly good speakers, augmented by DTS Sound+ audio-processing software.
Benchmark performance
Egad, is this computer ever slow! Much of the blame can be laid at the 1GHz AMD A4-1250 processor that runs the show. This is paired with 4GB of DDR3/1333 memory, which HP says is upgradeable to 8GB. But since the machine has only one DIMM slot, you'll need to toss the existing 4GB DIMM to do so (unless you buy the 8GB version at the outset). Our review model came with a 500GB hard-drive upgrade (the stock machine packs a 320GB hard drive), but both drives spin their platters at an unhurried 5400 rpm. There is no SSD option available, and the only optical drive option is external.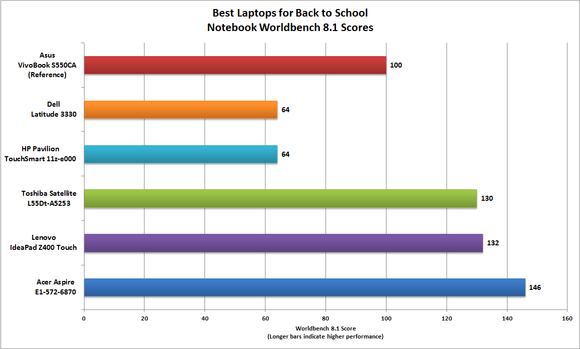 The Pavilion TouchSmart's pitiful Notebook WorldBench 8.1 score of 64 matches that of the $539 Dell Latitude 3330, but its scores on most of the other benchmarks are significantly worse than the Dell's. For example, the Latitude earned a PCMark 7 Productivity score of 932, versus the Pavilion's mark of 348. And the HP's scores on our media editing and encoding tests were off-the-chart bad. On the plus side, the superior graphics processor integrated into the AMD A4 processor helped level the playing field in at least some of our gaming benchmarks.
Connectivity and conclusion
One of the ways that HP kept this computer's price so slow was by provisioning it with cheap networking capabilities. The Realtek RTL8188EE Wi-Fi adapter is a single-band 802.11n model that supports a maximum physical link rate of just 150 mbps, and its hardwired ethernet adapter maxes out at 100 mbps.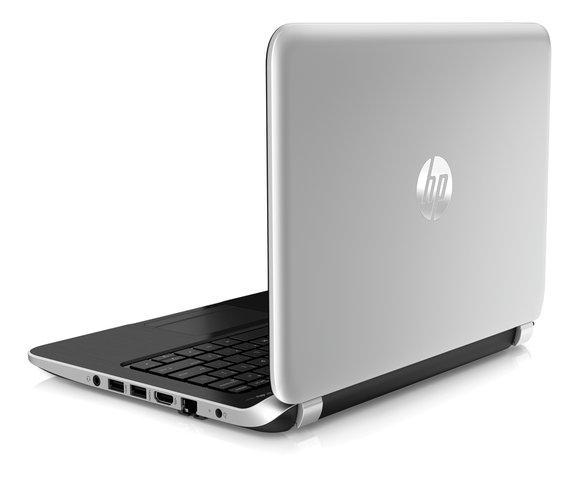 For better wireless networking performance, you can plug an adapter into one of the Pavilion's USB ports. It has two USB 3.0 ports and one USB 2.0 port, plus a multiformat media card reader. HP provides both HDMI and VGA video outputs.
The HP Pavilion TouchSmart 11z-e000 is tough to beat on price—you get a lot of computer for the money. Its closest rival in price—Dell's Latitude 3330—costs $100 more, doesn't have a touchscreen, and carries a smaller hard drive. The Dell is slightly faster and has a larger display, but I think the TouchSmart 11z is a better value in the long run.
Editor's note: This notebook was reviewed as part of a roundup for back-to-school season. You can read that story, along with reviews of the five notebooks we compared it to, here.