Most of us go about our daily computing tasks secure in the knowledge that something like our Intel Core i5 or AMD A6 will render our Web browser just fine. But then there are the "1 percent" of geeks who demand the best of the best for gaming and high-end computing.
Intel built its three new Extreme Edition chips, including the six-core Core i7-4960X, for members of this elite. The new processors appear atop Intel's price list, and you can expect to pay up to $990 for the processor alone—not including a CPU cooler.
Nevertheless, if you're interested in pulling maximum frame rates and detail levels from top-tier titles like Metro 2033 or the Crysis series, you'll want to consider Intel's new chips. And you're hardly alone: Recent reports suggest that the gaming hardware market is alive and well, with hundreds of millions of dollars spent in preparing rigs for a single game.
An oldie but a goodie
Despite their 4000-series model numbers, the new Core i7 chips are based on Intel's older Ivy Bridge microarchitecture, not on Haswell (the code name for the new Extreme Edition series is Ivy Bridge-E). That means it's restricted to Socket 2011 motherboards running Intel's X79 chipset. The good news for people looking to upgrade from a previous-gen Extreme Edition CPU is that the new chips are backward-compatible, though you'll need to flash your board's BIOS with new firmware. That option will save you a couple of hundred dollars, but enthusiast motherboard manufacturers will do their best to tempt you with brand-new models, too.
According to Intel, the new Core i7-4960X will deliver a performance boost of just 7 percent in 3D gaming—based on the 3DMark benchmark—over its older Core i7-3960X Extreme Edition CPU. So we may not see a rush of consumers eager to upgrade from that part. Intel provided PCWorld with a sample of the new CPU for benchmarking, but the test motherboard we ordered didn't arrive in time for our deadline. We'll post a follow-up story as soon as we've had a chance to run our own benchmarks on it.
Intel claims the new Core i7-4960X is 36 percent faster with 3D games than the newer Haswell-based Core i7-4770K part that PCWorld tested in June. Put another way, the Core i7-4960X is a beefed-up, third-generation Core chip that Intel says will outperform its high-end fourth-generation chip.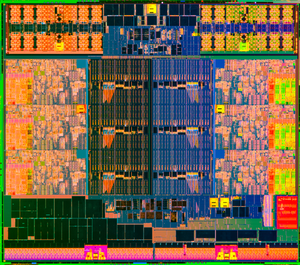 Don't expect that advantage to be permanent. A Haswell-based Extreme Edition chip should arrive eventually. But for now, the Core i7-4960X appears to be the fastest chip you can buy from Intel.
For the true gaming aristocracy with money to burn, the Ivy Bridge/Haswell complication won't matter. But socket issues are always a concern with PC builders. Midrange Ivy Bridge chips require Socket 1155 motherboards, Haswell chips need Socket 1150 boards, and these high-end Ivy Bridge chips need Socket 2011 boards. Each socket requires its own chipset architecture and motherboard, so upgrading from one microarchitecture to the next can be a pain. (If you're interested in building a powerful, inexpensive Haswell system for less than $1000, check out our guide from June.)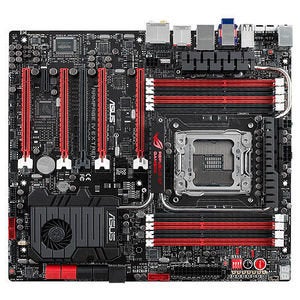 The X79 chipset that the LGA 2011 infrastructure supports includes 40 PCIe 3.0 lanes—enough to support several high-end graphics cards (using Nvidia's SLI or AMD's CrossFire X technology). That capability combined with a high-end CPU and lots of fast memory can make for one ferocious system.
DIYers will be able to buy Intel's new chip through retail channels, and a number of boutique PC builders—including CyberPower, Digital Storm, Falcon Northwest, and Origin—will offer custom rigs based on the new chips.
Speeds and feeds
Intel has launched three Ivy Bridge-E chips: The four-core/eight thread, 3.7GHz Core i7-4820K is priced at $310. The six-core/twelve-thread, 3.4GHz Core i7-4930K will cost $555. And the six-core/twelve-thread, 3.6GHz Core i7-4960X will go for $990.
Each of Intel's Extreme Edition chips is an "unlocked" processor, so there are no hardware limitations for overclocking your chip (that is, making its clock run at a higher rate than stock in order to gain higher performance). In fact, these chips are designed to be overclocked. Sites such as HWBot.com publicize the accomplishments of enthusiasts who have pushed their CPUs to 5GHz and beyond, often relying on exotic cooling systems to avoid overheating. But before you consider joining their ranks, be aware that overclocking can put your entire computer at risk, and damage from overclocking is usually not covered by manufacturers' warranties. I'll go into more depth on overclocking shortly.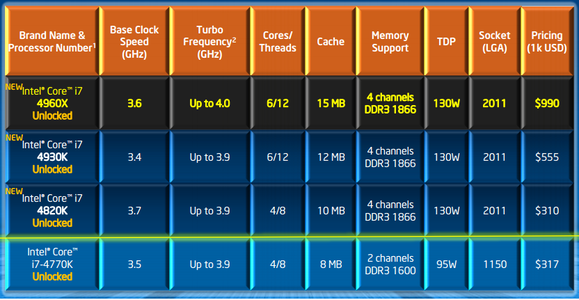 As you can see from the chart above, the new Extreme Edition processors have much higher thermal design power (TDP) than chips in the Haswell family, even though they don't have integrated GPUs as Haswell processors do. Also, unlike Haswell processors sold in retail packaging, Ivy Bridge-E chips will lack a stock cooling system. To that end, Intel is introducing its own Liquid Cooling TS13X kit—a water block, radiator, and 120mm fan—to be sold separately for between $85 and $100. Third-party air- and liquid-cooling systems from vendors such as Antec, Corsair, and Thermaltake will also be available.
The existing X79 chipset that the Core i7-4960X relies on supports up to four channels of DDR3/1866MHz memory. In addition to the forty PCIe 3.0 lanes plumbed directly to the CPU, the X79 chipset provides eight PCIe 2.0 lanes, plus input/output architecture that includes fourteen USB 2.0 ports, six SATA ports (two of which are 6-gbps SATA ("SATA 6 Gbit/s"), eSATA, gigabit ethernet, Intel's first-generation AVX instructions, and AES encryption acceleration.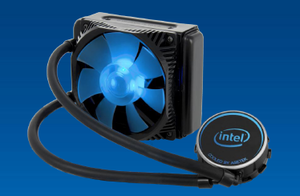 As noted earlier, Intel's own comparisons between the new Core i7-4960X and the older i7-4770K show that the new CPU delivers a 36 percent boost in graphics, and a 37 percent boost in 3D modeling. Intel says that "everyday computing" tasks will run about 18 percent slower on the Core i7-4960X than on the Core i7-4770K (the unlocked Haswell CPU) because the newer chip lacks integrated graphics. But no one buying an Extreme Edition processor is likely to be concerned about that deficiency.
Overclocking: the need for (even more) speed
Here's another angle to consider: improved overclocking. You can push the cores on these unlocked processors to a CPU/bus ratio of 63, versus 57 for prior chips. Assuming a 100MHz bus, that means the CPU should overclock up to 6.3GHz—though temperature, voltage, and speed-path hurdles must be surmounted along the way, an Intel spokesperson said. (Each of the chips has Intel's Turbo Mode, which can automatically overclock a single core while running a single-threaded application, built in.)
Intel has also included a new feature: real-time core overclocking and turbo voltage control. "The previous generation Extreme Edition parts (Sandy Bridge-E) required that any change to individual per active core states, power limits or additional turbo voltage via CPU register controls required a reset to take effect," Intel's spokesperson explained in an email. "The new Intel Core i7 processors (Ivy Bridge-E) provide a new dimension of flexibility in that all three of these items can be controlled at the OS level without resetting the system. Therefore if an end user wants to easily toggle through overclocking states without ever leaving their application or work, it is achievable (using a tool like XTU or other ODM applications), where it was not as readily achievable in the previous generation."
Intel's Extreme Tuning Utility (XTU) has been upgraded to version 4.2, integrating HWbot.com support and adding an AppTune beta for application-specific tuning.
One take: Ivy Bridge-E offers a small improvement
So is it worth it? Kelt Reeves, chief executive of boutique builder Falcon Northwest, weighed in.
"It's a really nice step for the 6-core audience, with its lower power consumption and faster clock-per-clock performance," Reeves said via email. "I don't think it'll blow the press away though, as the chipset remains unchanged, and the top overclock speeds are a bit lower than last gen. So the net result at the benchmark drag-races in the press are scores that are pretty similar to the last generation—not an exciting story. But for the normal professional buyer that buys their 6-core systems at standard speeds, [Ivy Bridge-E] is a win for them."
Enthusiasts won't need to buy a top-of-the-line i7-4960X to realize a healthy performance boost over Intel's best Haswell processor. The "low-end," $310 Core i7-4820K runs at a higher clock speed, has more onboard cache, and supports more memory channels—and faster memory—than a $350 Core i7-4770K (but it also requires a video card, since the Ivy Bridge-E series doesn't have an integrated GPU).
Naysayers might turn up their nose at "just" six cores, and figure that the Ivy Bridge-E generation will close out the LGA 2011 infrastructure, forcing gamers to buy another motherboard—plus memory and a CPU—for next year's revision. That could represent an investment of at least $1200 or so.
But for users who would consider spending more than $900 for a new CPU—the price of a midrange PC desktop with discrete graphics—the limitations probably won't be deal-breakers. And then there's the overclocking angle.
Gamers can also choose to buy a PC with practically all the bells and whistles they desire. According to Reeves, Falcon won't charge a premium for the new part, and will simply swap in the Ivy Bridge-E chips for "existing 6-core offerings we have now."
Intel's Ivy Bridge-E processors do offer a range of pricing options for value-oriented enthusiasts. Popular X79 motherboards like the AsRock X79 Champion build in multiple PCIe slots, permitting "Frankenbuilds" that can reuse older graphics cards. Basically, if you're a gamer who sees the need to invest several hundred dollars a year to feed your PC games habit, the new Ivy Bridge-E series should be right up your alley. And if you're a gamer who doesn't, there's always a console.