Like some other Chinese brands, Xiaomi doesn't exactly have the easiest name for westerners to pronounce. But on Thursday, the name was spoken worldwide after the company hired a former Google executive to lead its global expansion.
The hiring is the latest in a string of successes for a company that only began selling Android phones in China two years ago. Xiaomi product launches are so anticipated in the country that its phones routinely sell out, forcing millions of customers to wait for more stock. Expectations for the company are also high, with some saying Xiaomi is China's answer to Apple.
But to expand outside its home market, Xiaomi faces a difficult road that other Chinese handset makers are still trying to navigate, according to analysts. They point to challenges with raising brand awareness, potential patent disputes, and whether Xiaomi can go head-to-head against foreign tech giants with a history of innovation.
"There's still some debate as to how much is Xiaomi an innovative company, and how much of their innovation is just really good public relations," said David Wolf, a technology consultant at public relations firm Allison+Partners. "I think we are coming to the point where we are going to find out."
Appealing to the crowd
Xiaomi, pronounced She-ow Me, means "Little Rice" in English and was created partly because of its CEO's dissatisfaction with the handsets he owned.
"If I don't feel the phones are good enough, I want to change it. But I myself don't have the power to change the phones," Xiaomi CEO Lei Jun said in an interview in May. "For example, if I gave my advice to Nokia's R&D vice president, will he change it? No, he won't change it."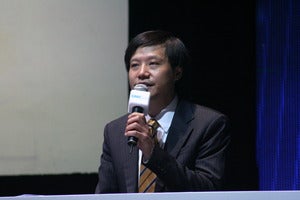 "I wanted to force Nokia to do this, but they just wouldn't," he said. "Their model doesn't support this business."
As a result, Xiaomi founded itself on the idea of building phones by harnessing the power of user feedback. The company's handsets are installed with a customized version of Android called MIUI that Xiaomi engineers will update on a weekly basis with new tweaks and features culled from customer opinion.
The crowdsourcing model has been a major driver for Xiaomi's success, helping to generate word-of-mouth marketing and create loyal customers, according to Lei. But it is also an approach that he believes will be welcomed worldwide.
"If you are an American, and we go to the U.S. market, our product might not initially be good enough, but every week we will make changes, and so after a while I think Americans will think this product is very good," he said.
Xiaomi is joining the ranks of other Chinese smartphone vendors wanting to make it big in the international market. Telecommunication equipment vendors Huawei and ZTE have been selling handsets in the U.S., and PC maker Lenovo is also eyeing mature markets for its smartphone sales.
But so far Chinese branded phones have yet to gain the worldwide recognition their rivals Apple and Samsung Electronics enjoy. Instead, Chinese handset vendors have excelled more at selling affordable phones than at generating brand awareness.
The same can be said for Xiaomi. Adding to its appeal is that the company sells phones with high-end specs, but at low prices. Its newest handset features a quad-core processor, a 4.7-inch screen, and an 8-megapixel camera, for $129 without carrier subsidies.
After announcing the phone, the company received over 7.4 million pre-orders for the device, Xiaomi said earlier this month. Demand for the company's products is so high that in this year's second quarter, Xiaomi surpassed Apple to become the sixth-largest smartphone vendor in the country, according to research firm Canalys.
Barra arrives
But while Xiaomi phones are still only available in China and Taiwan, the company on Thursday signaled it was preparing to expand to foreign markets with the hiring of former Google vice president for Android product management Hugo Barra.
Barra is an important hire for Xiaomi because he can help the company cooperate with Google to deal with patent disputes that have hampered other Android smartphone makers, said Sandy Shen, an analyst with research firm Gartner.
"These legal issues have been a big problem. It can affect a phone's design and software," she added.
Barra could also aid the Chinese company in improving its customized Android interface for its phones, said David Wolf. But its unclear if Xiaomi's crowdsourcing model will be a boon or a burden for the company when it comes to foreign markets, he added.
"Can you trust the people who want you to add this feature on the phone? Or will it turn you from a market leader into a market follower?" he asked.
Xiaomi generated revenue of 13.3 billion yuan (US$2.2 billion) for the first half of this year, but it's unclear how profitable the company is. Nevertheless, investors are flocking to the smartphone maker, and the company's valuation has reached $10 billion, Lei said in a post on Chinese Twitter-like site Sina Weibo earlier this month.
A growing company like Xiaomi naturally wants to expand, earn more profits, and build up the manufacturing capacity for its products, Wolf said. But Xiaomi will face stiff competition, and perhaps needs to pick a new name for the company that's easier for international customers to pronounce, he added.
"I think the challenge is how much bandwidth can they devote to becoming an international company," Wolf said. "And its also about how can they be innovative when there are much more better funded and experienced companies out there."