At a Glance
Expert's Rating
Pros
Finds relevant information on most songs
Easy-to-use interface
Cons
Hefty fee for a one-year license
Can load only 1000 songs at a time
Limited as a music player
Our Verdict
This is the perfect tool for the serious music organizer, but a steep subscription price holds it back.
You're an audiophile and a neat freak. Years of burning CDs onto your computer have left your digital music library a tattered mess of unnamed tracks by unknown artists—and it's driving you nuts.
You can go through and name them one by one, but that would be an annoying slog, and it wouldn't solve the blank album cover problem. Ashampoo MP3 Cover Finder to the rescue!
MP3 Cover Finder works well, there's no doubt about that. It found art for every obscure song I could throw at it, pulling from sources including Amazon, Bing, Google, and iTunes to find the correct cover art and track information. If it couldn't use its fingerprint technology to identify the MP3 via metadata and file names, it still came up with the best match from all the information provided.
In my cruelest test, I used an unreleased song for which the artist is presumed but not confirmed and the title is just a rumor. It managed to find some generic cover art of the presumed band photos as well as some fan-made art for the song. The service works great.
Ashampoo MP3 Cover Finder couldn't be simpler to use, either. Clicking the "Add" button brings up five different ways to add songs: a single file, a whole folder, your dedicated music folder, drag and drop, or from your iTunes. The songs load up, and the software asks if you'd prefer to find the covers immediately or later. The process could take anywhere from two to ten minutes depending on how many songs you choose: It's off scouring the Internet and file data for the correct information, and these things take time.
Hitting the Optimize button lets you select which tracks to change and which options to apply. It automatically clears any manual data and selects the highest rated cover to apply, so you don't have to manually select data for each song.
Despite its usefulness and simplicity, there are major drawbacks. The initial price is $30 for a one-year license. After that you'll have to extend it, presumably by paying for another year, to continue using the product. That's a hefty subscription just to organize your music library. The changes stay in effect, of course, so any improvements made remain after your subscription expires.
Ashampoo MP3 Cover Finder lets you store only 1000 songs at one time as well. Throwing your entire library into the fray takes a few steps. You can load all your songs, optimize them and find the covers, and then clear them out to make room for others. It's a hassle for those with huge libraries, but won't likely affect the majority.
Vendor Ashampoo doesn't bill the program as a music player by any means, and other than quick preview of the song it shouldn't be used as such. Double-clicking a song begins to play it, but there's no way to queue up more. You can click around while a song is playing to review and edit metadata, but the music player doesn't display the current song that's playing. This makes editing a song manually frustrating and confusing, since you can't be sure if the song you're listening to is the song you have selected without double-clicking again and restarting the song.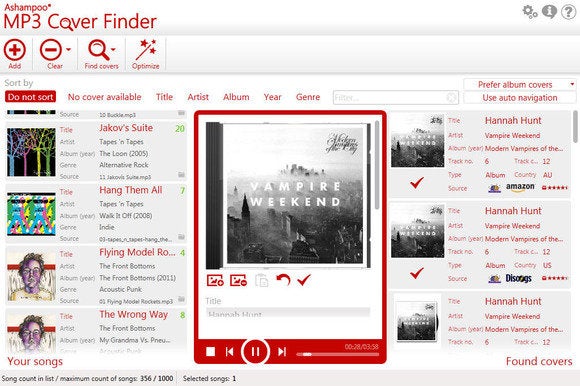 Those who can't stand the blank covers and mislabeled songs when setting up playlists on a phone or MP3 player will get a kick out of Ashampoo MP3 Cover Finder and will make the steep price tag worth it. However, anyone short of being a music organization freak won't get the same value. You'll get a good one-time use for the initial 20-30 songs that have been evading your labeling and then sit dormant until it's time to renew.