Ankur Nandwani is a news junkie who keeps hitting paywalls. He would pay for content, but not for a subscription. But he found a virtual solition.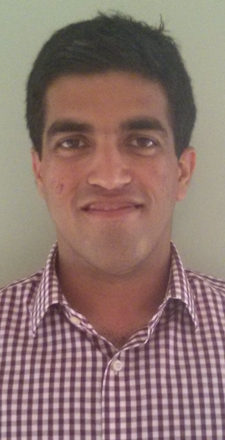 Nandwani, 27, merged his interest in news with Bitcoin, a virtual currency that many people think will change the future of payments. With co-founders Bo Li and Valerie Chao, he developed Bitmonet, an open-source tool that lets publishers accept micropayments in Bitcoin for news stories.
Bitmonet is just a side project for Nandwani, who has a day job as a senior software engineer in San Francisco. He started analyzing Bitcoin about six months ago and wanted to grow interest in the virtual currency.
"It's all about encouraging bitcoin adoption," Nandwani said. "I think in the early stages of the bitcoin ecosystem…..it's better to increase bitcoin adoption. We can think of making money later."
News publishers have struggled to strike the right balance between generating online revenue and not alienating readers—already bouncing from one free online news outlet to another—with pay walls. Many tease users with free stories and gently nudge them to paid subscriptions when they hit a limit.
But charging one-off fees for news stories is a hassle: users don't want to create an account and enter their credit card details for a single news story. It's easier just to move on.
Pay on the fly with Bitcoin
Bitmonet leverages Bitcoin's strength as a digital substitute for cash. In a demonstration on Bitmonet's website, clicking on a story brings up a pop-up window offering a news story for 10 cents, a one-hour pass for 15 cents or a day-long pass for 20 cents
The one-hour pass costs 0.0012 of a Bitcoin. Clicking the "Pay with Bitcoin" button launches Bitcoin wallet software on a person's computer. Web-based wallet software can be used by copying the payment address, Nandwani said.
The transaction is painless: users don't have to enter their financial details or create an account with the publisher.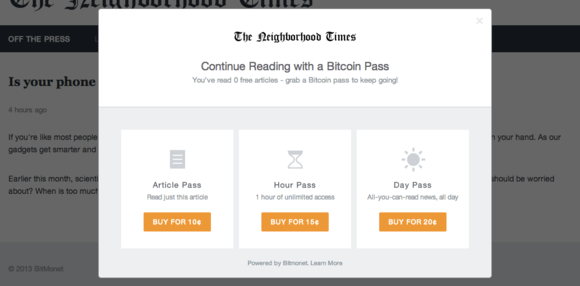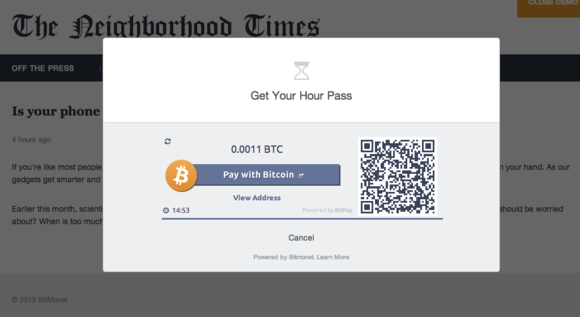 Bitcoin's peer-to-peer network uses a system of computers called miners to cryptographically verify that a transaction is legitimate. Usually, a transaction needs to garner six "confirmations" before it is considered complete, which at times can take up to three hours.
But Nandwani said merchants can accept as low as one confirmation to let people read the story as soon as possible.
If users choose to buy time-based access to a site, they will have to remember to keep their cookies, which are information files retained by a web browser that are used by websites to remember certain user information.
It's a small sacrifice, but one to keep in mind since many people configure their browsers to delete their cookies for privacy reasons. Nandwani said "we are trying to maintain a balance between creating an account and keeping it frictionless."
Bitmonet is configured now to use BitPay as a payment processor, but it can use different ones. BitPay, based in Atlanta, specializes in processing transactions for merchants. BitPay converts Bitcoin revenue to cash and wires it daily to a merchant's bank account.
Nandwani said Bitmonet plans to add a WordPress plugin in the coming weeks for micropayments on that publishing platform. Other development plans include creating SDKs (software development kits) for Android and iOS that would allow Bitmonet to be used for other things, such as virtual goods, he said.