A smart watch from Samsung Electronics, an Acer smartphone that can shoot 4K video, and a Sony smartphone with a 20-megapixel sensor, plus a plethora of tablets and TVs, are all expected at this year's IFA consumer electronics show.
Consumer electronics manufacturers from all over the world are once again heading to Berlin for the show, which won't open its doors to the public until Friday. By then, though, most of the new products will have already been announced at news conferences on Wednesday and Thursday.
Samsung readies watch, Galaxy Note
Samsung is expected to launch a smart watch, the voice-controlled Galaxy Gear, rumoredto allow users to keep track of calls, messages and social networks. The device will also have calorie and pulse monitors, and apps that take advantage of those features, according to media reports. The smart watch segment is being increasingly hyped, but expectations should in this case be tempered by the fact that the Galaxy Gear is a first generation device, and few vendors get everything right the first time.
The Korean company is expected to launch a new Galaxy Note too. When it launched the first phone-and-stylus combination back at IFA in 2011, the form factor had its detractors. But Samsung has managed to create a new product category, in which it now faces stiff competition from the likes of Sony and LG Electronics.
The Note's screen size has increased from 5.3 inches to 5.5 inches and is expected to be 5.7 inches on the Galaxy Note 3, with a 1920 by a 1080 pixel resolution. The Note 3 will have a 13-megapixel camera and Samsung is also expected to stick with a MicroSD card slot, in addition to the 32GB or 64GB of integrated storage.
The device will be powered by either a Qualcomm Snapdragon 800 or Samsung's own Exynos 5 Octa processor. The company demonstrated a new model of the latter in July. The Exynos 5420 has four Cortex-A15 processors running at 1.8GHz and four additional Cortex-A7 cores at 1.3 GHz. It also has a six-core Mali-T628 GPU for improved graphics performance. Compared to its predecessor, the Exynos 5420 will also be more power efficient, according to Samsung. At the time, Samsung said the processor was scheduled for mass production in August.
Any large-screened new Samsung smartphone will probably have to duke it out with the Xperia Z1 Sony is expected to launch at IFA. In an effort to differentiate its new flagship from the competition it looks like Sony is taking a note from Nokia's play book by focusing on the camera, which will have a 20-megapixel sensor. The smartphone's specification is also rumored to include a 5-inch full HD screen and a quad-core Snapdragon 800 processor.
Tablets from LG, Archos
Some smartphone and tablet vendors didn't want to get drowned out at IFA, so they have already announced products ahead of the show.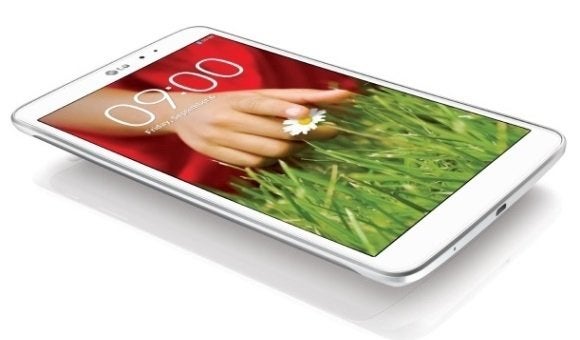 From LG Electronics comes the G Pad 8.3 tablet, which has an 8.3-inch screen with a 1920- by-1200-pixel resolution. It is powered by a quad-core Snapdragon 600 Processor running at 1.7GHz and has inherited some features from LG's recently announced G2 smartphone, including the capability for users to knock on the screen to turn on the device. With a feature called QSlide, users will be able to control "up to three different apps in one window with no interruption."
The tablet will be rolled out in North America, Europe and Asia as well as other regions starting next quarter. Prices will be announced at launch time, according to LG.
Archos also wants a bigger piece of the tablet market and will show a number of new products in Berlin. Android-based tablets in its Platinum range will be made out of aluminium and have quad-core processors and screens with resolutions of up to 2,048 x 1,536 pixels. The tablets in the new ChildPad range feature a user interface designed for children, parental controls as well as a filtered version of the Google Play app store.
PCs, TVs to make debut
The rapid growth of the tablet market has left the PC sector struggling. Vendors are looking for new ways to lure consumers into buying a PC as well as a tablet.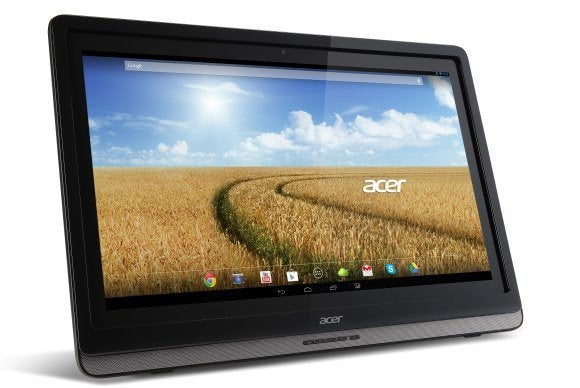 Acer has announced the DA241HL, an Android-based all-in-one PC that has a 24-inch Full HD touchscreen and is powered by a Nvidia Tegra 3 quad-core processor. Via an HDMI connector it can also double as a display for a Windows 8-based laptop or desktop computer. The DA241HL will be available mid-October and cost from $570.
LG, on the other hand, is hoping a screen with a 21:9 aspect ratio will help. Consumer interest in the format has increased since LG launched its first monitors last year, it said. Last week the company unveiled the V960 all-in-one PC, which has a 29-inch, 21:9 screen with picture-in-picture functionality, allowing users to browse the Internet while watching TV, the company said. LG didn't announce any details on when it will ship or what it will cost.
The TV sector is another part of the consumer electronics industry that has been struggling in the last couple of years. The addition of 3D has largely been a failure, so TV manufacturers have instead set their sights on 4K resolution sets, which have a 3,840 x 2,160 pixel resolution.
They face two main challenges—lack of content and getting the price down to something a majority of consumers can afford. Recently, Samsung and Sony both dropped the cost of their 4K products, in Sony's case to around $4,000 for a 55-inch model.
Just like last year, all the major vendors are expected to show new 4K TVs, although it remains to been seen whether they have cheaper models in store. Rumors ahead of the show are mostly about 4K products that are out of reach for most consumers, including a 98-inch TV from Samsung.
One way to get around the shortage of 4K video content is to allow users to create their own, which is what Acer's Liquid S2 does. The device will be unveiled at IFA, and is the first smartphone capable of recording 4K video. The device has a 6-inch full HD screen and is also powered by 2.2GHz quad-core Snapdragon 800 processor. The Liquid S2 version will be available at the end of October. Pricing was not announced.
Sony's Xperia Z1 is also rumored to be capable of 4K video recording.
IFA opens in Berlin on Friday and will continue through September 11.