In a Tuesday morning conference call to investors, Microsoft will justify why it acquired Nokia's hardware business for a tad over $7 billion: It all starts with the phone.
In its "strategic rationale" explaining the deal, slide 15 of Microsoft's presentation makes the case that the foundation for Windows PCs begins with Windows Phone, and pushes forward something of a domino effect toward platform dominance. Microsoft's focus hasn't shifted away from its "devices and services" message, but the balance of the company's mantra seems to have tilted toward prioritizing hardware over software.
"Windows: 300M+ devices a year," the slide notes. "Success in phone is important to success in tablets. Success in tablets will help PCs." Elsewhere on the page, Microsoft notes that "high value experiences light up on great devices".
"We will take additional steps to promote the app ecosytem for Windows," the deck adds.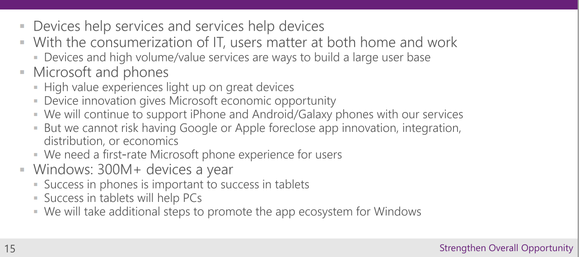 It firmly cements a drift away from Microsoft's historical PC-centric focus. But Microsoft's no stranger to realpolitik: If the market's moving in the direction of the smartphone and tablet, Microsoft will follow.
The slide deck will apparently be used as the basis for Microsoft's conference call with Wall Street analysts Tuesday morning, when Microsoft will explain how the Nokia acquisition will fit in with its current strategy.
In July, Microsoft chief executive Steve Ballmer reorganized the company, flattening the company's organizational structure and pushing technologies, not products, across Microsoft. What Ballmer and Microsoft clearly hope to do is continue that trend, and make the Windows Phone platform the focus of the Nokia deal, not the Lumia hardware. If hardware partners buy that argument, then Microsoft will have won a key battle of perception.
But that's a long shot. Microsoft will have its work cut out to convince companies like HTC that they still have a place at the Windows Phone table. The smart money says that Microsoft may not bother: According to AdDuplex, Nokia's phones represent under 10 percent of all Windows Phone ad traffic, and they're declining. Nokia owns 85 percent of the Windows Phone market, and its own share is heading up.
The conclusion, then, is that Microsoft plans to go it alone, and with its own hardware. And why not? Microsoft's Xbox dominated the U.S. game console market for over two years, with Microsoft's brand on the box. The Xbox One hopes to continue the trend. Although Microsoft will continue to sell Nokia's branded featurephones, it's a likely bet that it will facilitate a quick transition to smartphones as fast as it can. And if Nokia's engineering teams can build a tablet, than the Surface may gain some competition.
Consumers haven't shown that Microsoft's operating system platforms will make them open their wallets. But the Xbox, Xbox One, the recent Nokia Lumia 1020, and (to a far lesser extent) the Surface tablet show that consumers are still interested in Microsoft-branded products, as long as they're great devices.
"My take on the slide overall is highlighting the halo effect and leverage," Reticle Research and former NPD analyst Ross Rubin said via a Twitter message on Monday night. "[It] addresses oversimplifying critics who might say, oh, you're going all in on phones so PCs are dead, right?"
Microsoft certainly isn't ignoring the patent portion of the deal. After all, that's what the conventional wisdom says drove Google's purchase of Motorola. But Microsoft's concerns are far more practical: It just has to sell devices, period.
If phones are what consumers are buying, not PCs, then Microsoft can move to where the puck is. But Microsoft's entertainment (Xbox) business isn't a money-maker; its business and server businesses are. At this point, putting more devices in consumer hands is paramount, regardless of those devices' use cases and form factors. Devices are what consumers are buying, but services are what Microsoft wants to sell. As long as Nokia's phones can run Office in some fashion and connect to a server, Microsoft appears to be happy.
Will Wall Street buy that argument? We'll find out later on Tuesday.
Updated at 2:19 p.m. PT with a video report from IDG News Service.