At a Glance
Expert's Rating
Pros
Slim, space-saving design
Comfortable keyboard
Cons
Design looks clunky and dated
Mediocre performance
Our Verdict
HP resurrected the all-in-one concept many years ago, but there's nothing particularly great about this model. Here's hoping the company shakes the industry up again soon.
I love the sturdy, rectangular stands on the Toshiba and Dell all-in-ones, but I must admit they're not exactly space efficient. HP's Pavilion TouchSmart 23, which costs $800 as of 8/29/13, might not be the most attractive AIO of the bunch, but its signature picture-frame design certainly helps it take up less desktop real estate, which is always a plus if you're trying to fit a 23-inch TouchScreen AIO on a cramped dorm-room desk.
The HP Pavilion TouchSmart 23's design is functional, if not very sexy. The system has a glossy 23-inch touchscreen, which is surrounded by a slim bezel under edge-to-edge glass. Around this bezel is another bezel that's thicker and fabricated from matte-black plastic. A silver metal frame is wrapped around this, extending past the bottom of the screen (where the speakers are located) to rest on your desktop. The entire system is propped up via an easel-like stand, which is sturdy, space-efficient, and easy to adjust.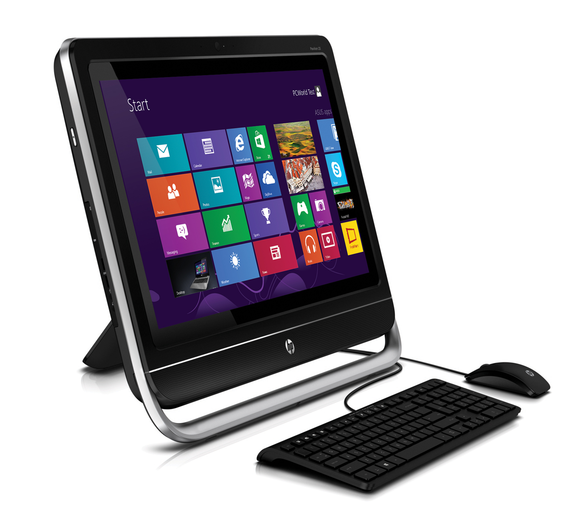 The biggest issue with this design is that it's just not very attractive. While the Toshiba and the Dell look like they're floating in midair, the TouchSmart 23 just looks clunky. And don't even get me started on the bezel-within-a-bezel look.
Design issues aside, the HP Pavilion TouchSmart 23 is a solidly average performer, with a Intel Core i3-3220T processor; 6GB of DDR3/1600 memory; and 1TB, 7200rpm hard drive working together to deliver a Desktop Worldbench 8.1 score of 110. Like the other systems in this roundup, the TouchSmart 23 is good for schoolwork and basic entertainment, but not great for graphics-intensive editing or high-resolution gaming. In our Dirt Showdown graphics test (1024 by 768 pixels, image quality at Low), the TouchSmart 23 managed a barely playable 32.5 frames per second. Its BioShock Infinite performance, at the same settings, was worse: just 15.9 frames per second.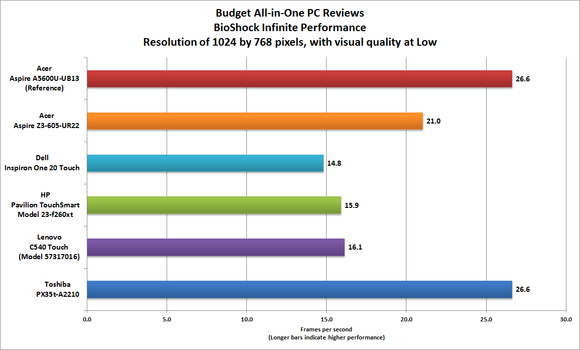 The TouchSmart 23 display resolution is the typical 1920 by 1080 resolution. It looks good: Images and text are crisp and colors are accurate, but I couldn't shake the perception that video looked dull on this machine. Perhaps I'm used to looking at oversaturated, strangely vibrant screens, but the TouchSmart 23 just seemed to lack oomph. It is, on the other hand, a very good touchscreen, with smooth, accurate touch and a slick, sensitive surface.
The system also boasts a very usable wired USB keyboard, with flat, island-style keys, excellent feedback, and a comfortable feel. It's a bit loud, but had no problem typing quickly and accurately on it. The mouse, which is also a wired USB model, felt just a little less comfortable. Its shiny, curved form factor isn't very ergonomically designed, and it felt a bit awkward in my hand.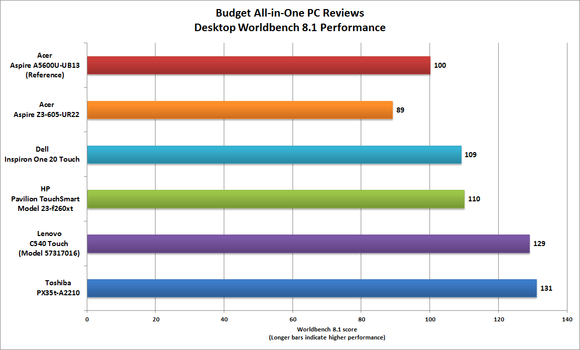 HP's Pavilion TouchSmart 23 is a sturdy-looking computer with a slim, space-saving design. Although it lacks the minimalist sexiness that many other AIOs boast, it's a solid performer with decent peripherals, a good port selection (including two USB 3.0 ports), and acceptable performance.
Editor's note: This all-in-one was reviewed as part of a roundup for back-to-school season. You can read that story, along with reviews of the five all-in-ones we compared it to, here.