At a Glance
Expert's Rating
Pros
Very good productivity benchmark scores
8GB of memory
Great keyboard
Cons
Weak integrated graphics
Display recessed deep behind bezel
Our Verdict
Lenovo's C540 Touch isn't the sexiest all-in-one we've seen, but it is an exceptional value at just $719 (as of 8/30/13)
Lenovo's C540 Touch is one of the two best all-in-ones in our recent five-machine roundup. And while I have no significant complaints about the quality of its multitouch display, the manner in which the glass is recessed behind the bezel is disconcerting when you're sweeping your finger in from the edge to call up the Windows 8 charm bar. The display measures 23 inches diagonally, but it's mounted to a stand rather than being incorporated into a monolithic frame.
Lenovo pairs the Intel Core i3-3240 CPU with a generous 8GB of DDR3/1600 memory, and it packs a 1TB, 7200-rpm hard drive inside its somewhat thick chassis. All-in-ones are notoriously difficult to upgrade, so having lots of on-board memory from the beginning is a major benefit.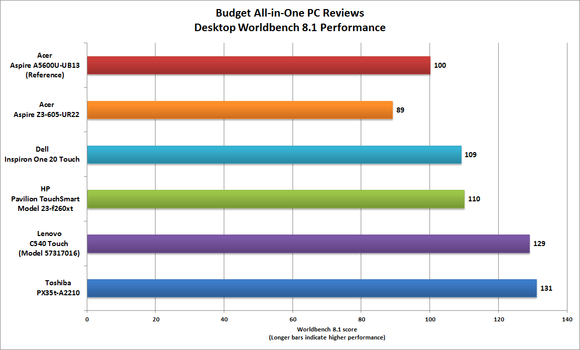 The C540 Touch's Desktop WorldBench 8.1 score of 129 identifies it as nearly 30 percent faster than our Core i5–powered reference machine, Acer's Aspire A5600U-UB13 , and just a whisker behind the Toshiba PX35t-A2210. The Lenovo has a faster CPU, which helped it deliver very good media editing and encoding scores, but its weak Intel HD Graphics 2500 integrated GPU left it running in the back of the pack on our gaming benchmarks, producing just 16.1 frames per second with BioShock Infinite, even with the game running at resolution of just 1024 by 768 pixels and with its visual quality set to Low. The Toshiba, which features an Intel HD Graphics 4000 integrated GPU, produced this game at a much quicker 26.6 frames per second. Neither experience is ideal, but at least the Toshiba won't leave you looking at a slideshow.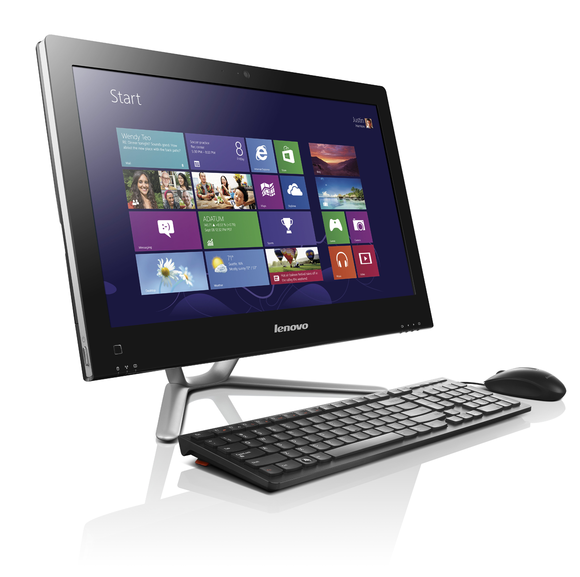 Although Lenovo doesn't have any big-name speaker manufacturers to boast of, the C540 Touch produces surprisingly good sound from its down-firing speakers. Lenovo is rather stingy with the USB 3.0 ports, providing just two on the left side of the display (along with mic and headphone jacks). Four USB 2.0 ports, hardwired gigabit ethernet, and an HDMI input are located in the back. You'll use two of those rear USB ports to plug in Lenovo's mouse and keyboard. The mouse is a two-button, bargain-basement cheapie; but the keyboard, while also exceedingly basic, delivers excellent tactile feedback.
It's tough to say which all-in-one wins out between the Toshiba TX35t-A2210 and the Lenovo C540 Touch. The Toshiba looks more attractive and handles games better, but the Lenovo's more-powerful CPU and additional memory translated into better performance on our audio-encoding, video-encoding, and image-editing benchmarks. Their WorldBench 8.1 scores, meanwhile, leave them essentially tied.