Sony is showing off several new computers at the IFA consumer-electronics show in Berlin this week, including a convertible notebook with a 15-inch IPS panel boasting native resolution of 2880 by 1620 pixels. Dubbed the VAIO Flip 15, this notebook is also capable of driving an external HDMI monitor at 4K resolution (3820 by 2160 pixels).
Sony's touchscreen strategy has been quite aggressive, and the company has no intention of backing off. Forty percent of its VAIO line of PCs were outfitted with touchscreens when Microsoft launched Windows 8 in October, 2012. That number had jumped to 90 percent by this past spring. With today's laptop and all-in-one announcements, Sony claims that 98 percent of its computers now boast touchscreens.
Sony is also offering a pressure-sensitive digitizing pen, the Active Pen, as standard equipment on some of its new models (it will be available as an option on others). Sony announced that it has collaborated with Adobe to add Active Pen support to Adobe's Adobe Illustrator Creative Cloud and Adobe Photoshop Creative Cloud software.
VAIO Flip PC
The VAIO Flip PC series is equipped with a unique second hinge—a thin rubber membrane—that allows the display to flip up and around to face away from the backlit keyboard. You can then push the back of the display down on top of the keyboard and use the notebook as a tablet. The concept is very similar to Lenovo's Yoga series, except that the Yoga's keyboard ends up on top of your desk when you flip its screen.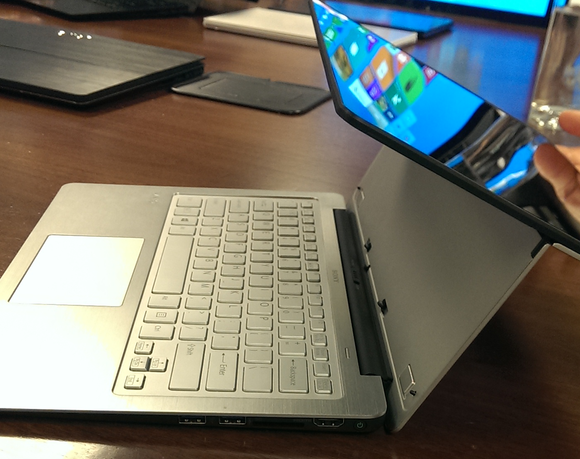 In addition to the 15-inch model, Sony also announced 13- and 14-inch models of the VAIO Flip PC. The displays on these smaller will have native resolution of 1920 by 1080 pixels, and they won't support 4K output from their HDMI outputs. But all three models will include two innovations brought over from Sony's TV division: Triluminos display technology (to deliver a wider color gamut), and Sony's X-Reality picture engine (a real-time algorithm that optimizes video quality).
All three models feature a chassis fabricated largely from aluminum, but with lightweight fiberglass panels on their bottoms. The 13-inch model will come with a 128GB SSD as standard equipment. The 14- and 15-inch models will be outfitted with mechanical hard drives, with SSDs available as optional upgrades. All three will rely on the GPUs integrated into their Haswell-class CPUs (Core i3, Core i5, and Core i7 SKUs will be available), but the 14- and 15-inch models have optional discrete graphics in the form of Nvidia's GeForce GT 735M (with either 1GB or 2GB of video memory). The VAIO Flip 13 weighs 2.6 pounds, the VAIO 14-inch model weighs 4.2 pounds, and the 15-inch model weighs 4.6 pounds.
VAIO Tap 11
Sony also introduced a new PC/tablet hybrid called the VAIO Tap 11. The 11.6-inch touchscreen display, which is just 0.39 inches thick, and the aluminum keyboard are completely separate. The keyboard attaches to the display with magnets and serves as a cover during travel. The display will also charge the keyboard's battery when the two are attached.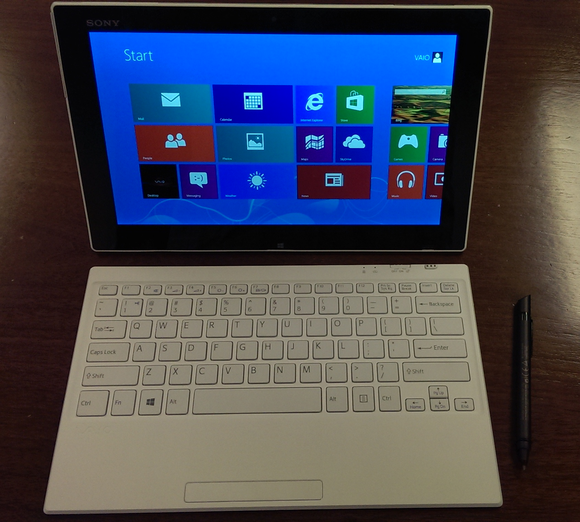 A mouse is not included, but the keyboard has an integrated multi-touch trackpad. The VAIO Tap 11 will feature Haswell-class processors (starting with an entry-level Pentium processor and going all the way up to a Core i7). Sony's digitizer pen will come as standard equipment, as will a 128GB SSD. The Ultrabook also features a built-in infrared blaster that works in conjunction with Sony's TV SideView software to control your TV and other hardware in your home-entertainment center.
VAIO Tap 21
Sony's last big announcement for the day is the VAIO Tap 21, an aluminum-clad version of its earlier Tap 20. The Tap 21 sports a 21.5-inch display and a native resolution of 1920 by 1080 pixels; the Tap 20 had a 20-inch display and was limited to 1600 by 900 pixels. Weighing just eight pounds, the Tap 21 is 50 percent thinner and 30 percent lighter than the Tap 20. Also, the Tap 20's hinge has been redesigned so that it can be positioned at any angle from completely flat to nearly vertical without your needing to pull on it.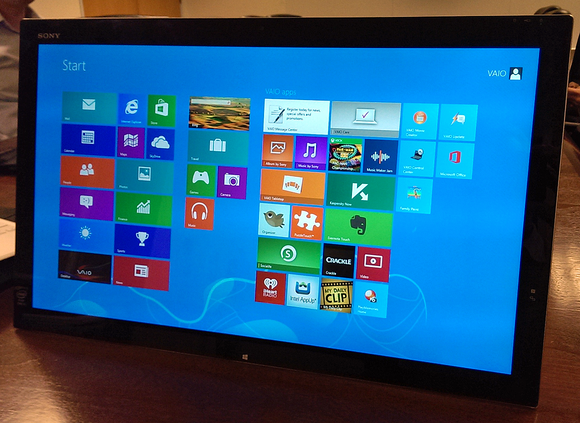 Sony didn't announce pricing or availability for any of these new systems, but we're guessing they'll hit the market about the same time that Microsoft ships Windows 8.1 to retail.