Asus continues to break new ground in computer form factors, announcing a number of new PC products at the IFA show in Berlin today. The company demonstrated two new additions to its Windows Transformer line of convertible tablets, two glass-enveloped Ultrabooks, and what must be an extremely inexpensive ultraportable laptop. Asus also showed off a new Android-powered Transformer with a 2560-by-1600-pixel display.
Transformer Book T300
The new Transformer Book T300 is an Intel Haswell-powered ultraportable laptop with a detachable 13.3-inch display that can also function as a stand-alone tablet. Asus will offer models based on Intel's fourth-generation Core i3, Core i5, and Core i7 CPUs (from the Haswell family), with up to 8GB of DDR3 memory and SSD storage up to 256GB.
The IPS display supports 10-point multi-touch and delivers resolution of 1920 by 1080 pixels. The tablet is equipped with a front-facing 720p camera, a rear-facing 1080p camera, one USB 3.0 port, and a micro-HDMI output. It measures 0.45 inches thick and weighs less than 2.5 pounds.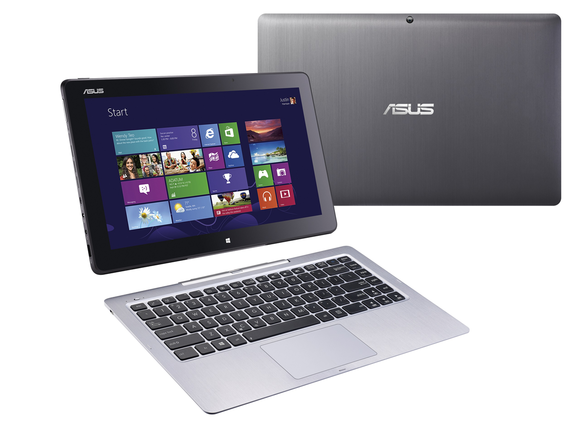 The dock has a full-sized backlit keyboard, a multi-touch touchpad with Windows 8 gesture support, and a micro-USB 3.0 port. It also less than half-an-inch thick, weighs slightly more than 1.5 pounds, and attaches to the display via magnetic contact points for storage (much like the smaller Sony VAIO Tap 11 Sony announced earlier today. Asus promises the system will deliver eight hours of battery life.
Transformer Book Trio
The Transformer Book Trio gets its name from its three-way functionality: One person can use this convertible as a Windows laptop, or you can detach the 11.6-inch display and let someone else use it as an Android tablet while you plug the backlit keyboard dock into a stand-alone display and use it as a Windows desktop PC. The base station is outfitted with both mini DisplayPort and micro-HDMI 1.4, and both units have stereo speakers onboard.
The base station is powered by a Haswell processor (up to a Core i7), 4GB of DDR3/1600 memory, and up to a 1TB hard drive. The detachable IPS touchscreen display (with resolution of 1920 by 1080 pixels) has an independent Intel Atom Z2760 processor, 2GB of DDR2/1066 memory, and up to 64GB of flash storage.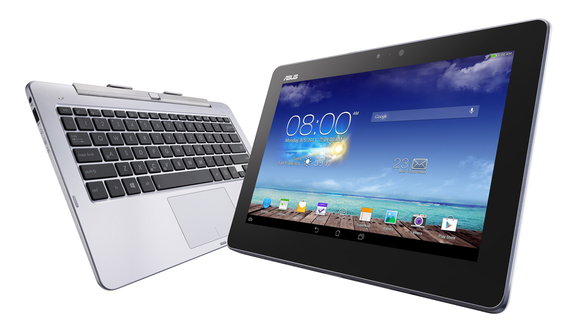 Data stored on the tablet can be accessed by either component. Both units have Bluetooth and wireless network adapters, so each can connect to the Internet independently: There's a dual-band 802.11ac adapter in the base, and a 2.4GHz 802.11n adapter in the display.
Asus claims the paired units will deliver up to five hours of battery life when operating in Windows mode, and up to 13 hours when operating in Android mode.
Zenbook UX301 and UX302
Asus announced two new 13.3-inch Zenbook Ultrabooks, both of which will be powered by Intel's fourth-generation Core processors (aka Haswell). These new notebooks feature lids encased in Corning's scratch-resistant Gorilla Glass 3.
Both Zenbooks will be available with either Core i5 or Core i7 processors. The 3.04-pound Zenbook UX301 will feature Intel's HD Graphics 5100 (aka Iris Graphics 5100) and deliver resolution of 2560 by 1440 pixels. It will be available with either 4- or 8GB of DDR3/1600 memory and up to 512GB of SSD storage—in RAID 0, no less.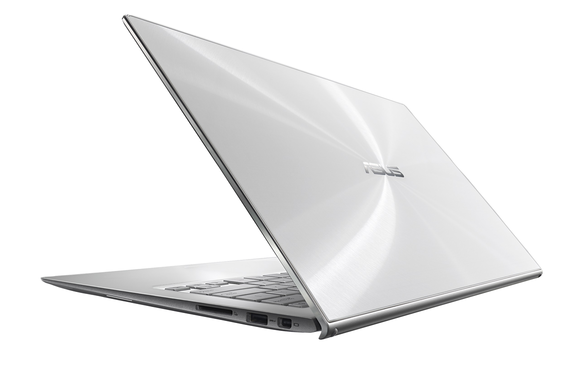 The Zenbook UX302 will come with 4GB of DDR3/1600 memory and will be outfitted with a discrete GPU in the form of Nvidia's GeForce GT 730M with 2GB of video memory. It will deliver resolution of 1920 by 1080 pixels. The UX302 will be outfitted with up to a 750GB mechanical hard drive, supplemented by a 16GB SSD cache. It will weigh 3.3 pounds.
Both Zenbooks will feature backlit keyboards, Bluetooth 4.0, dual-band 802.11ac Wi-Fi adapters, Mini DisplayPort and HDMI 1.4 video outputs, and SD card readers.
X102BA ultraportable laptop
Those with less exotic budgets might be interested in hearing about Asus's new X102BA ultraportable, a 10.1-inch multi-point touchscreen notebook powered by an AMD A4-1200 processor (from AMD's Temash family of APUs).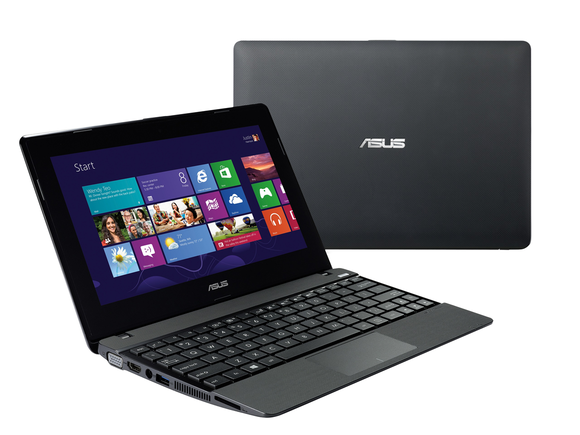 While Asus did not release pricing for any of these new machines, the specs for the X102BA have "low-cost" written all over them. Video resolution from the integrated AMD Radeon HD 8180 GPU is limited to resolution of 1366 by 768 pixels, for instance, and the base model will come with just 2GB of DDR3 memory and a 320GB mechanical hard drive (4GB of memory and a 500GB drive are available as options).
The X102BA will come with an integrated 720p webcam, USB 3.0 ports, Bluetooth 4.0, and an 802.11n Wi-Fi adapter. And Asus is also bundling the full version of Microsoft's Office Home & Student 2013. Asus claims the 2.4-pound notebook will deliver five hours of battery life.