At a Glance
Expert's Rating
Cons
Desktop edition is a little expensive
Our Verdict
This entertaining (or excruciating) novelty can get writers working harder.
When ideas begin to gell into a compelling story, it's time to start chipping away at that word count. This is the place where great ideas come to die, abandoned in the foothills of early chapters as writing bogs down in the actual details of day-to-day execution.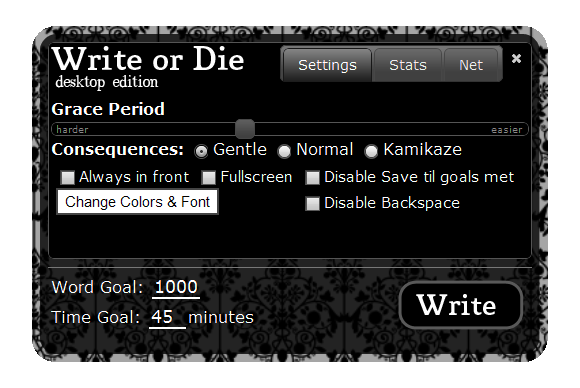 Staying motivated is key, and writers find all kinds of ways to do it. Twitter is a surprisingly good option, with a vibrant community of supportive authors willing to lend a hand to their colleagues in matters big and small. But there are other, more drastic ways to make you write. When drastic is what you need, look to Write or Die.

Developer Dr Wicked has given some thought to overcoming the writerly inertia, and has come up with a simple tool called Write or Die. It's designed to motivate when nothing else works. Write or Die operates on the punishment principle, allowing you to select from several levels of retribution when word counts go limp. The lowest level is just a visual warning, but the next steps up the pain by introducing an annoying sound that will continue to play until you return to work. Select Kamikaze Mode, and your writing starts deleting itself a word at a time if you don't keep the keys tickled and happy. Stern stuff.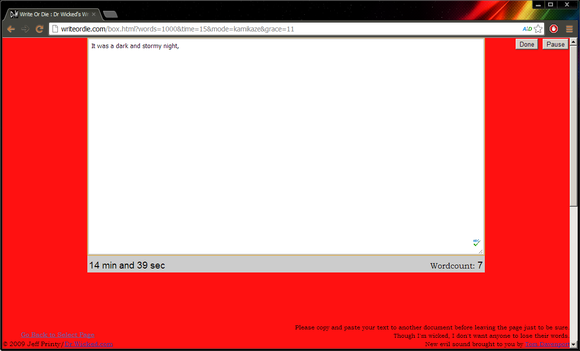 Options include forced fullscreen modes, backspace disable, multiuser word-war contests and other twists to keep things interesting. The Adobe-Air-based desktop version works on Linux, Mac, and PC and runs $10, but the iOS version runs $1, and the pared-down Web version is free.
Now get cracking.
Note: The Download button takes you to the vendor's site, where you can choose the edition of the software appropriate to your system.