HP jumped on the IFA product-announcement bandwagon this morning, showing off a trio of slick all-in-one PCs, a gaming-oriented desktop tower, and two 23-inch touchscreen displays.
If you like all-in-ones, you'll find HP's new Envy Recline TouchSmart to be intriguing. The innovative new design promises to deliver the best touch experience since HP introduced its first TouchSmart all-in-one back in 2008.
HP Envy Recline TouchSmart All-in-One PC
HP's consumer design manager, Glenn Wong, told me he spent a great deal of time studying how people interact with touchscreen displays before he set about designing these new TouchSmart all-in-ones. The first series of tests focused exclusively on how people use a touch interface on its own, and the second study targeted how they use computers with traditional input devices, such as a mouse and keyboard. He then set about creating the optimal experience for both scenarios.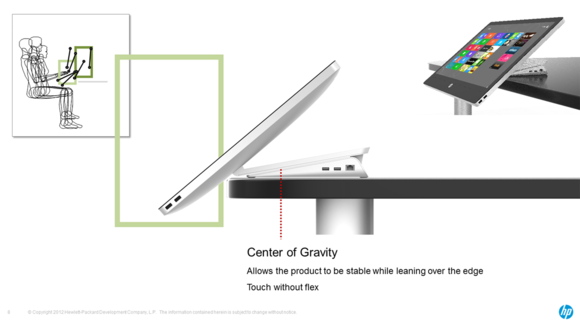 As a result of these studies, Wong engineered the Envy Recline's center of gravity to reside precisely at the midpoint of the display. This allows you to draw the computer all the way to the edge of your desk, lay its screen at any angle, and interact primarily with its touchscreen display without worrying that the computer will topple into your lap. But you can just as easily slide the computer back from the edge to make room for a mouse and keyboard without losing the ability to continue using the touchscreen. Plastic feet on the bottom of the computer should prevent scratches from appearing on your work surface.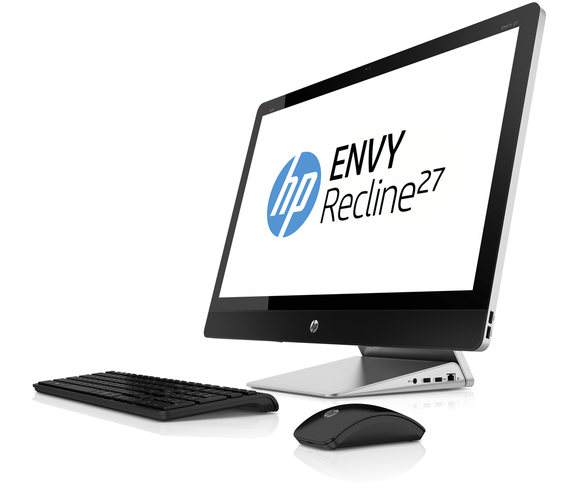 HP announced three Envy Recline models at IFA, each of which will be powered by a fourth-generation Intel Core (aka Haswell) processor and an Nvidia GeForce GT 730A discrete graphics processor: one with a 27-inch touchscreen; one with a 23-inch touchscreen; and a Beats Special Edition model with a 23-inch touchscreen, Beats audio processing, quad speakers, and a flashy black-and-red color scheme.
A standard 23-inch model with a Core i7 processor, 8GB of DDR3/1600 memory, and a discrete Nvidia graphics processor will be available directly from HP later this month for $1349. Other 23-inch models, starting with an Intel Core i3 processor and 4GB of memory, will be available from various retailers at a starting price of $999.
The 23-inch Beats SE with a Core i5 processor and 8GB of DDR3/1600 memory will be available on HP's website in November for $1249. Other Beats configurations, starting with Core i3 processors, will be available from retailers later this fall for $1099 and up. Prices for the 27-inch models, meanwhile, will start at $1399 for a machine outfitted with a Core i5 processor, 12GB of DDR3/1600 memory, and Beats audio processing.
HP Envy Phoenix 810 Gaming PC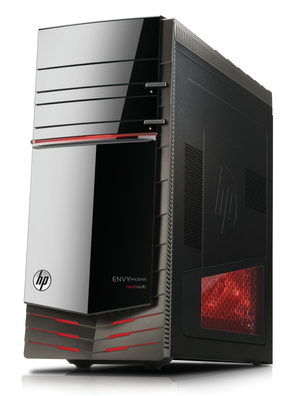 Games are one of the few apps driving PC sales these days, and HP has no intention of missing out. While the Envy Phoenix line represents little threat to such benchmark-crushing super-rigs as Origin's Genesis Z87 or Maingear's Shift Super Stock, it carries price tags that are a fraction of what those monuments to conspicuous consumption command.
HP's new Envy Phoenix 810 will be available on October 16 with a Core i7 Extreme processor, your choice of Nvidia or AMD discrete graphics, and Beats audio processing for a starting price of $1299. The machine will also feature liquid cooling, a windowed case, and room inside the chassis for up to three additional hard drives.
Pavilion and Envy displays
HP's accountants are doing their level best to amortize the cost of the brand names the company acquired from Rahul Sood back in 2006. While the latest computers—and the new Envy 23 IPS display—carry little of that old Voodoo PC magic, I'm sure it beats simply writing off all that goodwill.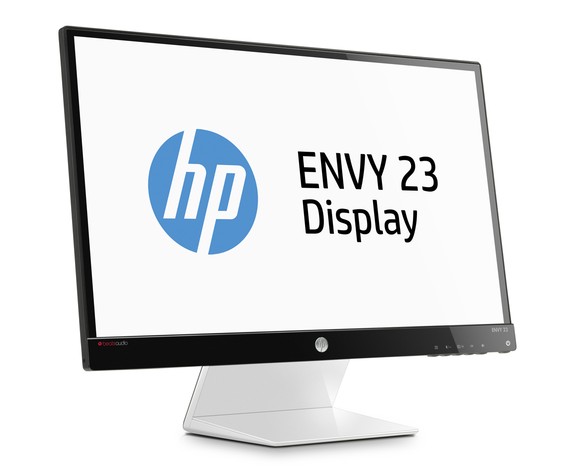 In any event, HP promises to deliver a very inexpensive, high-quality display this November with its $249 Envy 23 IPS monitor. The display has native resolution of 1920 by 1080 pixels, two HDMI inputs, and one VGA input. It lacks speakers, but it does offer Beats audio processing via a headphone output.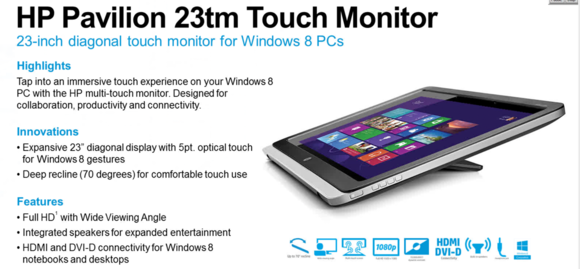 HP will also deliver a very economical means of adding touchscreen capabilities to an existing stand-alone PC with the Pavilion 23tm Touch Monitor. The 23-inch display achieves its $349 price point by virtue of using optical touch sensors instead of pricier capacitive technology. Six cameras arranged around the bezel are capable of detecting a maximum of five touch points, and a thin border between the bezel and the active area of the display allows for finger swipes from the edge of the display.