The Evernote you know is not the Evernote you'll soon now. Within the next week, Evernote for Windows users will see a radically redesigned desktop app land on their PCs, giving the service its first coat of fresh paint since 2010—and more than a few new features.
The new Evernote 5 desktop app first appeared as a beta version in July, but is now ready for prime time for Windows XP on up. Anyone who wants to upgrade immediately can already find the new app on Evernote.com.
Fresh paint and modern aesthetics
Evernote's desktop refresh features a "flat" design that is in line with Microsoft's plainer design aesthetic for the Windows 8 desktop. Evernote 4, by comparison, was all about Windows 7's Aero stylings.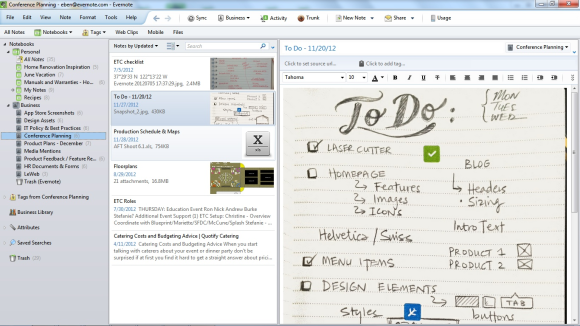 The changes between Evernote 4 and the new version are immediately apparent to any longtime Evernote for Windows users. The menu options are stripped down to only the bare essentials, and Evernote's cluttered and top-heavy interface is gone.
Options such as Trunk, Notebooks, and Tags now live in the left-hand side panel, while Activity, Sync, and New Note buttons are right under the basic menu at the top.
The new Evernote for Windows also follows a popular trend among current-day apps, stripping as much color as possible from the app's interface. This approach doesn't always work for every piece of software, but is very appropriate for Evernote 5. The menu options are bold enough that they don't fade into the background making it easy to navigate the app.
Overall, it's a much cleaner interface that's easier on the eyes and doesn't look half as overwhelming as Evernote 4's cluttered UI.
The new stuff
Evernote 5 is packed with all kinds of new features. Some of it is very useful, some a little gimmicky, and a few options that were long overdue.
With Evernote 5 you can create shortcuts for quick access to often-used notes, notebooks, or tags. Think of this feature as the favorites bar in Evernote 4. As with favorites, you just drag items into the shortcuts section.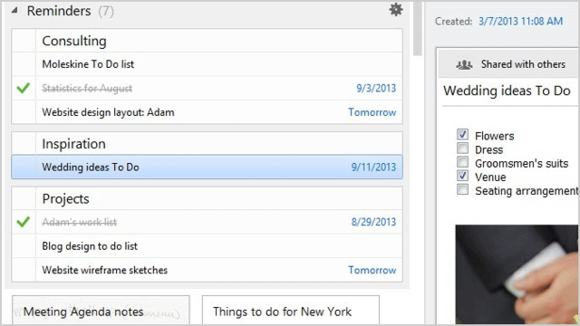 Evernote 5 also adds time-based reminders that will ping you when it's time to get another item wrapped up on your to-do list or surface notes for an upcoming meeting. Reminders are time-based only and don't include location-based options for road warriors—an option also missing from Evernote's mobile apps. Evernote competitor Google Keep recently added both time- and location-based reminders to its service.
Reminders may not have location data, but Evernote 5 does let you chart your notes on a map with Atlas, a new filtering option in the left side navigation panel. The Atlas can show you all your notes on a world map, or drill down to specific regions. Basically, you can select to see a map of only the notes you created in Boston, Los Angeles, or London.
The new Evernote also takes a page from search engines with type-ahead search. The new feature is exactly what it sounds like: As you type in a search query, Evernote suggests keywords based on the contents of your notes. Evernote's revamped search capability also covers shared notebooks, and you can save searches in the new shortcuts section. Pretty cool stuff.
Evernote 5 hums along a bit faster than its predecessor and adds a new card view navigation to quickly scan images. There's also a new pop-out editor if you prefer to update a note without all the distractions of the main Evernote window.
A step forward
Overall, Evernote 5 is a big shift from its predecessor and is a welcome change after three years of looking at the same old Windows 7-styled interface. If exploring new software isn't your thing, however, you should brace yourself for the significant update headed your way.
You can soften the blow by attending one of Evernote's two scheduled online seminars that will take you on a tour of the new software—details are on Evernote's blog.