At a Glance
Expert's Rating
Pros
Easy to use
Free level is enough for personal accounts
Cons
Can't tell when tweets are time-sensitive
Our Verdict
Buffer is a neatly organized service that makes it easy to keep multiple social media accounts up to date. I'm not convinced that it knows better than you about when you should post your content, but I'm willing to consider the possibility.
Buffer automates the timing of your social media posts. It sports a sophisticated interface, and options for including several social networks, notably Facebook, LinkedIn, and Twitter. Its free service works well for personal feed, and its $10-per-month Awesome level service adds the features a business needs.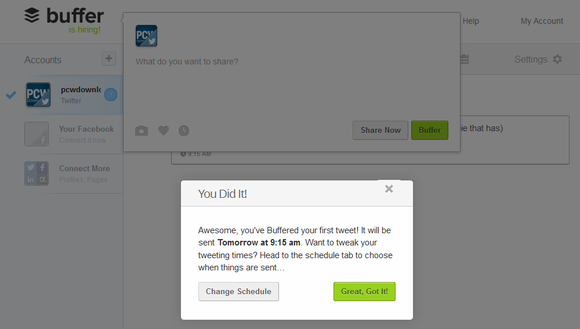 To use Buffer, you sign in using a Twitter, Facebook, or LinkedIn account, or you can create a dedicated Buffer account if you choose. Once you're signed in, you can add the social networks you didn't use to sign in, as well as an App.net account and any Facebook pages and LinkedIn Groups that you manage.
Buffer lets you compose tweets and status updates—which can be posted across multiple networks at once—and helps you decide when to post them. You can post them immediately, or choose the "Add to Buffer" option, which lets Buffer decide when to post it.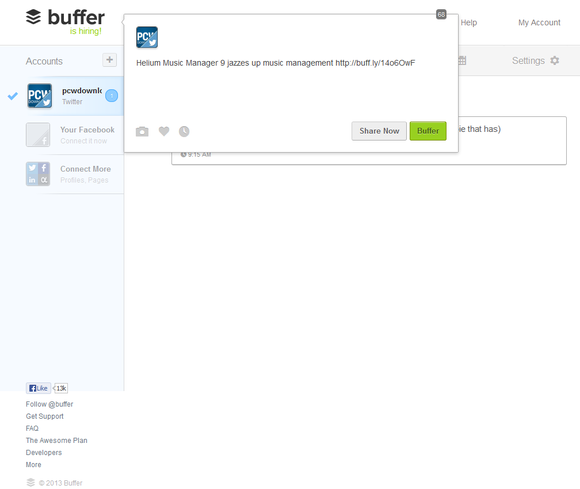 You can create multiple posts—enough to populate your social media for a week, or more—and add them to your Buffer queue, and the app will post them for you when it deems appropriate. It selects a time based on when it believes most retweets and clicks happen. Buffer analyzes overall usage of Twitter as a whole, not just your account. Buffer has partnership with a service called Tweriod, which looks specifically at your account and suggests times for you to post.
Buffer couldn't tell whether my posts were time-sensitive or not, and so it often suggested waiting several hours to post items that needed more immediate attention. It suggested reasonable times for less timely items, though. If you're not happy with Buffer's time suggestions, you can easily override it. Buffer offers an easy-to-use, timezone-specific scheduler that lets you determine when to publish your posts.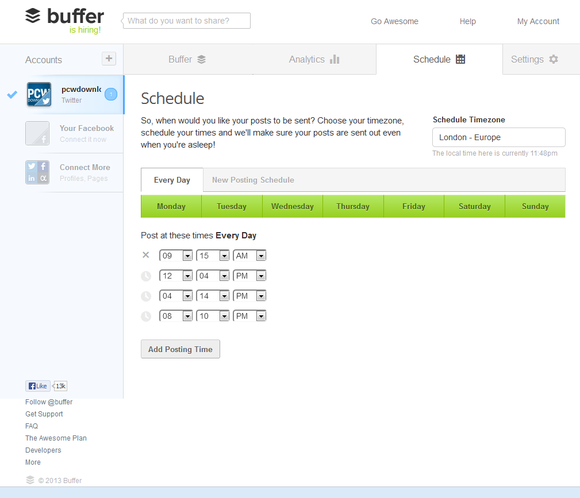 Buffer also offers a browser extension for Firefox, Chrome, and Safari that lets you share content from any Web page. It adds a small (maybe too small—it took a while to identify it) icon to your browser that allows you to share a link via Buffer, directly from the Web page itself. It even suggests text to go along with the link (which you can change) and gives you the option of posting it now or adding it to your Buffer.
The Awesome level of service ($10 per month) includes unlimited posts, support for up to 12 social profiles, and the ability to have more than one person use the account.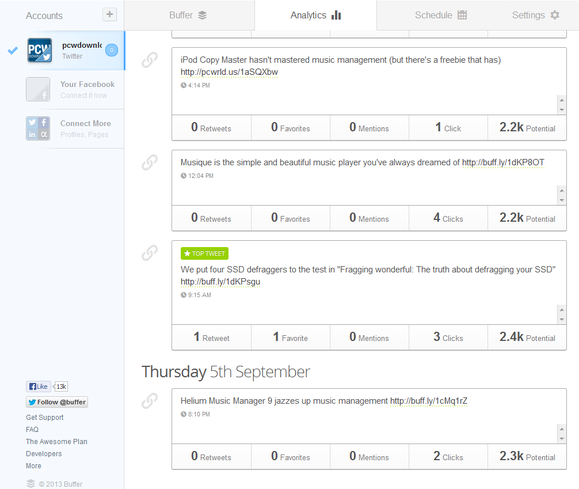 Buffer's analytics can help determine whether its decisions on when to post your content are working. And its analytics strike a nice balance between home and small business users, offering enough information to be helpful—such as how many clicks, retweets, and mentions you get, as well as the potential reach of your posts—without overwhelming you.
Note: The Download button takes you to the vendor's site, where you can sign up for this Web-based service.