Auction giant eBay wants to know how you feel about Bitcoin.
An undated post on eBay's Deals blog titled "What's the Deal with Bitcoins Anyway" featured a two-minute video encapsulating many of the pros and cons of the virtual currency.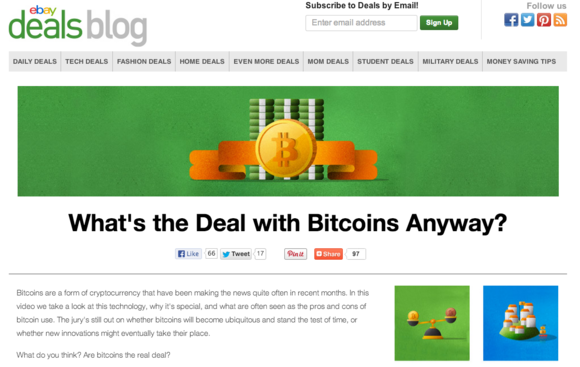 Accompanying text next to the video read: "The jury's still out on whether bitcoins will become ubiquitous and stand the test of time, or whether new innovations might eventually take their place. What do you think? Are bitcoins the real deal?"
When queried, an eBay spokeswoman said the company has not changed its payment policies. "The video is strictly informational," she said via email.
The post indicates that one of the largest e-commerce vendors is taking notice of Bitcoin, which has seen growing traction with smaller online merchants but has been hampered by ongoing concerns over regulation.
There are some oddities around eBay's Bitcoin blog post.
Although the post solicits users' opinions, there doesn't appear to be a way for customers to tell eBay what they think. The post only includes buttons to share the content on Twitter, Facebook and Pinterest.
Ebay's Deals blog is generally focused on just that: price discounts on merchandise such a Canon camera lens, pairs of Reebok boots and on Wednesday, foam nunchuks. When looking at the stream of posts on the blog on its main URL, the bitcoin post does not appear.
The informational bitcoin video is hosted on YouTube, apparently posted on Aug. 20 by someone going by the moniker "B Sil." Comments are disabled on the video, which has received more than 8,4000 views, and it appears B Sil has not posted other ones. The video has been circulated on other bitcoin-related websites since that time. The video concludes by stating on the screen that it is brought by eBay Deals.
Ebay's interest in bitcoin would mark a significant development. A few major Internet sites, such as WordPress and Reddit, now accept bitcoin for subscriptions, but the virtual currency has yet to be used by a major e-commerce site.
If anything, Bitcoin represents a threat to eBay-owned PayPal, which dominates e-commerce payments. Bitcoins can be transferred using peer-to-peer software anywhere in the world for a fraction of the fees that PayPal charges to merchants.
Similar to cash, Bitcoin transactions are irreversible unless a vendor wants to give a refund. That eliminates the risk of chargebacks, or when card companies penalize vendors for accepting a fraudulent transaction.
In an interview with The Wall Street Journal in April, eBay CEO John Donahoe said bitcoin is a disruptive technology, and there may be ways to integrate it into PayPal.