Months ago I told you about OneTab, a nifty Chrome add-on that sucks up all your open tabs into a single one, thus reducing tab clutter and, theoretically, improving Chrome's performance. (The more open tabs you have, the slower any browser will be.)
I still use OneTab, but recently I discovered another interesting tab organizer: Veritabs. This one is so head-smackingly obvious, I can't believe it's not built into every browser.
Once Veritabs is installed, it presents all your open tabs (not bookmarks, mind you) in a vertical list on the left side of the screen. Or, at least, that's what it's supposed to. I assumed it worked like OneTab in that you'd click the Veritabs icon (which gets added to Chrome's extensions toolbar) to reveal the list.
Nope. What happens is you move your mouse to the left side of the screen. That produces the Veritabs list; now just click any tab you want to switch to.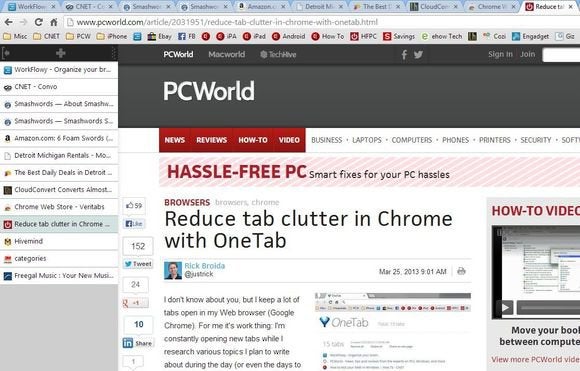 You can also resize this disappearing sidebar by clicking and dragging the handle in the upper-right corner, keep it visible by clicking the icon in the upper-left corner, or change the view to favicons only by clicking the icon in the lower-right corner.
The extension does have a few bugs. On my system, the formatting of the list seemed to get messed up if I clicked certain tabs (probably owing to font-size differences within those tabs). And occasionally the Veritabs sidebar failed to disappear when I moused away from it.
That said, although it doesn't really reduce tab clutter, and definitely doesn't help with performance, Veritabs does give you a much neater way to browse and navigate your open tabs. And it's especially nice to have when you're working in full-screen mode.
Contributing Editor Rick Broida writes about business and consumer technology. Ask for help with your PC hassles at hasslefree@pcworld.com. Sign up to have the Hassle-Free PC newsletter (which is included in the Power Tips newsletter) e-mailed to you each week.