AMD announced its embedded processor roadmap for 2014 at a press conference Monday night, part of its continued path away from the PC.
The four new chips include "Hierofalcon," a dedicated ARM 64-bit CPU designed for communications and networking functions within the datacenter. Probably its closest competition is the "Rangeley" chip that Intel has announced, using the most recent "Silvermont" version of its Atom architecture.
AMD announced four new chips: "Hierofalcon"; "Adelaar," a discrete GPU; "and "Steppe Eagle" and "Bald Eagle," both of which AMD calls "Advanced Proccessing Units" or APUs, combining CPUs and a graphics core. All four will be manufactured in 28-nm process technology.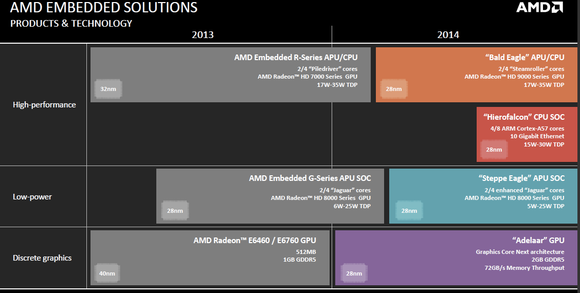 AMD still maintains a sizeable presence in the PC, notebook, and server markets, but Intel clearly dominates: AMD's share in the PC space, for example is less than 20 percent. As AMD has slowly dropped behind Intel in terms of sales and market share, the company has worked to find alternatives to the traditional PC space where it can succeed.
That market has included the embedded space, often encompaassed by the catchall term "the Internet of Things": multitudes of low-power, connected devices, all requiring processing power but without the power and cost budget of the PC. One of those markets, for example the heads-up/heads-down display of the Airbus A380, where "most" of the designs include an AMD chip, said Arlin Iyengar, the corporate vice president and general manager of AMD's embedded business.
AMD's embedded businesses include several areas of focus: industrial control, gaming machines (consoles as well as devices like video slot machines above), thin clients, digital signage, and communications infrastrucuture, such as the so-called "small cells" that offload cell-phone tower communications.
AMD announced its partnership with ARM in 2012, ending months of speculation that the two sides would connect. In June, AMD announced the first fruits of that partnership with a chip code-named "Seattle," designed for the data centers that power cloud services like email, music streaming, and online storage. Although a number of smaller ARM licensees plan to use ARM's 64-bit Cortex A-57 core for enterprise applications, AMD's experience in shipping its Opteron X86 chips into that market could give it an edge, executives hope.
Iyengar said that the company would be disclosing more details of the new chips in the coming months. For now, however, executives offered a few details.
Adelaar will be a GPU designed around AMD's next-generation "Graphics Core Next" architecture, emphasizing transistor density. The core will include 2 Gbytes of embedded memory, and can be mounted in either a multichip module (MCM), MXM, or PCI Express add-on board. Steppe Eagle will be based around a enhanced Jaguar CPU core, with increased CPU and GPU frequency. Bald Eagle can be used either as a CPU or GPU, based on the Streamroller core. It too will use the AMD Graphics Core Next core. Bald Eagle will include an interesting feature called configurable TDP, or thermal design power, where customers will be able to dial up the amount of power they want the chip to use, and it will configure its clock speed accordingly.
Hierofalcon, the new ARM chip, will include up to eight Cortex-A57 cores, 10 Gbit Ethernet, PCI Express Gen 3, and the AMD TrustZone technology. (Seatle will have either 8 or 16 cores, AMD has said.) Iyengar declined to say whether or not it would include AMD's "Freedom Fabric," a networking infrastructure that it has integrated into other chips.
Iyengar also declined to rule out chips for the smartphone and wearable computers, a popular topic in the past few days. Rival chipmaker Qualcomm actually announced its own smatwatch, as did Nissan.
On Tuesday, Intel gets its turn, as the Intel Developer Forum kicks off in San Francisco.