At a Glance
Expert's Rating
Pros
Ambidextrous design caters to lefties and everyone else.
Equally capable as a wired or wireless mouse.
Cons
Rather pricey.
Screwdriver required for tweaking the design.
Our Verdict
Razer's Ouroboros gaming mouse is kind of hard to say and costs $150, but is readily customizable, lefty-friendly, and performs well. Also, it's gorgeous.
Gaming mice are a fascinating concept: how do you convince folks to spend over a hundred bucks to replace their $20 pointing-and-clicking device? First, it needs to be flashy; funky designs and lights help. It needs to be comfortable: see Mad Catz's Cyborg R.A.T 7 ($99) and its ilk, replete with knobs to fiddle and bits to slide about. It also needs to offer an edge over the hoi polloi and their two buttons-and-a-scroll wheel affairs—Razer's long since gone over the deep end on that front, the 17-button Razer Naga 2014 ($80) being their latest (admittedly excellent) entry in the input arms race.
Well, almost their latest—here's another one for the pack, the Razer Ouroboros. It's got a ludicrous name, will set you back $150, and doesn't offer quite as much whizz-bangery as the Naga or the R.A.T. It's also the best mouse I've used in years, distilling all of Razer's mouse-tech into an ambidextrous package that's user-friendly without feeling ridiculous. And it's gorgeous, like some Imperial skunkworks project dreamt up by a jaded TIE fighter pilot, forever lost after one last fateful trip to that nondescript, not-a-moon space station.
Yes, it costs $150. But If you want a gaming mouse and can spare the cash, you should probably buy this one. Let's get into why.
Delicious nuts and bolts
We'll start with the important bits: it's incredibly comfortable, eventually. You'll need a screwdriver to loosen screws underneath the mouse and remove the rear panel, which gives you access to the AA battery compartment and lets you adjust the mouse's length. It's feels a bit small, but once stretched out it fits perfectly into my fairly large hands. A wheel on the rear end also lets you adjust the angle of the palm rest so your hand sits just right. The mouse is incredibly sturdy, and the soft matte panels hold up rather well after extended use. There are also a pair of interchangeable magnetic panels for the mouse's sides, offering up flat, textured plates or smooth, contoured winglets—the latter clearly being the only correct choice.
Yes, requiring a screwdriver to adjust your mouse feels a little ridiculous, but unless your hand regularly changes size or you have very bad luck with NiMH AA batteries you'll never need to duck in there again. The non-U.S. version of the mouse offers a quick-release latch under the base of the mouse, but us North Americans are out of luck—I imagine these screws are a bit more cost-effective.
Moving right along: buttons are here, and there are just enough of them. A typical mouse offers left and right buttons and a clickable scroll wheel. The Ouroboros also offers two on the spine and three on each side; the two silver buttons are rather visible, but you can also press the mouse's left or right flanks. Every single button (except the left click) is customizable, and many are by default quick DPI-toggles—I've never felt the need to swap sensitivity on the fly so I swapped these out for in-game abilities.
The Ouroboros is wireless, which I absolutely love. It's incredibly responsive, offering nary a hint of latency with sensitivity that can be tweaked all the way up to 8200 DPI. The mouse's laser can also be calibrated to improving tracking on your mouse pad or surface. It's is also a wired mouse, so the gaming purist can love it too. Best of both worlds, really: the mouse's charging dock serves as a wireless receiver, and plugs into your PC (or Mac) via USB. If you need to move to a laptop, charge the battery while you use the mouse, or just like being tethered to a desk, simply unplug the dock and slide the USB cable into the port on the mouse.
Razer reports that the mouse will last for 12 hours between charges and sure, that sounds about right. I've used it incessantly but always find myself sticking it back into the dock when I step away from my computer for extended periods of time, so the battery indicator sitting on the spine has never dipped below that nebulous two-stage mark. The mouse also goes to sleep when idle, but resumes activity with nary a hitch.
Are there problems? Sure. As an ambidextrous mouse, half of the device is arguably useless. Side buttons will be the domain of your thumb, and there's only so much your pinky and ring finger can do unless you're incredibly dexterous. Being a lefty MMO-enthusiast who's generally ignored by peripheral manufacturers, I'm okay with this—extra buttons are always welcome, and I simply assign less critical abilities to those buttons I can't quite press as handily. I imagine the same will be true for my right-handed gamer brethren.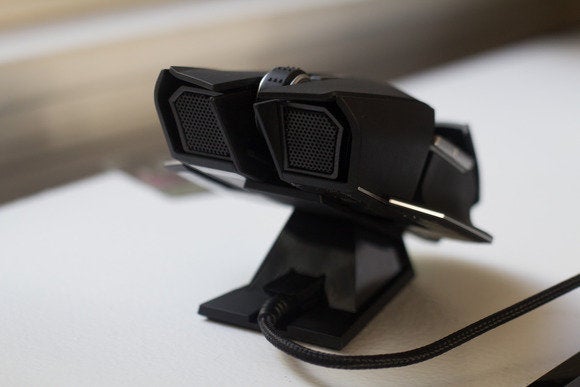 This one's a bit more serious: after powering up my PC, the mouse would occasionally "forget" my customized button configurations, ignoring profile settings and behaving as it would in its default state; I fixed this by plugging the USB cable in for a moment. I didn't manage to reproduce this with any regularity, which is the worst sort of bug—you don't know anything's wrong until you're in the middle of a pitched battle and can't fire off that critical ability. I imagine troubleshooting and waiting for a patch to roll out will clean that up soon enough.
This is the part of a Razer peripheral review where I bemoan Razer Synapse. I still think requiring an account to download customization software is ridiculous. But truth be told, I'm over it—it's unobtrusive, offers a one-stop configuration shop if you happen to use lots of Razer gear, and the cloud-saved profiles could come in handy if you migrate between machines a lot.
Really, this all boils down to price. You can find mice that will work just as well as you need them to for $40—they likely won't be wireless, but purists demand wired-fidelity anyway. And they won't be nearly as attractive, though beauty is in the eye of the beholder. If $150 is just too high a price to pay, Logitech is doing some amazing things with mice these days, and I'd recommend giving their wares a gander.
But the Ouroboros is a lovely piece of equipment. There's always room to complain—the profile issue I ran into cost me one or two intense Guild Wars 2 matchups—but this mouse is quite literally an amalgam of all of my favorite gaming mouse features over the last few years, packed into a single gorgeous package. It's a lot to spend on a single peripheral, but it's arguably well worth it.