Today may be all about Apple in the grand scheme of things, but while the world waits to hear all the details about the latest and (presumably) greatest iPhone, Intel has tossed hardcore PC enthusiasts a significant turbo-charged bone: new Ivy Bridge-E Extreme Edition processors, a.k.a. the most blistering CPUs enthusiasts can readily buy.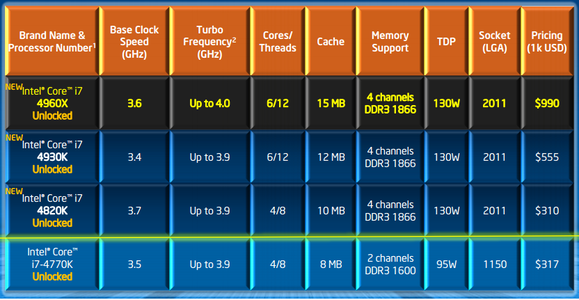 Make that the most blistering CPUs that deep-pocketed enthusiasts can buy. The "low-end" Intel Core i7-4820K—if you can call an overclocking-unlocked, quad-core 3.7GHz processor with support for a whopping 40 PCI 3.0 lanes "low-end"—costs $330 on Newegg.com, while the hexacore Core i7-4930K and Core i7-4960X go for $580 and $1050, respectively. And those prices don't even include the stock air coolers that ship standard with mainstream processors—if you're spending this much cash on a CPU, Intel figures you're going to want to BYO cooling solution.
In other words, Intel's Extreme Edition processors alone cost more than many people spend on their entire PC, but that's the price you pay for cutting-edge computing capabilities.
Speaking of "entire PCs," if you want the bonus of long-term system warranties and phone support or simply don't feel like piecing together your own face-melting rig, boutique builders are tripping over themselves to craft a custom, made-to-order Ivy Bridge-E PC just for you. Origin PC, Maingear, Velocity Micro, and others have all announced that they now offer Ivy Bridge-E options for their systems,though be aware that those systems typically start at $2,000-plus.
Want to know what all the high-powered hub-bub is about? Check out PCWorld's take on the Ivy Bridge-E Extreme Edition series for all the details of Intel's new crown jewel.