High-performance tablets are about to become very, very cheap, if Intel has any say in the matter. The company took the wraps off its newest system-on-chip (SoC) at the annual Intel Developers Forum (IDF) Tuesday. Code-named Bay Trail, the new processor family will power new Windows and Android on tablets priced as low as $199.
In fact, Intel Mobile and Communications Group General Manager Chris Walker said at an embargoed briefing on Monday that Bay Trail–powered tablets will have prices as low as $199 by the end of 2013, and original equipment manufacturers (OEMs) will have "the flexibility to go lower."
Intel gave us about 2 hours of hands-on time with two reference-design tablets outfitted with 2.4GHz, quad-core Atom Z3770 processors and 2GB of DDR3L/1067 memory (one running Windows 8.1 and the other Android 4.2.2). The devices had 8-inch screens with a native resolution of 2560 by 1440 pixels. While Intel does not intend to bring these tablets to the consumer retail market, Walker said that they are representative of what Intel's OEM partners will deliver later this year.
It came as no surprise that the Android version was capable of playing simple arcade-style games, such as the side-scroller Jetpack Joyride, but it was a revelation to jump into Valve's multiplayer first-person shooter Team Fortress 2 on the Windows 8.1 version and experience relatively fluid gameplay on an 8-inch tablet.
And Bay Trail looks to be capable of delivering more than just fun and games. Later in the day, a representative from Intel's user-experience lab fired up Adobe's Photoshop CC and proceeded to edit digital photographs using the Windows tablet. He also showed off some simple video editing tasks. In both scenarios, the Bay Trail tablet completed its tasks considerably faster than the Clover Trail–powered Acer Iconia W510 that it was compared against. Intel's message was clear: A Bay Trail tablet running Windows will be capable of delivering credible performance with just about any Windows app.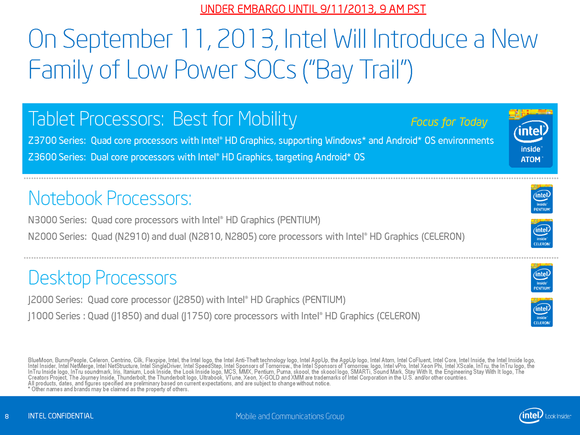 King of PCs, pauper of tablets
Intel's dominance of the PC market seems untouchable: 85.2 percent of PCs use an Intel-branded microprocessor, according to first-quarter research by Mercury Research. The vast majority of servers also use Intel's chips. But the companies manufacturing smartphones, tablets, and ultraportable PCs have largely turned up their noses at Intel's silicon, because it hasn't delivered the inexpensive low-power/high-performance components they need. In these markets, the UK's ARM Holdings has been the dominant force, providing basic processor designs that companies such as Apple, Nvidia, Qualcomm, and Samsung customize to build their own CPUs.
With sales of tablets and PCs on opposite trajectories—407 million tablets are projected to be sold in 2017, compared with just 333 million PCs—Intel must have a strong low-power/ultramobile chip portfolio to grow.
"In terms of tablets, if you look at the Windows 8 segment and the Android segment, I think there's a huge opportunity for Bay Trail," says Insight 64 analyst Nathan Brookwood. "The problem is overcoming the negativity attached to the early Atom convertible tablets based on the preceding Clover Trail chips," which Intel introduced in September 2012.
Intel's Walker says Bay Trail will change all that: "A quad-core Bay Trail CPU will deliver twice the CPU performance of Clover Trail, and three times better GPU performance," he claims. That's due in large measure to the fact that these low-power processors are based on Intel's new Silvermont microarchitecture. The parts are being manufactured using the same 22nm process Intel uses to build its fourth-generation Core CPUs (aka Haswell), and will deliver many of the same features, if not all of the performance.
The Bay Trail lineup
Bay Trail chips will be available in dual- and quad-core configurations and marketed using three existing Intel brands: Atom (for tablet deployments) and Pentium and Celeron (for ultraportable laptops and budget-priced desktops). Laptops marketed as Ultrabooks, meanwhile, are required to use Core processors (Intel developed and controls the Ultrabook specification).
All three families will feature Intel HD Graphics and be capable of supporting video resolutions as high as 2560 by 1600 pixels, with full support for Microsoft's DirectX 11 graphics APIs. (However, as you can see in the slide below—click to enlarge it—Intel recommends that OEMs deploy lower-resolution screens with some of its lesser Atom SKUs due to their single-channel memory configurations.)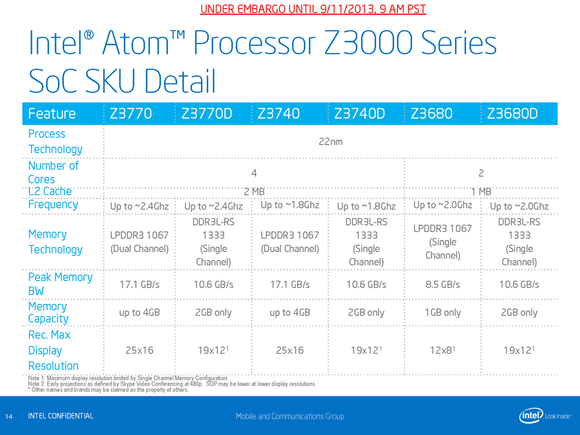 For now, Intel is focusing attention on its Atom Z3000-series processors, including the aforementioned Z3770 in the reference design tablets demonstrated on Monday. That quad-core part can address up to 4GB of dual-channel DDR3/1067 memory using a dual-channel configuration. The Atom Z3770D has the same clock rate, but is limited to 2GB of single-channel DDR/1333 memory and a recommended display resolution of 1920 by 1200 pixels. The dual-core Atom Z3680, meanwhile, is the least capable Bay Trail part. It has a core clock rate of up to 2GHz, but it can address only 1GB of single-channel DDR3/1067 memory, and Intel recommends a maximum display resolution of 1200 by 800 pixels.
Graphics capabilities and battery life
The presence of Intel's HD Graphics, with clock speeds up to 667MHz, enables Intel to support a number of video technologies that used to be available only in its Core product line.
Bay Trail CPUs will support full hardware acceleration for every important video codec (including H.264, VA1, MPEG-2, MPEG-4/H.263, and MJPEG) and video-encoding support for H.264 and MPEG-2. The chips will also support DRM schemes, such as HDCP 1.4 (wired) and HDCP 2.0 (wireless), that consumer services such as Netflix and Amazon must use to stream premium video content. Bay Trail devices will support HDMI 1.4 video output at resolutions up to 1080p, and DisplayPort 1.2 at resolutions up to 2560 by 1440 pixels. Intel's WiDi wireless video-streaming technology is also supported.
The Bay Trail family implements a number of power-management features to maximize battery life. Intel's Burst Technology 2.0 allows a CPU core to run faster than its base operating frequency if the chip is running within its power, current, and temperature specification limits, and these burst speeds can be dynamically adjusted. Electrical power is shared between the CPU cores and the GPU core, so when the tablet is handling a computationally intense task that doesn't involve image processing, the tablet's camera can be shut down and its power shunted to the CPU.
By the same token, any elements of the CPU that aren't actively needed at any given point in time can be powered down almost completely to extend battery life. A Bay Trail SoC operating in standby mode draws almost no power at all. Earlier this year, Intel said that SoCs based on its Silvermont architecture will require 4.3 times less electrical power than four of its biggest competitors.
Not for everybody
Anyone interested in true high-end gaming or compute-intensive tasks, such as pro-quality photo- or video editing, will want more than what Bay Trail can deliver. And Intel sees both Core-powered tablets and notebooks coming down the pike. (The company also plans to ship Bay Trail parts in 2014 that will be capable of running the 64-bit version of Windows 8.1).
As of now, however, we'll reserve final judgment on Bay Trail until we can subject a few retail devices to thorough performance and battery-life benchmarking sessions. But if our early experience with that reference-design Atom Z3770-powered tablet is any indication, Intel has a winner on its hands.