Home theater PCs usually aren't gaming-worthy unless they're as large as proper game consoles, but not Gigabyte's latest Brix, which packs Intel's high-end Iris Pro integrated graphics.
The Brix is a mini-PC that's small enough to hold in one hand. As The Verge points out, it's even smaller than an Xbox 360 controller. Although Gigabyte hasn't officially announced the Iris Pro-packing Brix, the company was showing off its product at the Intel Developer Forum this week.
Despite its small size, the Brix manages to have some gaming chops due to the Iris Pro graphics on Intel's fourth-generation Core processors (codenamed Haswell). With Iris, Intel is hoping that its integrated graphics can finally compete on some level with dedicated graphics cards. The company has claimed in the past that Iris Pro performance is on par with Nvidia's GeForce GT 650M, a chip found in some high-end notebooks.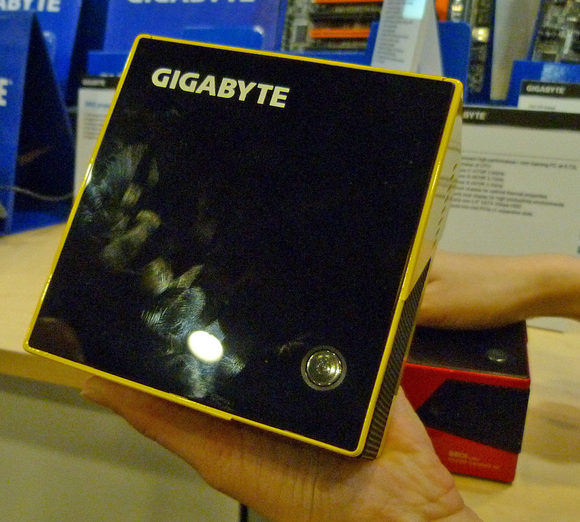 According to The Verge, Dirt 2 ran smoothly in 1080p on Gigabyte's Brix. Granted, that game is now four years old, but other tests of Iris Pro graphics have found success with more modern games, at least at lower resolutions. An Intel representative claimed that the Brix II could even run Crysis 3 to some extent.
The Brix will ship with a choice of 2.7 GHz Core i5, 3 GHz Core i5, or 3.2 GHz Core i7 processors, all with Intel's Iris 5200 Pro integrated graphics. The box includes a fair number of inputs and outputs, including four USB 3.0 ports, Ethernet, dual HDMI outputs and mini Display Port.
Prices will start at around $500 according to both The Verge and Legit Reviews, with a notable gotcha: Users will have to supply their own hard drive, RAM and operating system. In total, expect to spend upwards of $700 for a machine that won't match the power of the upcoming Xbox One and Playstation 4.
It's a nice sign of things to come, though. As Intel's Iris graphics continue to improve, the idea of a small, inexpensive home theater PC with gaming muscle won't be out of reach.
Image via Legit Reviews