A lack of available touchscreens, which helped crimp early sales of Windows 8 notebooks, are now "completely gone," Intel executives said Wednesday.
Kirk Skaugen, senior vice president and general manager of the PC Client Group, was asked about touchscreens in a question-and-answer session at the Intel Developer Forum.
"Touch as a supply issue is completely gone," Skaugen said, crediting Michelle Johnston Holthaus, the vice president in charge of the PC Client Group, with leading the efforts to ensure panel suppliers had enough of the parts on hand.
In a brief interview, Holthaus agreed that the supply concerns had been completely eliminated, noting that the touchscreen providers had originally entered the market understandably conservative about their prospects. While Intel doesn't order touchscreens directly, the company still exudes a great deal of influence over the PC hardware market with reference designs and other initiatives to direct the PC's evolution.
Getting over gorilla arms
Little more than a year ago, Intel was busy trying to push touchscreen into the market, with its PC Client Solutions Group business trying to encourage PCs to make the leap to touch. At the time, OEMs still had comments from the late Apple chief executive, Steve Jobs, rining in their ears: Jobs had pooh-poohed the concept, believing that users would develop tired "gorilla arms" from repeated touch use.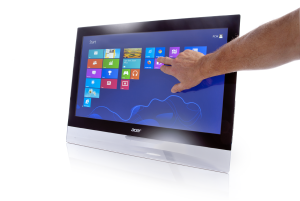 In January, IDC revealed that the PC market had experienced its first year-over-year decline in units sold in five years, down 6.4% from 2011. "Consumers expected all sorts of cool PCs with tablet and touch capabilities," IDC's research director David Daoud said a the time. "Instead, they mostly saw traditional PCs that feature a new OS (Windows 8) optimized for touch and tablet with applications and hardware that are not yet able to fully utilize these capabilities."
Windows marketing chief Tami Reller addressed the shortcomings soon after, noting that "touch demand in the market is high," according to her talking points. "In fact, demand far outpaced supply in the last few months of 2012."
With those problems solved, does this mean that Microsoft, Intel, and the rest of the PC market can look forward to a rejuvenated holiday season? Not necessarily. Part of the problem appears to be that consumers simply aren't buying touchscreens, given the choice; between 10 percent and 15 percent of all notebooks sold included touch, IDC said in August.
But now, if touchscreens become cheaper and more pervasive, they stand a chance of becoming ubquitous. Windows 8 works just fine with a mouse and keyboard, save for some awkwardness in scrolling "down" with the thumbwheel and actually navigating from side to side.
With sexy new Intel "Bay Trail" hardware, plus an ample supply of touchscreens, the PC market isn't guaranteed success—but it won't have as many excuses, either.