You'd think smartphones and tablets would kill printing, but they haven't yet. Some documents are just easier to read on paper than on a small screen. And in the increasingly BYOD working world, you have employees and clients walking in with their mobile devices and wanting to print.
Printer vendors are only too happy to help, with apps designed to get something off your mobile device and onto paper. But this is no small trick: Mobile devices weren't designed for printing, nor were printers designed to talk to anything other than a PC or a Mac. The device and the printers may need to be on the same wireless network, or the printer may need access to the Internet. Some apps can send the job via email to the printer, in which case, you could be anywhere when you send the job. While the apps offer some ability to customize the job—such as number of prints, or size or type of paper—the printouts might not look exactly like what you expect, because the apps can't translate all fonts or formatting perfectly. Not surprisingly, iOS and Android devices get the most app options, but platform- and vendor- independent solutions such as Google Cloud Print are also available.
There's a printing app for that
If this sounds too complicated, you're right. Unless you're lucky enough to have an IT department that can implement an enterprise-wide solution, this guide will help you sift through the sometimes confusing options available for individuals and small businesses. The printer you already own at home or at the office could very well have an app you could use with it, and if you're looking to buy a new printer, check to make sure it has an app to work with your device.
Brother iPrint&Scan: Brother lets you print to select models via iOS, Android, and Windows Phone devices. Scanning from your multifunction printer directly to your handset is also supported. Printing is generally limited to 10MB or 50 pages, and other odd restrictions apply (Windows Phone can't print webpages, for example). A large selection of the company's MFC, DCP, and HL series printers are supported by the various apps, with slightly better support for iOS devices.
Canon Easy-PhotoPrint: This app is available for iOS, Android, and Windows RT devices, but it is largely limited, as the name implies, to printing photos (and it's optimized specifically for that purpose). However, PDFs can also be printed, and documents can be scanned directly to iOS or Android handsets. Most PIXMA printers are supported.
Canon Pixma Printing Solutions: Canon recently introduced this iOS/Android app. Currently it works with just two of its new printers (the Pixma MG5520 and Pixma MG7120), but Canon says future printers will also be compatible. The app lets you print documents and photos from specific cloud services. Canon's started with six biggies, including Dropbox, Evernote, Facebook, and Twitter, but the company says it will add more over time. The app also lets you scan documents from these printers and send them to your mobile device.
Dell Mobile Print: This simple app works only with Android devices and lets you print most documents directly when connected to your local network. Dell provides a list of supported printers, mostly its color and monochrome lasers but also a few legacy inkjets (Dell stopped selling branded inkjets earlier this year).
Epson Connect: Epson has a large collection of apps that let you print from a variety of devices. There are two key apps for mobile devices. First is Epson Email Print, which lets you forward documents to a custom email address for printing back at home. This works remotely as well as locally, and from nearly any device that can send an email, including iOS, Android, and BlackBerry devices. A separate system, Epson iPrint, gives you more flexibility over what you can print—photos, documents, or webpages – but requires a separate app on your iOS or Android device. Epson iPrint also can scan directly to your phone. Support varies based on app and OS, but the Artisan, Expression, Stylus, and WorkForce lines are the best represented (especially WorkForce).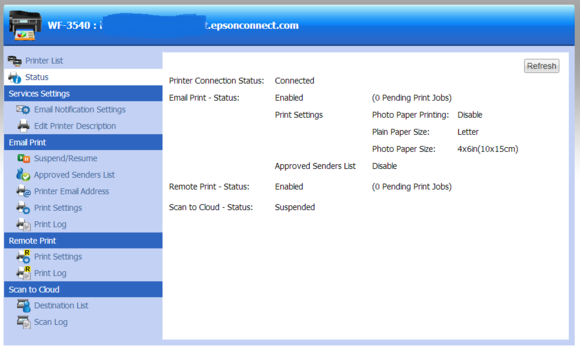 HP ePrint: HP ePrint lets you print via iOS, Android, and BlackBerry devices, and it works either via wireless local connection or via email (which you set up for compatible printers via HP ePrintCenter). There's even HP ePrint Home & Biz, for Symbian devices. These are supported by a very wide selection of printers across many HP printer product lines.
Kodak Mobile Printing Apps: Kodak's out of the printer business, but for its legacy products it continues to offer a number of specialized mobile printing apps. The main ones include Kodak Pic Flick (prints photos from iOS, Android, BlackBerry, or Windows Phone devices), Kodak Pic Flick HD (gives you more photo flexibility; designed for iPad and Android tablets), and Kodak Document Print (lets you print local files, webpages, or info stored in Google Docs, Dropbox, or Evernote accounts; iOS/Android only). A variety of other apps are geared toward printing at kiosks.
Lexmark Mobile Printing: Supports iOS and Android, but prints only PDF and image documents. This simple app is mostly designed for Lexmark laser printers, with a small number of inkjets supported (Lexmark exited the inkjet business over a year ago). Nifty feature: Lexmark lasers sporting a built-in touchscreen can display a QR Code on the screen. You can scan this code with the Lexmark Mobile Printing app to add the printer to your phone.
Samsung Mobile Print: Use iOS, Android, or Windows Phone devices to print webpages, photos, PDFs, or Office documents or scan directly to your device. (Note: The Windows Phone version of Mobile Print can be used only with Samsung mobile devices.) Scans can then be uploaded to cloud services like Dropbox. The app works with most Samsung printers with built-in ethernet or Wi-Fi, primarily including the CLP, CLX, ML, and SCX lines.
Using third-party tools to print
Your best bet is to use one of the above tools to print directly to your printer. Manufacturers' own apps will have the most features and, generally, fewer bumps along the road.
But what if an app doesn't exist for your printer, or you can't get it to work with your device? It's time for plan B: third-party printing tools. There are two big ones to consider, plus a smattering of smaller indies.
Apple AirPrint: This Apple-provided app is so well-supported it's worth a look even if your manufacturer offers a printing app on its own. Just about every major and minor printer manufacturer is supported by AirPrint, though you'll want to make sure the specific model you own is on the list. If it is, and if you use an iOS or MacOS device, give AirPrint a spin: When you're on the same Wi-Fi network, you'll be able to print just about anything your device can display.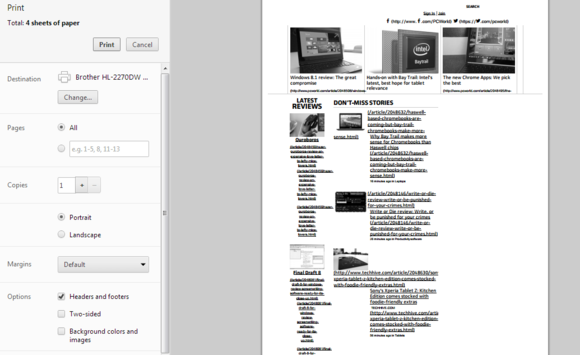 Google Cloud Print: Google Cloud Print takes a slightly different approach, making your existing printers accessible via the Web. But there's a catch: The printer needs Internet access through an attached, powered-on computer, or a short list of natively supported, "Cloud Ready" printers can connect to the Internet on their own. If you use the Chrome browser, setup is easy: Just visit the Cloud Print page and install the add-on for the browser. Then register your local printers on the Chrome service, which replaces the typical Print dialog with a new one for printing from anywhere. It's especially useful if you use Google Docs or have an Android device (or both). A new addition lets you extend Google Cloud Print to work with standard Windows apps (like Microsoft Office). It's not as reliable as printing through the standard Windows printing system, but it's a credible option in a pinch.
Other Apps: A few upstarts also aim to print from mobile devices. These are generally paid apps, while just about everything else mentioned in this story is free. Check these out:
Print n Share ($10, iOS) is like AirPrint but for "all" printers, not just compatible ones.
Presto ($2/month for SOHO users, iOS, Android, Chrome) is more of a system for managing multiple printers in the office and extending support to mobile devices.
PrinterShare ($13 premium, iOS, Android, Windows) is a full-fledged "print to anything" app, with remote printing support thrown in as well. It's free to test.
Users of GoToMyPC ($10/month) and LogMeIn Pro ($70/year) can do more than just take remote control of a faraway PC. They can also print through it as if they were sitting at the keyboard, but using the data on their mobile device. If you have the patience to use Windows' built-in Remote Desktop system, you can print remotely this way, too. it's handy in a pinch.
Note that these apps are not mutually exclusive from the vendor printing apps above, and they can often live side by side. For example, you might choose to use Apple AirPrint when you're on your iPad at your home base, then switch to Epson Connect when you're away from the office.
No matter how paperless your life has become, occasionally you still need to print. Mobile printing can be a complex affair, but if you have an iOS or Android device, you have the most options. For everyone else, there's still hope with some vendors' solutions, as well as third-party apps.