Some of the world's preeminent overclockers pushed Intel's fastest CPU, Corsair's best memory and power supplies, Asus's top motherboard, and Nvidia's most powerful graphics processors to their limits—and all it took was prodigious quantities of electricity and liquid nitrogen.
The results of all this tinkering? Five PC benchmarking records fell at the OC Main Event, an overclocking session that's part of the Intel Developer Forum and sponsored by Asus, Corsair, and Intel. Overclocking experts Ronaldo "Rbuass" Bussali, Ian "8-Pack" Graham Parry, and Mike "Gunslinger" Gorius focused their efforts on crushing three DirectX 11 gaming benchmarks: 3DMark 11 Entry (video resolution set to 1024 by 600 pixels), 3DMark 11 Performance (resolution set to 1280 by 720 pixels), and 3DMark Fire Strike (resolution set to 1920 by 1080). What's it all good for? You could compare it to drag racing: Entertainment for the spectators and bragging rights for the overclockers and their sponsors.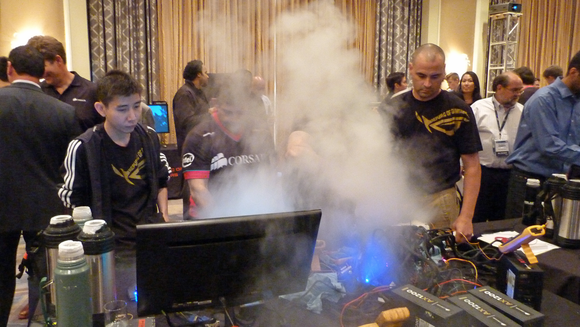 Using the top member of Intel's new Ivy Bridge-E family, the Core i7-4960X Extreme Edition processor; an Asus Rampage IV Black Edition motherboard; and four Asus video cards powered by Nvidia's GTX Titan graphics processors running in quad-SLI, the 3D team needed no fewer than four 1200-watt power supplies—Corsair's model AX1200i Digital ATX—to provide their rig with enough juice. Clouds of steam boiled off the CPU and the video cards as team members continuously super-cooled the components by pouring liquid nitrogen into small pots.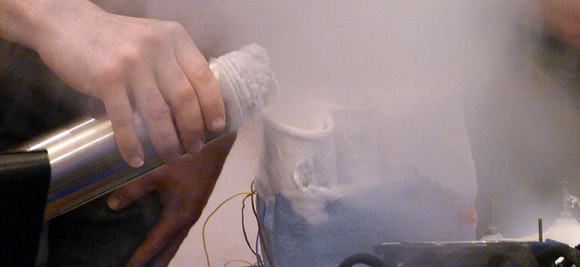 The 3D team set a new 3DMark 11 Entry record of 38231, obliterating the previous record of 31888 (which was accomplished with Intel's earlier Core i7-3970X Extreme Edition processor paired with three Titan GPUs). The team's 3DMark 11 Performance score of 39629 wasn't quite as impressive as the previous record of 39310, but that earlier record was achieved just a few days earlier using a very similar hardware configuration. The 3D team also established a new world record 3DMark Fire Strike score of 33704, pulverizing the previous record of 31998 (achieved with an Intel Core i7-3930K processor and four EVGA video cards, here again, powered by Nvidia's Titan GPUs).
Meanwhile, expert overclocker Charles "Fugger" Wirth managed to push Corsair's new Vengeance Extreme 3000MHz quad-channel memory kit—here again, with the aid of liquid nitrogen—to a staggering 3900MHz. (The memory on the typical consumer PC runs at about half the stock speed of the Vengeance kit: 1600MHz.) "Fugger" also achieved a new world record Cinebench (6-core) score of 17.65.