At a Glance
Expert's Rating
Pros
Numbered lines make coding easy
Open new files in separate tabs and switch to and fro
You can color the active tab to distinguish it from others
Cons
Those who don't program won't get much practical use out of the numbered lines
Our Verdict
Numbered lines make Notepad++ an excellent text editor for programmers.
Notepad++ is a portable notepad that users like computer programmers will find enormously useful, because it offers something the regular Notepad doesn't: numbered lines.
Numbered what, I hear you ask?
If you're testing a program in a language such as Javascript, you'll get obscure error messages like "operand missing on line 346". So, it helps if you know which line the bug is on, and how to quickly locate that line. If the lines are not numbered, like in the regular Notepad, you would be sitting there till doomsday, trying to locate that one elusive little bug. With Notepad++, it's as simple as scrolling down to the correct numbered line.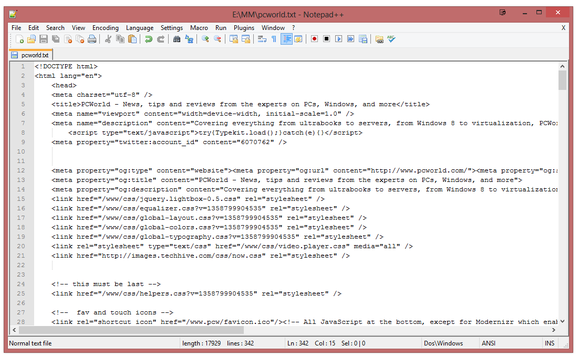 Other smart features include zooming in and out (handy if you have bad eyesight), macro recording and playback, and tabbed notes, so you can have multiple notes open in the same window and click back and forth between them. It also offers colour syntax coding, which makes reading through programs easier. Notepad++ is also smaller than Notepad, which results in less strain on your CPU.
Notepad++ is also open source software, so if you have the technical know-how, you can examine the source code and make whatever changes you want to it, provided you don't charge for it. And since it's donationware, you can keep Notepad++ chugging with a donation to the developers.