At a Glance
Expert's Rating
Pros
Feels faster than WordPad, despite the extra features
Escape key can either minimize or exit program
Cons
Labeling at developer site makes it a little hard to tell which edition you need
Our Verdict
Line numbering and syntax highlighting are a few of the features that make this notepad replacement especially attractive to programmers.
At first glance, Notepad2 doesn't have much to distinguish itself from WordPad, the standard Windows notepad. But it offers a number of features that can make it worth the upgrade.
The biggest feature is syntax highlighting. You can have various parts of programming code show up as different colors when code is incorrect, so you can see right away what needs to be fixed. The find-and-replace function really does make WordPad cringe in the corner with embarrassment when you see features here such as match the case, match the whole word and match the beginning of the word only. You can even drag and drop text onto Notepad2, something that regular WordPad definitely won't allow.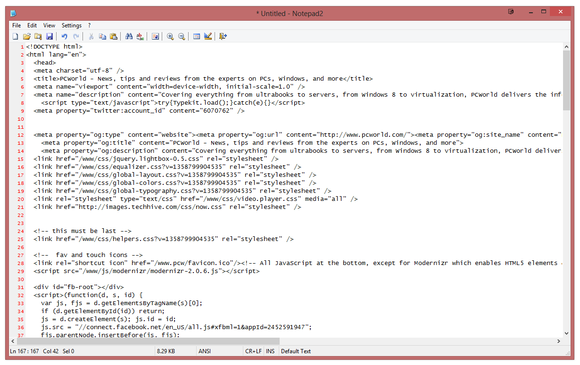 The one downside to Notepad2 is that it doesn't support tabs, when it comes to opening multiple files. You can open only one file at a time, which is extremely limiting and frustrating. But when you stack that one disadvantage against all the advantages, tabs are something you can live without.
Note: The Download button takes you to the vendor's site, where you can download the latest version of the software appropriate to your system.