It's true: The best way to control your home theater is still with a PC. Forget all the hype about Google Chromecast and other assorted set-top boxes, dongles, and other gadgets. None of them can organize and play movies, music, and TV shows as well as a home-theater computer. A good HTPC can even take the place of your cable box and DVR.
While you could slide your old desktop over to the flat-screen and call it a day, you'll get way better results with a computer built specifically for the purpose—and it doesn't have to cost a fortune. In this article, we'll show you how you can build a home-theater PC that will play anything, stream anything, and record live TV, for as little as $500.
Here's what you'll need.
Gearing up
A dedicated HTPC doesn't need much in terms of actual computing power. Any off-the-shelf PC from the last several years would work fine. Keep in mind, however, that a great HTPC will be small, quiet, and power-efficient—not qualities that you tend to find in many secondhand computers. To build one from scratch, you can save a ton of money by purchasing modest, inexpensive components. For example, the following system has plenty of power for an HTPC, and a case that will look great under your TV, for just $385 (current prices on Newegg).
$70 – AMD 5400K Dual-Core CPU with integrated graphics
$65 – Asus Micro ATX Motherboard
$40 – G.SKILL 4GB Memory
$60 – Silverstone MicroATX HTPC case
$50 – 500W Silverstone power supply unit
$100 – 2TB Toshiba hard disk drive
Total hardware price: $385
Of course, if you want to watch Blu-ray discs or DVDs, you'll need an optical drive capable of reading that media, so plan to add another $50 for one of those. I recommend this inexpensive LG Blu-ray drive.
To tune or not to tune
That leaves just one final, optional expense: a TV tuner/video-capture card
The main piece of hardware that sets an HTPC apart from any old computer is the TV tuner or video-capture card. This is the hardware that takes a television signal, decodes it, and lets you watch or record it on your computer. And no pressure, but buying the wrong one can leave you unable to watch the shows you want. Here are your options:
With a basic TV tuner, you can connect your coaxial cable line directly to the tuner card, and watch a number of channels for free. These channels, broadcast as ClearQAM, generally consist of the broadcast networks and a few other public-access and local channels that are made available unencrypted over the cable line. If that's all you want, you can find perfectly serviceable tuner cards for very reasonable prices. Internal cards, such as the Hauppage WinTV HVR-1250, need to be installed in an open PCI-E slot in your computer. If you don't have a spare slot, or you're using a laptop, you can use a USB tuner, such as the WinTV HVR-950Q. Both of these cards should run you around $70, and they each come with a remote control.
However, if you pay for cable service and want to watch those cable channels on your computer, the above cards won't do the job—only the cable box installed by your cable company can decrypt the cable signal. To watch them on your computer, you have two options.
The first is to let your cable box do the heavy lifting of decrypting the cable channels, and then simply intercept its video signal output. Hauppauge makes a USB box called the PVR2 that does exactly this—taking an HDMI or component source and piping the video stream straight into your computer. It even includes an IR (infrared) blaster, so you can control the cable box from your computer.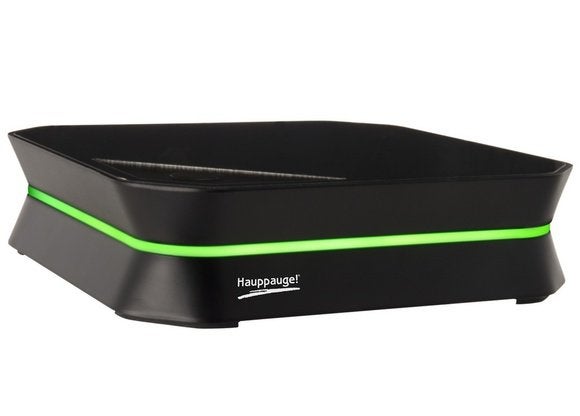 Unfortunately, even this option has a downside. The digital HDMI signal that your cable box outputs is also encrypted, which means that if you want to watch non-QAM channels, you'll have to connect the PVR to the cable box via component cables, and that means you won't get full 1080p quality.
The second option for watching cable TV on your computer is to use a card such as the InfinitiTV 6, which actually decrypts the signal itself using a CableCard like the one found in your cable box. You'll have to get an extra CableCard from your service provider, which for some providers will require a visit to your house by a technician. Still, with the ability to watch and record up to six cable shows at the same time, you won't find a better solution for watching TV on your PC. At $300, the InfinitiTV 6 is a pretty major line item in your HTPC budget, but the older InfinitiTV 4 is still available for less than $200.
With a Blu-ray drive and the cheapest TV tuner, your total hardware cost should be right around $500. For a little more money than the budget officially allows, you could buff up your HTPC with extra storage, a fancier TV tuner, or a sound card such as the Asus Xonar. If you have a lot of HD media stored on local drives, consider augmenting your HTPC with a network-attached storage drive, which will let you stream scads of data across your home network without actually having to cram a bunch of hard drives into your HTPC's diminutive case.
Finding the best software
The other half of the HTPC equation is the software—what you use to browse and play all of your media. You don't need special software for an HTPC, strictly speaking; you could watch streaming media in a browser, play video in Windows Media Player, watch Blu-ray discs on whatever application came with your drive, and so on. But that setup creates a kludgy user experience, especially if you're planning to control your computer from the couch.
Enter the front end, a software suite that combines all of those various media playback functions into a single interface with a 10-foot range. You can choose from a couple of great front ends, including XBMC and Plex—both of which are free—but anyone using a Windows PC should try Windows Media Center (WMC) first.
WMC is a great choice if you're using a TV tuner. It includes an excellent channel/programming guide and DVR functionality that's as good as anything on the market. Plus, WMC is designed to work with a USB remote control, which makes the experience very familiar for anyone who's ever operated a television remote.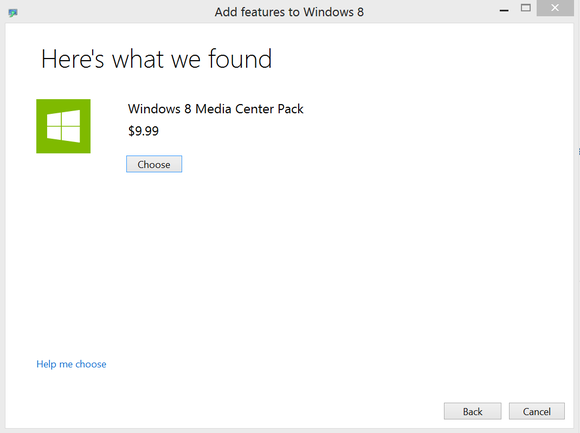 If you have Windows Vista or 7, you already have Windows Media Center. Unfortunately, the suite has been removed from the latest version of the operating system, and Windows 8 users will have to pay to add the functionality back. On the bright side, at $10 WMC is still a total steal, and the installation process is easy: Just open the Start menu and type Add Features. Click the Settings search tab, and then click the Add Features To Windows 8 button. A dialog box will pop up, giving you the option to buy a new product key online or to enter one you already own. Click the former, and you will see the option to purchase Windows 8 Media Center Pack. Click it and then enter your credit card info, and WMC will be installed on your system.
Next, run the software, and the setup wizard will walk you through the configuration, including optimizing WMC for your television and speaker setup. Pay special attention to the part that asks you to define your media-source locations. If you have any media files outside of the standard Windows media locations (such as the usual My Videos folder), this step is where you'll tell Windows Media Center where to look for them. After that, WMC will automatically find the media on your system, catalog it, and download extras like album art where possible.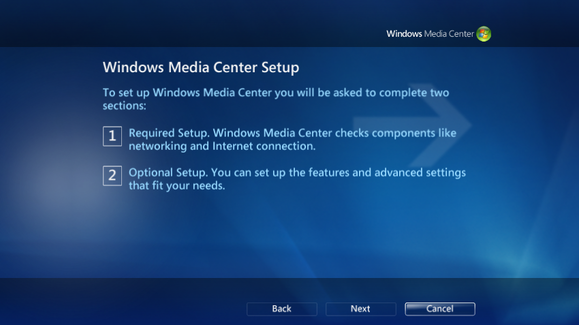 If you're using a TV tuner card, make sure it's connected to your system, and scroll down to the TV section and then click the tile labeled Live TV Setup. You'll have to click through another simple wizard and give Windows Media Center some basic information about your TV situation: where you live, which cable service you use, that sort of thing. Using that information, WMC will figure out which channels you can access and will download a programming guide for those channels.
And just like that, you're all set! Slide your new HTPC underneath your HDTV, maybe pick up a cheap Windows 8-optimized wireless keyboard and mouse to make computing from the couch a little easier, and enjoy your all-encompassing media machine.