At a Glance
Expert's Rating
Pros
Captures video
Lets you share via YouTube, Facebook, and Twitter
Captures anything on your screen with ease
Cons
Captures video to MPEG-4 format only
More expensive than competing programs
Our Verdict
Capture anything on your screen with the best screen-capture program.
Snapping and sharing screenshots is invaluable. Whether you need to offer a quick bit of tech support to a client or a fellow worker, document a procedure for an in-house manual, or produce professional-looking screenshots for a promotional website, these handy utilities will help. Several are cross-platform, and most of them are free.
Snagit
$50 Snagit bills itself as "the ultimate screen capture tool," and it is indeed a powerhouse. Snagit's interface is divided into a capturing utility and an image editor. The capture tool works with presets: You can decide whether or not you want to capture the mouse cursor along with the screenshot, if you want a delayed capture, and even capture a scrolling window (Snagit will scroll it for you and produce one long image).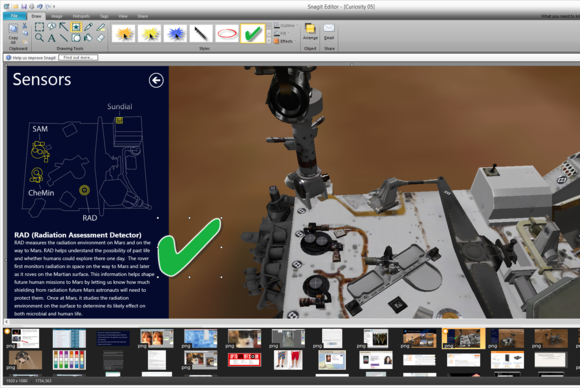 Snagit's editor is equally powerful, letting you apply effects such as drop-shadow, resize and crop your image, add text and callouts, and more. Because of this division of labor, you can use the editor to annotate screenshots captured using other tools, too, and even just plain photos.
Because Snagit tries to do so much, it isn't the most elegant of tools. Chances are it can do whatever you need it to do, but this flexibility means there are many settings to fiddle with. I tested the Windows edition, but it's available for Mac as well.
Screenpresso
At $24, Screenpresso Pro is cheaper than Snagit, and certainly doesn't have its long history and name recognition. Once you download it, though, you may discover Screenpresso is no less powerful. In fact, Screenpresso often feels more polished than Snagit, both in terms of workflow and the output it produces.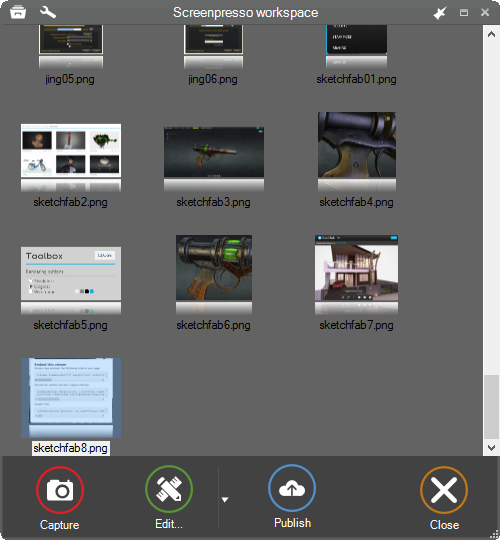 Just like Snagit, Screenpresso is split into a capture interface and an image editor. While Snagit shows you previously captured screenshots in its image editor, Screenpresso uses the capture interface as an image tray, allowing quick and direct access to your previous screenshots without having to open the editor. With the tray open, you can browse through past screenshots and drag them into emails or anywhere else.
Both Screenpresso and Snagit's image editors contain built-in image annotation tools, such as stamps and callouts. This means that they have their own distinct looks: Someone who's familiar with Snagit is likely to quickly recognize a Snagit-edited image. Since Screenpresso isn't as well-known, it lends your screenshots a more unique look.
Last but not least, both Snagit and Screenpresso can capture video screencasts—very handy for showing off features or asking technical questions.
Screenshot Captor
Compared to both Screenpresso and Snagit, Screenshot Captor feels utilitarian and complex. But it's also very powerful, and perhaps more important, it's free/donationware. Screenshot Captor has all the same capture tools Screenpresso and Snagit feature, including scrolling capture. In fact, its scrolling capture feature even out-performed Snagit's in a PCWorld's review of a previous version.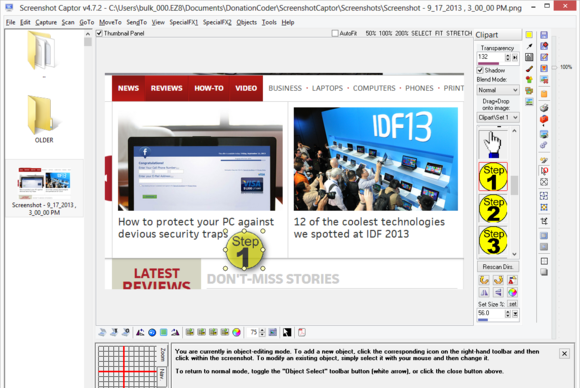 Unlike Screenpresso and Snagit, Screenshot Captor's interface is composed of one main window. You can optionally show a slim Quick Capture Bar which floats over all other windows, letting you initiate captures with a single click. The bar is optional, because you can trigger captures using keyboard hotkeys, too.
If you prefer a more traditional look to your utilities, or want to try a powerful free tool before shelling out money for a commercial alternative, you should try out Screenshot Captor. If you find it useful, consider donating to the developer.
Jing
TechSmith, makers of Snagit, understand that not everyone is a power-user. Many of your co-workers probably just want a quick and simple way to capture the occasional screenshot or screencast, for tech support or demonstration purposes. That's where free tool Jing comes in.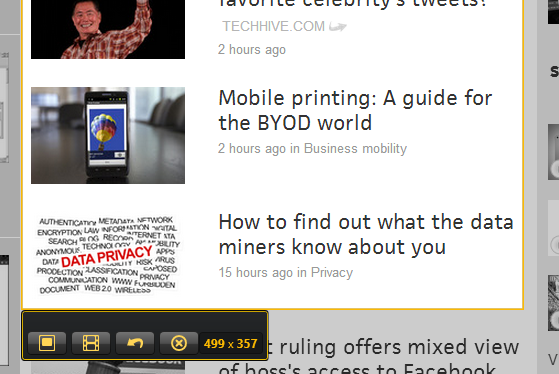 Installed, Jing shows up as a virtual "sun," a smallish glowing circle at the top of your screen (rather than in your system tray, like most other screenshot apps). Hover over this sun, and it shoots out three rays: Capture, History, and More. The Capture option is as straightforward as could be. Just select an area, and decide whether you want to save it as an image or a video.
Unlike the apps mentioned above, Jing doesn't attempt to automatically detect window borders and other controls. It won't snap to the size of your window or the toolbar you're hovering over. Once you capture an image, Jing offers some rudimentary annotation tools, while also upselling you Snagit via a custom "Edit in Snagit" button.
You can also share the image via TechSmith's Screencast.com service, tweet it, post it to Facebook, copy it to your clipboard, or just save it as a regular old file. Any of these operations takes just a single click.
Puush and Snaggy
What if you never need to annotate your screenshots at all? What if all of these options are just overkill, and all you're looking for is a way to quickly share screenshots with colleagues and others?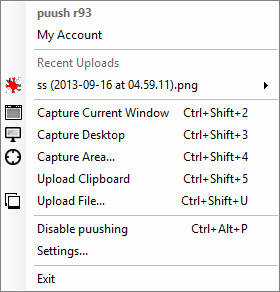 In that case, you're looking for either Puush or Snaggy. These two services emphasize breakneck speed and absolute simplicity over configuration: You don't get to record videos or annotate anything, just share your screenshots.
Puush is a tiny Windows utility that sits in your system tray. Hit a hotkey, and an image of the currently active window is snapped and uploaded to http://puu.sh, and its URL is copied into your clipboard. This happens in a split second. Lliterally, you push a button and get a URL you can paste into an email or a chat message right away. Other hotkeys let you capture and upload the whole desktop, a certain region, the contents of your clipboard, or even a file from your computer. Extremely fast and simple, and if you don't remember the hotkeys, you can always right-click the system tray icon and select the option you need from the menu.
Snaggy is even simpler than Puush, in that there's nothing to download and install on your computer. Simply copy an image to your clipboard (any image, doesn't have to be a screenshot), go to Snag.gy, and hit Ctrl+V. Your image will be pasted into Snaggy, and you would get a URL you could share with others. If you do want to crop or edit the image, Snaggy features a rudimentary Web-based image editor.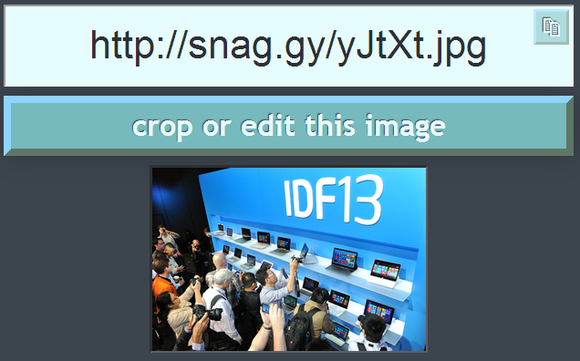 Whatever your screenshot needs are, this spectrum of tools probably has at least one option that's a good fit. You'll never have to open MS Paint to paste in a screenshot ever, ever again.